Those who were relocated to the UK from conflict-ridden Sudan are concerned about being stuck without a clear plan as their six-month visas approach expiration this week. These evacuees, who have been residing in hotels or with relatives since April, report not receiving any updates from the Home Office regarding their immigration status going forward.
Azza Ahmed, a former university lecturer from Khartoum, expressed concern about the possibility of becoming an illegal immigrant if her visa is not extended before the end of the six-month period on 26 October. She and her son are currently residing in a hotel in London.
Between April 25 and May 3, the United Kingdom successfully evacuated 2,450 British and other citizens from Sudan. This was due to a conflict between the Sudanese armed forces and the Rapid Support Forces paramilitary, sparked by the country's transition to civilian rule. The violence has resulted in approximately 9,000 deaths and displaced nearly 5.7 million people. The United Nations reports that 25 million individuals are in need of humanitarian assistance. According to Martin Griffiths, the UN's emergency relief coordinator, Sudan is currently facing one of the most severe humanitarian crises in recent times.
Individuals who recently arrived in the UK were granted a six-month period of authorized stay on compassionate grounds, exempt from the usual immigration regulations.
According to Azza Karrar, an associate professor at the University of Khartoum, upon her arrival at Stansted airport she was informed that the government had not yet made a decision about the fate of the evacuees after six months. She also mentioned that she has not received any further updates on the matter.
"I currently have no available destination. Despite my parents being in Egypt, they have recently denied entry to any Sudanese individuals," shared Karrar, whose spouse holds British citizenship. "This situation makes one feel insignificant. There have been previous initiatives to aid others, so why not us?"
A family of five, including three kids, currently resides in a hotel located in Preston, Lancashire.
According to Katherine Soroya, a supervising caseworker for immigration at the law firm Turpin Miller, the evacuees she is assisting were not notified of their immigration status upon arrival in the UK. They were also not given information on how to prolong their stay or what benefits they could apply for with their visa.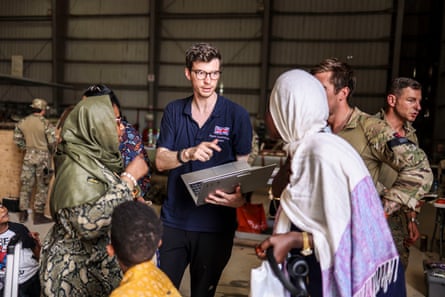 Soroya stated that families in this situation do not have a clear understanding of their rights and entitlements. They have been left to figure things out on their own, with little guidance from the Home Office. This puts a heavy burden on these individuals to navigate a complex system.
A representative from the Home Office stated that evacuees have the option to request an extension of their visas. However, Soroya claims that they have not been explicitly informed of this and were also not informed that their visas were granted under exceptional circumstances. This information is crucial for them to properly submit their application.
Soroya explained that obtaining a visa involves a lengthy and complex procedure, particularly for evacuees who may also need to seek a fee exemption in advance in order to avoid paying up to £3,000 (not including legal fees).
Ahmed, whose ex-husband is British, said: "I'm so depressed, I feel like I've been treated as someone with no value. I've felt this from the very first moment – the first time I went to the council and they didn't want to deal with me. I don't understand, the government brought me [here] and now they don't want to do anything to support me. Why bring us if you weren't happy for us to come here?"
Waleed Abdallah, a Sudanese native and immigration advisor at Devon and Cornwall Refugee Support, believes that the government should have a structured strategy in place for Sudanese immigrants, similar to the one in place for Ukrainian immigrants entering the UK.
Abdallah stated that the Ukrainians and Sudanese are both escaping from war, but the Ukrainians were able to obtain visas before leaving their country while the Sudanese did not have that opportunity. Additionally, the Ukrainians were given three-year visas upon arrival, providing a more stable situation compared to the unknown future for the Sudanese.
He mentioned that the evacuees have few choices. Many individuals are unable to request spousal visas or visas for family members remaining in Sudan due to the requirement of a stable income and housing.
According to a spokesperson from the Home Office, it is unacceptable to pit the Ukrainian and Sudanese refugees against each other. There are no intentions to create a specialized pathway for resettling Sudanese refugees. The top priority at the moment is preventing a humanitarian crisis in Sudan, and the government is collaborating with global partners and the United Nations to put an end to the conflict.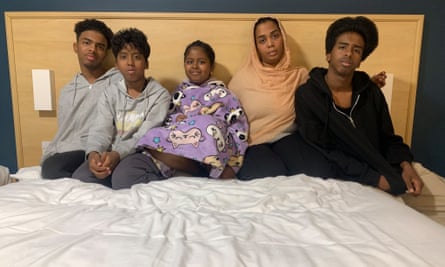 Selma Bedawi's experience: 'The stress is coming from all directions.'

Selma Bedawi has stayed at the Travelodge, which is situated on a bustling London street and surrounded by warehouses, as her fourth hotel since being relocated from Sudan in April.
She is fighting on multiple fronts from her two hotel rooms – requesting assistance from Ealing council to secure housing, searching for schools for her four kids, and caring for her 76-year-old mother who has several chronic illnesses.
Bedawi, a citizen of Britain, was evacuated from Sudan after 10 days of violent conflict that had damaged the windows of her family's home. Despite promises of aid from the British government, she has faced difficulties in finding stable housing and food since arriving in the country.
She expresses that she is constantly under pressure, facing numerous issues. She questions the purpose of having a British passport if it does not provide any benefits. The only benefit they received was being transported on planes.
The Ealing council in west London is accommodating the family because the brother resides in a small studio flat in the area, which cannot accommodate all of them. Bedawi's non-British husband and brothers are still in Sudan.
Bedawi does not have access to a kitchen and instead uses a cooler box to keep cheese cold for her sandwiches. When she stayed at a hotel in Slough, the manager warned her that she could be kicked out for using a donated microwave in her room.
She is receiving universal credit for her family of four, but her oldest son and mother, Laila Bala, are not eligible to receive it. Bala's right to stay in the country will expire this week.
Bala, who is afflicted with diabetes, hypertension, and arthritis, spends her days lying on her side and relying on a walker from a charitable organization to access the bathroom. She expresses her exhaustion from losing her home, possessions, and the separation of her family.
Bedawi's 10-year-old twins are not attending school. Her older sons, aged 16 and 18, began attending a college near Slough in September.
Bedawi acknowledges that the uncertainty of the future is weighing heavily on all of us. The children are particularly affected, their emotions constantly fluctuating between joy and sorrow. This is out of character for them, as they are now seeking answers and trying to make sense of the situation. They even question Bedawi about the possibility of losing their home.
A representative from the Ealing council stated that they, like many other boroughs in London, are facing challenges due to a lack of housing and a significant rise in the demand for emergency B&B housing. This is a direct result of the current cost of living crisis. The council strives to assist residents in need as much as possible, but they are constrained by a flawed housing market and are facing significant strain.
Source: theguardian.com