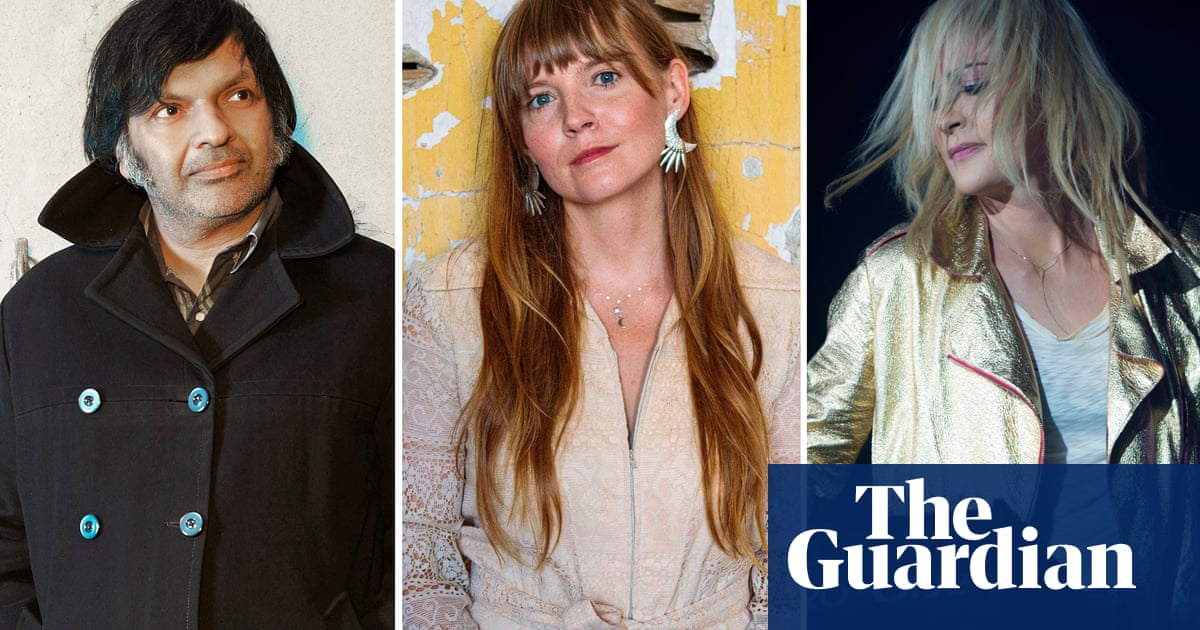 Courtney Marie Andrews
A man and a woman who go by "Nowhere Man" and "Whiskey Girl" in Phoenix, Arizona.
They were an eccentric duo from Arizona, and they travelled around in a beat-up station wagon – I ended up playing shows with them a lot in my teens. I was about 15 when I first saw them. Amy Ross could hear a song on the radio while they drove to the show and play it that night – she had an incredible ear for songs. They were spontaneous and playful and serious and there was a real humanity to them that resonated with me. They didn't have much besides acoustic guitars and a piano but the way they could play with so little was really inspiring to me. I must have seen them 20 or 30 times. Luckily, in Phoenix there was a great DIY scene and so it was pretty easy to see live shows – there were all-age art spaces that musicians under 21 could play at, so I was really lucky in that way.
Tjinder Singh, Cornershop
Bhujhangy Group (Leicester)
I only found one group worth regularly recording, so I carried around a large ghetto blaster that shined like the Golden Temple. This group was Bhujhangy Group, made up of rural workers from Punjab who transformed their music into an award-winning package on Birmingham's Soho Road. While Punjabi folk music was one thing, their addition of percussion and multiple synthesisers created a devotional musical experience that was truly remarkable.
The Vaccines' lead singer, Justin Young.
The game between the Jets and Sharks in Southampton.
The Southampton and south coast regions had a thriving hardcore scene that was known for its health-conscious values. The community was extremely welcoming and inclusive, and I admired many of the local bands, such as Disposable Heroes, Pilger, Parade of Enemies, and Jets Vs Sharks. I still have all their 7-inch records, as I considered them to be like rock stars even though they often performed for small crowds of about 20 people. Unlike Delays, who were the exception, no successful rock bands emerged from Southampton, so there were no local role models to aspire to on a larger scale. Achieving real success felt completely foreign and out of reach. Despite London being only 80 miles away, it seemed like a completely different world.
Emily Haines, Metric
Blue Planet (Toronto, Ontario)
During my high school years, my friends and I were not interested in consuming alcohol. Instead, we were drawn to psychedelics. We regularly visited a place called the Theatre, located in a rundown building on a questionable street in Toronto. This venue was managed by a well-meaning, bearded man whose name I cannot recall. The Theatre welcomed all ages and was typically filled with young people rather than older individuals. Admission was free, but we were required to bring a can of food to donate to a local food bank. I remember us arriving with cans of beans in our purses while under the influence. The only beverage available was water; no alcohol was served. The band performing at the Theatre was called Blue Planet, a fusion of Jefferson Airplane and Grateful Dead. It was a gathering of happy, mellowed-out youngsters attempting to dance but mostly embracing each other. Reflecting on it now, I realize it was a utopian experience.
Pierce Jordan, Soul Glo
Revive from Destruction (Huntingtown, Maryland)
Around 2005 and 2006, there was a popular deathcore band in Calvert County, MD known as Rise from Ruin. I have been eager to share my admiration for this band, although I am uncertain of the exact date they disbanded – possibly around 2007. At the time I discovered them, I was heavily into metal music. Rise from Ruin had two vocalists and drew inspiration from bands like Job for a Cowboy and As Blood Runs Black. Later on, I played basketball for the county youth league and their bassist Mitch was a coach for one of the opposing teams – they were amazing.
Nakhane
The Joy of Africa (Gqeberha, South Africa)
My mother and her sisters were members of a choir named "Joy of Africa," and my father served as the president. I chose to highlight their involvement because, during my childhood, I was not familiar with the concept of a band. My mother introduced me to music from artists such as the O'Jays and the Temptations, but I did not realize they were considered bands. It wasn't until I reached my teenage years that I became aware of bands through Myspace. Growing up, my musical world consisted of choirs, orchestras, and steel drum groups. The Joy of Africa was more than just a choir – it also served as a form of outreach. My mother aided the women in the choir with their personal lives, providing necessities like sanitation pads. When I began creating music, my initial goal was to layer my vocals to mimic the sound of a choir, as it was a significant influence in my upbringing.
Stuart Braithwaite, Mogwai
The Yummy Fur (Lanark)
Before Mogwai made their mark, The Yummy Fur had already established themselves in the Glasgow music scene for a few years. Members Paul Thomson and Alex Kapranos would later go on to form Franz Ferdinand. As someone from the same area of Lanarkshire where the band originated, I was familiar with their music. Their records were some of the best to come out of Scotland, with clever and humorous songs. Their sound was often described as cartoonish, drawing inspiration from bands like early Roxy Music and The Fall. They gained a strong following in Glasgow, with many dedicated fans attending their shows. However, breaking through internationally required more resources like PR and pluggers, and their indie style may have held them back. Regardless, their presence in Glasgow's smaller venues was important in bringing people together.
Nabihah Iqbal
Capdown (Milton Keynes)
The band released two albums under the British punk label, Household Name. The first time I saw them perform, they completely blew my mind. I made it a point to attend every one of their shows after that. While going through my gig scrapbook, I came across all the tickets I had collected from their concerts. Their performances were filled with so much energy, especially with all the moshing and stagediving that took place. As a 13-year-old, these types of concerts were incredible. Even during daytime shows, you could feel the same intense energy. This was how I was introduced to live shows, and I made friends by arriving early and seeing familiar faces in the queue. The act of waiting in line itself became a ritual.
Hannah Jadagu
Fishing in Japan (specifically Dallas, Texas)
During my time in high school, I had a fondness for the Dallas-based quartet Fishing in Japan. This indie-pop group was formed in 2018 and my current friend and collaborator, Wolfgang Hunter, was the founder. Interestingly, he started the band while also attending the same high school as my sister, which happened to be a performing arts school in Dallas. Being in a band was a common pursuit for students at this school, but Fishing in Japan stood out as a favorite among many. I vividly remember riding in my sister's car on our way to school and being captivated by their unique blend of pop and rock. It was one of those moments where I realized, "Wow, this is really cool!" and it has remained a cherished memory for me.
Source: theguardian.com