C
In December 2018, Celtic suffered a loss at home to RB Salzburg. Although it was a decisive defeat for anyone who witnessed it, it was not given much weight. Under the guidance of Brendan Rodgers, Celtic had made it to the knockout stage of the Europa League, somewhat making up for their elimination from the Champions League qualifiers by AEK Athens. The wealth associated with the Red Bull model helped put Salzburg's success, winning all six group matches, into perspective. Celtic managed to secure second place in the group by beating another team from the RB group, Leipzig.
This was a strong team from Celtic. Kieran Tierney was developing quickly. Mikael Lustig, Callum McGregor, Scott Sinclair, Scott Brown, Tom Rogic, Ryan Christie, and Odsonne Édouard were all involved. Rodgers stated, "This is a significant step in the growth of our players." Two months later, Valencia's 2-0 victory in Glasgow effectively ended the last-32 match. "We made too many errors," Rodgers admitted. "While it may be acceptable domestically, at this level it becomes challenging. We made fundamental mistakes."
In a matter of days, Rodgers was appointed as the manager of Leicester City. It had always been his intention to return to the Premier League, but he had grown increasingly frustrated with Celtic's failure to meet his ambitions beyond Motherwell. Even though he saw reaching the last 32 of the Europa League as a significant achievement, Rodgers ultimately wanted to leave. He was tired of overseeing a team that was constantly learning and developing. The main question surrounding his return to Celtic this summer was why he believed things would be any different in his second tenure.
After nearly four years, Celtic has yet to make a post-Christmas appearance in Europe. Despite being praised for their success in domestic competitions, Ange Postecoglou's team was eliminated from three European competitions in the 2021-22 season. The underwhelming performance in last year's Champions League was overlooked due to Rangers' poor showing, but the reality remains that this is the best Scottish teams can hope for when competing on a higher level.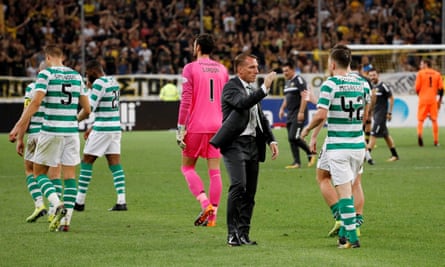 The two matches Celtic has played in the Champions League can serve as examples of self-inflicted harm. They were in a good position before conceding a very easy goal against Feyenoord in Rotterdam. This was followed by two red cards and another goal. The two players who were sent off, Gustaf Lagerbielke and Odin Thiago Holm, are the type of players that the club usually signs with the intention of making a profit. Their mistakes were typical of inexperienced players in the Champions League.
At the time, Lazio was struggling in Serie A and appeared satisfied with a draw in Glasgow. However, Celtic's mistakes in stoppage time led to a surprising victory for Lazio. Rodgers acknowledged the lesson to be learned from securing possession in a game and emphasized the importance of not losing if a win is not possible. This sentiment seemed all too familiar.
The Celtic leadership will deny claims that the football department lacks adequate resources. In his most recent statement as chairman, Peter Lawwell highlighted an investment of £66.4m in player registrations over two and a half years. This implies that we support our managers. Although Celtic is a well-managed and self-sufficient business, it still incurs operating costs of £95.4m. Therefore, fans have every right to demand better results in European competitions. Rangers' impressive journey to the 2022 Europa League final serves as a reminder to Celtic of what can be achieved. The stark contrast between major leagues and others was evident as Rangers defeated Borussia Dortmund.
On Wednesday evening, Atlético Madrid are unlikely to provide Rodgers with margin for error. The manager is correct to emphasise his team have been competitive over match days one and two, even if this is the tone of a plucky underdog. It has come to the point where Celtic success cannot be anticipated, no matter the elite opposition. Barcelona were vanquished in 2012. Manchester United and Milan suffered at Celtic Park in the same era. Celtic have not won a Champions League group match at home in a decade. The run can be derided; more intriguing is how Rodgers, who perceives himself as an elite coach, plans to buck the trend.
Rodgers has made great play of the difficulty of winning matches in Scotland, as if trying to convince himself rather than anybody else. Celtic are under-18s in an under-10s league, aside the odd temporary rumble from Ibrox. This is what makes European status all the more important. Rodgers knew this all too well the last time. Educating players ill-equipped for any given environment has a shelf life.
Source: theguardian.com