Throngs of devoted followers eagerly await behind barricades, clutching their mobile devices, hoping to capture a glimpse of some of the most renowned musicians in the world. Some shriek with excitement as tinted cars pull up to the opulent venues, eagerly anticipating the arrival of big names like Shakira, Maluma, Camilo, and Karol G before the ceremony on Thursday evening (November 16). This is the Latin Grammys, a prestigious event that celebrates artists in the Latin music scene. However, this year's location differs greatly from its usual extravagant setting in Las Vegas. Instead, the awards are being held in Seville, Spain, marking the first time in its 24-year history that it is taking place outside of the United States.
The move is the result of a three-year sponsorship deal with Andalucía's regional government, which has allocated €22,748,000 to the ceremony and its satellite concerts. The president of the regional government, Juan Manuel Moreno, has said that the Latin Grammys in Seville presents a "landmark moment for Spain, and for Europe".
The decision to move the Latin Grammys has sparked controversy due to continued criticism about the ceremony's lack of diversity. Despite showcasing music from Spanish and Portuguese-speaking countries, many Latin American artists feel left out, even though popular stars like Bad Bunny and rising acts like Peso Pluma and the regional Mexican music industry are shaping global pop music. Some have also raised concerns about labeling Spanish artists as "Latin" in light of Spain's contentious colonial past.
According to Francisco Solís Monroy, a Chilean critic of pop culture and co-host of the music podcast "Clase Básica," the Latin Grammys are considered "gringo" due to their origin in the US. He believes that the event promotes a narrow view of Latin music, associating it solely with Caribbean, Mexican, and South American styles. Monroy also argues that artists from countries like Chile, Ecuador, and Peru receive inadequate recognition at the ceremony, as it is dominated by Spanish artists.
Barcelona-born artist Rosalía has recently swept the awards, claiming a total of 14 Latin Grammys for 2018's El Mal Quererand 2022's Motomami. Last year, she became the first female artist to win the coveted Latin Grammy album of the year twice.
Solís Monroy expressed that while they have no disrespect towards Rosalía, the fact that she won Latin Grammys feels somewhat disconnected. They also believe that the decision to hold the ceremony in Seville only adds to this feeling. They suggest that while the ceremony doesn't always have to be in Latin America, it may have been more appropriate to have it there before going to Europe.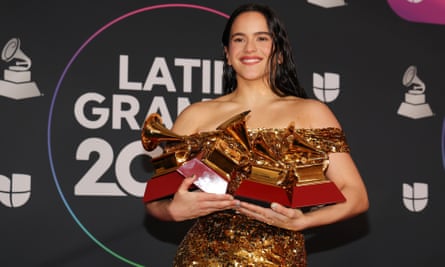 Katelina Eccleston, a music historian known as "La Gata", is of Panamanian-Jamaican heritage and offers a decolonized viewpoint on reggaeton. She does not actively promote the ceremony being held in Spain, but acknowledges that it is understandable given the country's investment in the industry. Rather than criticizing, Eccleston suggests that critics should redirect their efforts towards fully supporting the artists they want to see succeed in order to promote genuine representation at mainstream levels.
The Grammys announced their intention to promote and showcase Latin music worldwide with this move. The event will be shown in more than 80 countries, with an expected audience of over five million, mostly from the Americas. TelevisaUnivision, a Mexican-American production company, and Spain's Radio Televisión Española (RTVE) will produce the ceremony's first ever international broadcast.
The government of Andalucía anticipates that the partnership will produce more than $530 million in revenue within the next three years. This year's event is projected to increase Seville's economy by €50m and aligns with Spain's goal of promoting music tourism. Prior to the pandemic restrictions, the country was already home to over 900 music festivals, supporting approximately 300,000 jobs.
The CEO of the Latin Recording Academy, Manuel Abud, has justified the decision by stating that the academy has a duty to actively assist artists in their efforts to gain global recognition. In an interview, he explained, "This is why we are expanding internationally and why we are doing it at this time."
The excitement for the Grammy Awards is evident in Seville, with large crowds filling the streets and artists arriving in Spain's fourth largest city. Gale, a musician from Puerto Rico, is nominated for best new artist and will be performing at the ceremony on Thursday night. He sees this debut in Europe as an opportunity to attract new audiences and is thrilled to be closer to other locations.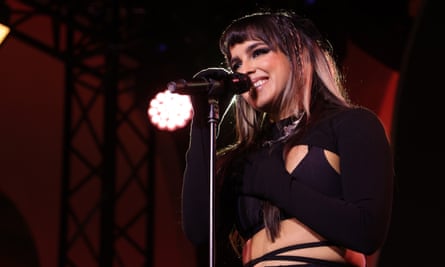 At the same time, Sebastián Yatra, a Colombian singer and co-host of this year's ceremony, expressed that Seville is a city rich in culture and the perfect location for the musical event.
Yatra, a two-time winner and 15-time nominee of the Latin Grammys, expressed optimism about the possibility of hosting the awards in various locations. He believes that Latin music is currently experiencing a remarkable period of success.
"He expressed his belief that countries in Latin America, such as Colombia, should be given the opportunity to host the ceremony. He also acknowledged Colombia's strong history at the Latin Grammys."
In this year's nominations, Camilo, Shakira, and Karol G from Colombia are leading with seven each. Juanes, another Colombian, has the most nominations in the history of the awards with a total of 49.
María José Llergo, a modern flamenco vocalist, originates from the town of Pozoblanco in Andalusia. She combines traditional flamenco with electronic beats, creating a rich and dynamic sound that pays homage to her cultural roots. She advocates for Seville to be recognized as the next center for Latin music.
According to her, Flamenco represents the traditional music of Andalucía, embodying the rhythm of footsteps on cobblestone streets and reflecting the history and people of the region. As she strolled through the city's narrow streets, lined with orange trees, she expressed that Andalucía is a warm and hospitable place, and Seville's ability to host such music is a testament to its big-heartedness.
Llergo expressed feeling distant from chasing her dream of becoming a musician, thinking it was only attainable for those on TV or in bustling cities. She reflected, "Living in the countryside, everything seemed out of reach."
On Tuesday night, she helmed a pivotal moment at the festival as she performs a warm-up event in the Setas ("Mushrooms") of Seville, an expansive wooden landmark whose umbrella-like structure was inspired by the city's iconic 16th-century vaulted cathedral. "I've learned to sing crying, I've learned to cry singing," she sang in Spanish, clutching an arm to her chest as she passionately swooped to the floor.
She had high hopes that the Latin Grammys would inspire the youth in Andalucía, a region known for its poverty in Spain, to chase after their aspirations. She believed that this event would serve as a motivator for the younger generation to realize that their dreams are within reach, and she found that to be a beautiful thing.
Source: theguardian.com