The film "She's Funny That Way" was released in 2014.
This movie, directed by Peter Bogdanovich in his later career, was a comical take on Ernst Lubitsch's style. Imogen Poots stars as a compassionate prostitute attempting to make it in the entertainment industry. During an audition, she recognizes the Broadway director as the man she had visited in his Manhattan hotel room the previous night. The director, portrayed by Owen Wilson, speaks with a charming Texas accent that is present in many of his roles. He plays a somewhat unremarkable and agreeable character, a mode that he occasionally falls into too effortlessly.
19. The Big Bounce (2004)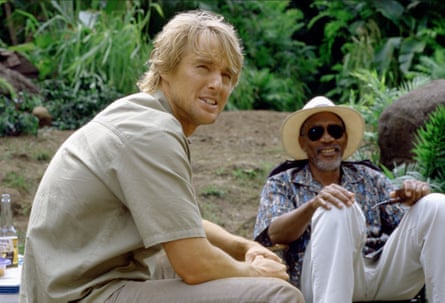 George Armitage, a well-known figure in the entertainment industry who has worked closely with Roger Corman, directed this meandering crime comedy based on Elmore Leonard's novel of the same name. In the previous adaptation from 1969, the lead role was played by Ryan O'Neal, and there are parallels between him and the current star, Wilson, both being attractive leading men who can come across as enigmatic. Wilson portrays a laid-back beach dweller and con artist who gets involved in a string of schemes orchestrated by a cast of dubious characters, including Morgan Freeman's corrupt judge. However, in this film, Wilson seems to be coasting along without much effort.
18. Meet the Fockers (2004)
Besides filmmaker Wes Anderson, the only other person closely associated with Wilson is Ben Stiller. Stiller's talent for satirical humor, creating discomfort, and self-awareness provided a perfect contrast to Wilson's optimistic and open demeanor. Meet the Fockers is the follow-up to the awkwardly funny Meet the Parents, where Stiller's character's ex-boyfriend (played by Wilson) makes a brief appearance as a New Age interfaith minister.
17. Shanghai Noon (2000)
Once again in Jackie Chan's career, Hollywood condescended to him by insisting that he be paired with a more obvious partner. In this comedic western spoof, the title is a play on words of the well-known western film High Noon. The premise involves Chan's character, set in the year 1881, having to rescue a princess who has been taken to the lawless wild west. He joins forces with a laid-back and effortlessly cool outlaw named Roy O'Bannon, portrayed by Wilson. At one point, the film pokes fun at Butch Cassidy and the Sundance Kid, with Wilson bearing a slight resemblance to Robert Redford. However, Wilson's comedic nature and focus on humor may have hindered him from having a career similar to Redford's.
16. Starsky & Hutch (2004)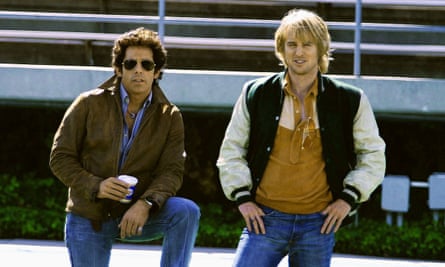 Wilson has been discussing the popular television show Starsky & Hutch since Wes Anderson's short film Bottle Rocket. In the mid-00s, he and Stiller were the top choices to portray the two charming police officers from the 70s: Wilson as the blond Ken "Hutch" Hutchinson (originally played by David Soul) and Stiller as David Starsky (originally portrayed by Paul Michael Glaser). Wilson adds a humorous touch to the underlying homosexual undertones in his close relationship with Starsky, but the film maintains a balance between irony and satire, opting for a more straightforward action comedy.
15. Behind Enemy Lines (2001)
Wilson gives a noteworthy performance in a serious role in an action movie based on true events. He stars alongside the similarly stern-faced Gene Hackman (who he would later co-star with in The Royal Tenenbaums). Despite the strange sight of him in such a role, Wilson does a great job playing a US Navy flight officer who is shot down behind enemy lines during the Bosnian War in the 1990s. The film also features some thrilling action scenes. This may be the film that prompts viewers to consider one of Wilson's most recognizable features: his broken nose. It hints at a potential violent past, but this never shows in his amiable on-screen persona.
14. The Darjeeling Limited (2007)
Wilson stars as one of three siblings, alongside Jason Schwartzman and Adrien Brody, embarking on a journey through India to heal from the loss of their father. Along the way, their train gets lost in a comical manner. Wilson's character's face is concealed with bandages, perhaps symbolizing his inner emotional wounds. At one point, he attempts to remove the bandages, but the pain is too much. This moment hints at the real-life struggles Wilson has faced with depression.
13. The Grand Budapest Hotel (2014)
This film is often hailed as Wes Anderson's best – and so it might be, although Wilson's contribution is relatively low-key. He is Monsieur Chuck, a fellow concierge and professional comrade of Ralph Fiennes's Monsieur Gustave, the noted concierge and eminence grise of the Grand Budapest Hotel itself. M Chuck is a member of the Society of the Crossed Keys, along with M Ivan, played by Bill Murray. It is a quick ensemble turn, but Wilson adds to the gaiety.
12. Inherent Vice (2014)
Wilson has collaborated with director Paul Thomas Anderson, but surprisingly, he has not become a regular actor in his films like some others. In the film adaptation of Thomas Pynchon's novel, Wilson portrays Coy Harlingen, a minor character who is involved in the complex and somewhat serious mystery unfolding. Coy is an informant with a troubled spouse (Jena Malone), and private detective Doc Sportello (Joaquin Phoenix) is hired to track him down. This role allows Wilson to showcase a slightly edgier aspect of his acting abilities.
11. Bottle Rocket (1996)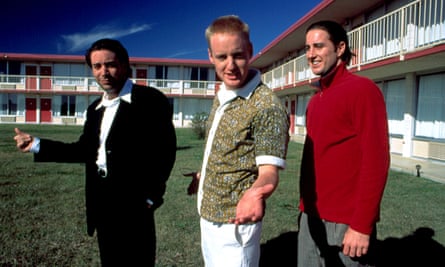 Wilson and his brother Luke both made their first appearance in this well-liked and unconventional film from the 1990s, which is reminiscent of the style of Linklater and Tarantino. The movie was based on a previous short film and did not yet showcase Anderson's signature elements. Wilson, sporting a short military-style haircut that he had been considering for his potential enlistment in the US Marine Corps, portrays a young man attempting to free his friend (Luke) from a mental institution in order to carry out a series of robberies. Once again, this film subtly alludes to underlying themes of sorrow and suffering.
10. Marley & Me (2008)
This heartwarming romantic film, despite being overwhelming at times, holds a significant place in the Wilson's body of work. He portrays John Grogan, a journalist who is married to a character played by his female counterpart in the film industry, Jennifer Aniston. Grogan finds solace in writing a column about his bond with his dog, a lovable labrador named Marley, who stands by him through all his personal struggles. However, when Marley falls ill and passes away, Grogan's life is forever changed. In a tearful and emotional scene, Wilson's character delivers a heartfelt speech to Marley at the vet's office, showcasing his acting range like no other role has before.
The film "You, Me and Dupree" was released in 2006.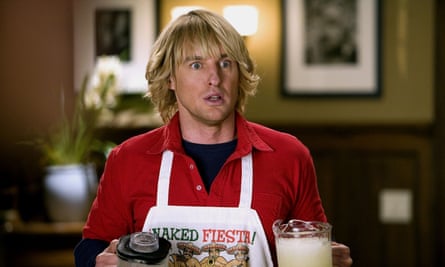 Wilson's romantic comedy is charming and humorous, and should be given more recognition. He portrays a lovable goofball named Dupree in this classic love triangle, similar to Bill Murray's role in What About Bob?. Matt Dillon and Kate Hudson star as a newlywed couple who take pity on Dupree, their friend and best man, after he loses his job and home. They invite him to stay with them, but things take a turn for the worse.
8. Wedding Crashers (2005)
The outrageousness of this comedy, which reflects the frat-pack culture of the 2000s, has made it a beloved choice for fans. With real moments of laughter, Wilson and Vaughn's characters perfectly complement each other. They portray two commitment-phobic men who manipulate vulnerable single women at weddings for their own gain. However, Wilson's character eventually falls for someone and learns an important lesson about love and vulnerability.
7. Cars (2006)
Wilson's vocal performance in this Pixar animation is arguably the nearest he ever got to a conventional action-adventure lead – it's not my favourite Pixar but, undoubtedly, he flavoured it with his winning personality. He is Lightning McQueen, a feisty, headstrong young sports car who is dead set on winning the prestigious Piston cup on his very first outing. But events conspire to strand him in the middle of the desert, where he learns lessons in humility from an old 50s auto voiced by Paul Newman. In some ways, the beaming face of Lightning McQueen personifies the perky, upbeat side of Wilson's persona.
6. The Royal Tenenbaums (2001)
Wilson plays a supporting, yet distinctive role in this Wes Anderson masterpiece. He portrays a character who is not a member of the dysfunctional Tenenbaum family, led by the arrogant patriarch Gene Hackman. As their neighbor Eli Cash, he sports a Stetson hat and writes western novels reminiscent of Larry McMurtry. He is coolly offended when critics do not recognize him as a genius, and even walks out of a TV interview when his early work is deemed a failure. Wilson's character is the best friend of troubled tennis player Richie Tenenbaum (played by Luke Wilson), and their relationship echoes the dynamic of their previous film Bottle Rocket. However, things become complicated when Richie confesses his love for his adopted sister Margot (Gwyneth Paltrow), who happens to be dating Eli.
5. Meet the Parents (2000)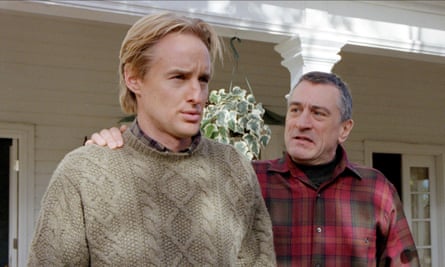 Wilson delivers a fantastic performance in this comedic remake of a 90s independent film. Ben Stiller portrays beta-male Gaylord "Greg" Focker, who is introduced to his girlfriend Pam's (Teri Polo) parents. Her father, a former CIA agent played by Robert De Niro, is both terrifying and amusing. Throughout the visit, Greg is constantly embarrassed, especially when he meets Pam's ex-boyfriend Kevin (played wonderfully by Wilson). Kevin is a wealthy alpha male who was inspired by Jesus to become a carpenter. He struggles to understand that Greg's job as a nurse is not just a volunteer position, but an actual profession.
4. Fantastic Mr Fox (2009)
Anderson's bold decision to adapt Roald Dahl's tale Fantastic Mr Fox into a stop-motion animation involved casting American actors for all the main roles and incorporating a baseball-like game called "whack bat". The sport is taught by Coach Skip, voiced by Wilson with a laid-back tone, who charmingly conveys the game's peculiarities and the overall oddness of the story with a subtle approach.
3. The Life Aquatic with Steve Zissou (2004)
Although it may not be Anderson's top film, Wilson delivers a heartfelt performance as Ned, a man who admires the oceanographer Steve Zissou, played by Bill Murray. Ned quits his job as a pilot to join Steve's team and even funds their next documentary – hinting at a possible father-son relationship between the two. While there is plenty of dry humor throughout, Murray and Wilson have a surprisingly intense and emotional death scene while flying a helicopter together.
2. Midnight in Paris (2011)
In Woody Allen's fantasy-comedy, Wilson plays a traditional romantic lead with charm and humor. He portrays a jaded screenwriter from Hollywood who visits Paris with his fiancée (Rachel McAdams). Longing for the romantic era of the belle époque, he unwittingly travels back in time on a carriage ride and encounters famous figures like Hemingway, Fitzgerald, and Picasso. He even has a brief affair with Picasso's mistress, played by Marion Cotillard. Wilson's performance is effortlessly entertaining and he perfectly captures the essence of his character's whimsical journey.
1. Zoolander (2001)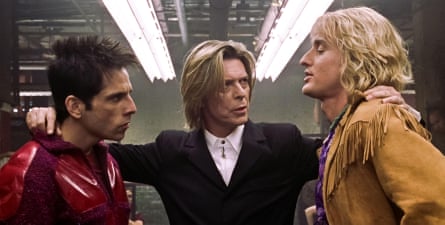 Currently trending! The highlight of Wilson's work has to be his portrayal of the incredibly attractive and stylish male model named Hansel, who steals the title of Male Model of the Year from Derek Zoolander (played by Ben Stiller). The sequence at the awards ceremony, showcasing Hansel's successful career in modeling, is a magnificent display of Wilson's undeniable good looks. In an interview off-camera, Hansel reveals his sensitivity and emotional intelligence by admiring "real heroes" like Richard Gere and Sting. And his "walk-off" competition with Zoolander, judged by David Bowie, remains a memorable moment.
Source: theguardian.com