T
Last year at this time, the band Low was scheduled to headline Le Guess Who, a music festival in Utrecht that focuses on experimental music. However, due to the declining health of singer and drummer Mimi Parker, who had been battling ovarian cancer for two years, the beloved US indie band had to cancel their tour dates. Tragically, on November 5th, 2022, she passed away at her home in Duluth, Minnesota at the age of 55. Her death marked the end of the haunting and hymnal group that she and her husband Alan Sparhawk had formed in 1993, after meeting in primary school. Low had been going through a rapid period of evolution with their last two albums, the distorted and furious Double Negative in 2018 and Hey What in 2021.
Before returning to Le Guess Who, Sparhawk had only performed in Duluth and Minneapolis with two bands that included their son, Cyrus, as a member. These bands were Derecho, which was inspired by Roy Ayers and Curtis Mayfield, and Damien, a four-piece Afro-Cuban group where Sparhawk sometimes dressed as a ship's captain. At a packed Protestant church on Saturday night, Sparhawk's highly anticipated solo debut initially seemed to lean towards the style of Derecho. He performed on guitar with his long, grizzled hair giving off heavy metal priest vibes. Cyrus played bass, Owen Mahon was on drums, and Dave Carroll played banjo. They opened with "Liquid Love," an instrumental funk piece with a jazzy refrain that blended Thundercat and Chicago post-rockers the Sea and Cake.
Reworded: Even if they continued to play in this manner for the entire set, it is likely that the audience would have been pleased, given the positive sentiment towards the Sparhawks and the recognition of the significant absence on stage that Parker used to fill. However, they then proceed to play a series of stunning, powerful new songs that echo throughout that empty space.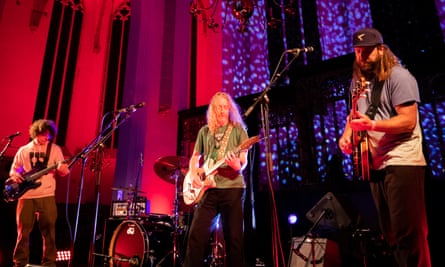 "He serenades on Screaming, with his signature intense voice and distorted guitar, accompanied by Mahon's skillful cymbal playing with soft mallets that muffle any lingering echoes, reflecting the impotent frustration of their love's eternal nature. Some songs seem to equate Parker's departure to a form of hellish punishment, as Sparhawk proclaims on JCMF, almost savoring the thought. However, on Torn, a melancholic country tune reminiscent of Neil Young, he laments the repetitive and disappointing outcomes of situations where one receives the same answer every time. Princess echoes the tender refrains that made Low famous, as he sings of the impossibility of saving the world, especially for their young daughter. The title of their first album, I Could Live in Hope, released almost three decades ago, captures the beautiful but futile sentiment that permeates these songs, which crackle with underlying conflicts and uncomfortable truths."
Some express their pain and grief in a raw and direct manner, often repeating phrases that become increasingly heavy with each repetition. On the blues track "Home 2 Me," Sparhawk begs to be held, while on "Get High," he and Cyrus harmonize and encourage Parker to let go. In "Don't Take Your Light," Sparhawk is overwhelmed by the thought of losing his partner and sings with a staggered voice. It is difficult for him to perform these songs without his partner by his side, as seen by the tears in the audience's eyes. However, performing these songs together may also serve as a way for the family to grieve and heal together.
The final track, "Want It Back," is a strikingly straightforward one. Sparhawk continues to chant the title repeatedly as the music transitions from intense rock back to the fuzzy wah-wah guitar they began with. (It even prompts some dancing from the audience, which is not something Low typically encourages.) Sparhawk appears to be enjoying himself as he sings his spellbinding words, and the jazzy bookends of the performance give off a sense of completing a holy ceremony.
Source: theguardian.com