E
In their high school years in the late 2000s, Rin Axelman was a passionate supporter of Zionism. As a gift for their bat mitzvah, they received a copy of Leon Uris' Exodus, a popular novel from 1958 that played a role in solidifying American Zionism. According to Axelman, the book portrayed a heroic and almost mythical account of the establishment of Israel, which was incredibly inspiring.
Upon completing Exodus, Axelman developed a strong fascination with Israel. They revealed their thoughts, stating, "I contemplated joining the Israeli military and daydreamed about relocating there." They were captivated by the tale of Jews reclaiming their homeland.
During high school, a teacher noticed Axelman's enthusiasm and suggested they explore the history of Palestine. This experience served as a wake-up call for Axelman. Prior to that, their knowledge about Palestinians was limited and often portrayed them as a mere obstacle. However, after a year of reading works by Palestinian historians such as Rashid Khalidi and left-wing Israeli historians like Tom Segev, Axelman's perspective shifted. They compared this process to what they had learned in school about the history of the United States, where a narrative of refugees and immigrants creating a successful society overshadowed the mistreatment and displacement of Native Americans. This realization was eye-opening and empowering for Axelman.
The inspiration for the documentary Israelism, directed by Axelman and Sam Eilertsen, stemmed from a change in perception. The film contends that certain American Jews are presented with a narrative that overlooks the presence of Palestinians, instead focusing on the story of Jews fleeing persecution and genocide to reclaim their ancestral homeland. This narrative has greatly influenced global opinions about the Israeli state and US relationships in the Middle East.
The movie centers on the experiences of two young American Jews – Simone Zimmerman, who attended a Jewish school and participated in an exchange program in Israel, and Eitan (last name not disclosed), who enlisted in the Israel Defence Forces (IDF) after graduating high school. Zimmerman describes her experience as a process of "indoctrination" and "mass mobilization" aimed at making her a pro-Israel advocate in the US. It portrays an educational and advocacy system that pressures young Jewish Americans to engage in pro-Israel activism. There is a particular emphasis on the teachings of birthright, which offers free trips to Israel for Jews worldwide and is funded by the Israeli government.
The movie depicts young American Jewish students in primary school proudly waving Israeli flags and enthusiastically chanting, "We want to go! We want to go!" In a exclusive Jewish middle school, students are captured reading Alan Dershowitz's book, The Case for Israel. At large birthright gatherings in Jerusalem, countless American teens can be seen cheering for the Israel Defense Forces while a speaker encourages them to act as ambassadors for Israel and influence public opinion in its favor.
The individuals featured in the documentary undergo a change, often by interacting with Palestinians and traveling to the West Bank. The film showcases a rising group of Jews, particularly younger ones, who aim to advocate for Palestinian rights and reduce the emphasis on Israel in American Jewish culture.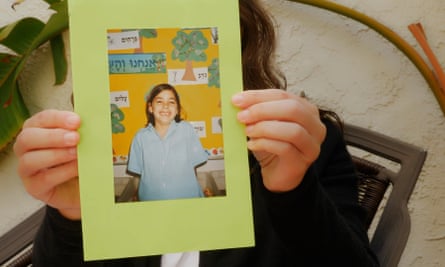 The documentary was produced prior to the Hamas terrorist attack on October 7 in Israel and the resulting bombing in Gaza. However, there has been a significant increase in demand for the film in recent weeks. The creators of the film are currently hosting virtual screenings every week and have organized a successful tour in the US and Europe, with tickets selling out. Axelman shared, "Individuals have expressed their desire to show this film to their loved ones in order to help them comprehend the situation."
The pair express that promoting the movie after the attacks on October 7th has been challenging. Axelman shares, "When I visited Israel-Palestine at 21, I volunteered at a hostel with a remarkable Israeli man who advocates against occupation and manages the hostel with Palestinian individuals. Both of his parents were killed by Hamas, and witnessing his pain in interviews is heartbreaking. Our team has been going through a tough time – some have lost loved ones or fear losing them."
According to Axelman, their film aims to shed light on the complexity of current emotions. It highlights the importance of understanding the different perspectives and narratives surrounding the conflict. Axelman explains that if one only sees Israel as the homeland of the Jewish people, it may seem like a simple story of Hamas committing a single act of evil terrorism. However, it is also important to acknowledge that Hamas has caused immense trauma through their killings of innocent civilians. At the same time, it is crucial to recognize that this occurred within the context of a long-standing and oppressive occupation that has greatly impacted the lives of Palestinians.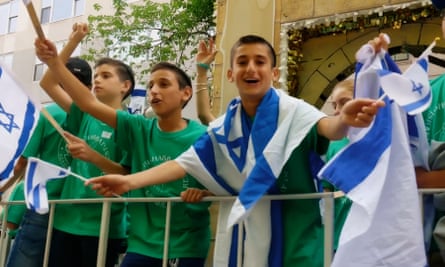 Axelman was raised in a small Jewish population in rural Maine. Their parents belonged to the same era as Bernie Sanders and were of a hippie lifestyle. At their high school, Axelman and their sibling were the only ones who identified as Jewish. They shared that they were often ridiculed, which made them feel like outcasts. As a result, it was challenging for them to develop a strong sense of Jewish identity, especially while also grappling with the traumas of the Holocaust and antisemitism at a young age.
Studying Israel provided a sense of healing. The country's rich ancient history has a strong emotional impact, as it served as a refuge from Europe.
Eilertsen, the co-director of the film, had similar experiences of Israel during his childhood. He explained, "In the reform and conservative Jewish community, Israel was often portrayed as a kind of Jewish paradise, a place where Jews could fully embrace their identity."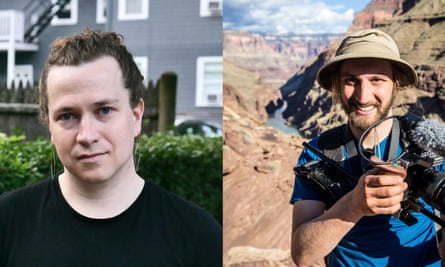 Upon arriving at Brown University, Axelman encountered fellow young individuals who were raised to have an unwavering love for Israel. However, after interacting with Palestinians and hearing their experiences, their perspectives shifted.
They remember the leader of Brown Students for Israel, "who would essentially harass Palestinian students, and went to work for the ADL after college", referring to the staunchly pro-Israel Anti-Defamation League. A decade later, Axelman says, those same students are doing Palestinian human rights work. "Seeing so many of these pro-Israel student leaders go through this transformation made me really interested in making this film."
The movie also presents the idea that certain American Jewish communities often prioritize political activism over cultural celebration of Israel. It highlights the influence of Hillel, a Jewish organization found in many US colleges, in promoting pro-Israel advocacy among Jewish students, including having former IDF soldiers participate in student meetings. One person interviewed, Sarah Anne Minkin, who works at the Foundation for Middle East Peace, describes these institutions as turning young Jews into "soldiers" for Israel.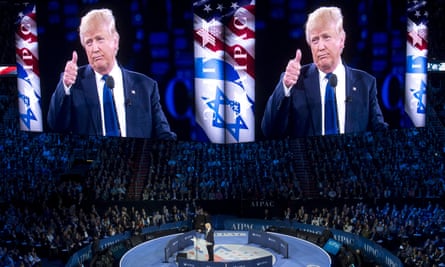 According to the film, a primary means of this occurrence is through the influence of the pro-Israel organization, American Israel Public Affairs Committee (AIPAC).
"The combination of this fervent energy and education easily transforms into active political advocacy for Israel. We document individuals who were sent to Aipac conferences during their time in Jewish high school to engage in lobbying efforts. The main focus of this lobbying is to depoliticize Israel, portraying support for the country as an emotional obligation rather than a political stance. Any criticism is automatically labeled as antisemitism," stated Eilertsen.
The leaders highlight Aipac's steadfast backing of Donald Trump, despite his failure to denounce antisemitic white supremacists, as proof of the organization's emphasis on promoting Israel above all other concerns.
Zimmerman, who attended Aipac conferences while in high school, considers it a regular aspect of her upbringing. She believes it is a way to instill in young Jewish individuals the idea that they must be defenders of Israel, whether it be in physical combat or in the arena of public opinion.
Zimmerman and the creators of the film emphasize that the United States has numerous strategic concerns in the Middle East that are distinct from the influence of the Israel lobby. According to Zimmerman, these countries' foreign policies are the main focus, but they conveniently use the protection of Jews as a justification for other elements of their foreign policy.
The filmmakers are specific in their critique of Aipac, emphasizing that it does not represent the entire American Jewish community, which is diverse and includes individuals who are anti-Zionist or have no ties to Israel. Eilertsen stated, "When individuals make exaggerated claims about the power of Aipac, it can lead to anti-Semitism." However, it is a fact that Aipac and similar groups like Democratic Majority for Israel have significant influence on Capitol Hill and are credited with assisting in the election of their preferred candidates and defeating those who are not deemed supportive enough of Israel. This is not a conspiracy theory and claiming that it is anti-Semitic is an illogical deflection.
There are differing opinions on the concept of Israelism. In a piece for the Jewish Journal, David Suissa, a columnist based in LA, argues that Israelism promotes the idea that strong advocacy for Zionism has led to a generation of young Jews who feel deceived and have turned against Israel. A member of the UCLA chapter of Students Supporting Israel, a Zionist organization, also expressed concerns about the film, stating that it is filled with propaganda and poses significant problems.
The directors recognize that there may be individuals at the screenings who do not support the main idea of the film and pose challenging inquiries. They welcome and encourage this type of dialogue. According to Eilertsen, there has not been a single screening where someone has not approached them and shared, "This is also my personal experience."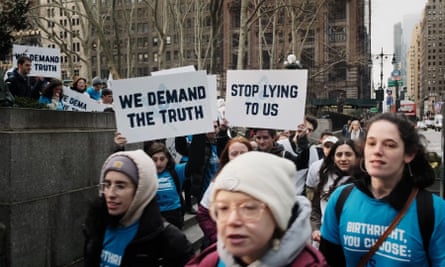 The film also highlights the optimistic tone, demonstrating that due to campus life, increased discussions, and the influence of the Jewish left, many young Jews have developed a more progressive stance on Israel. It features a large protest at the birthright movement's headquarters, where Jewish activists call for a more truthful conversation.
Zimmerman expressed that amidst the current turmoil, the one thing that gives them hope is the increasing number of individuals who are opening their eyes to the truth. They believe that people will no longer be deceived by the false teachings they were raised with and will instead bravely confront the true state of Israel, rather than a fabricated version of it.
The film Israelism is currently being shown in person at various locations in the US and is also available online for no cost. For more information, please visit https://www.israelismfilm.com/screenings.
Source: theguardian.com