C
Corinne Bailey Rae moves around the stage without speaking, holding handheld percussion instruments near amplifiers and her bandmates, as if using burning sage to purify the area. The air is filled with percussion and the tentative sounds of a saxophone. She takes a singing bowl, its deep humming breaking through the atmospheric sounds, then puts on an electric guitar and starts to sing. The song is titled "A Spell, A Prayer" and it acts as a call for help. She states, "We desire to make our mark through history, to unravel every strand of suffering."
Throughout her professional journey, Bailey Rae has gained recognition for her light and soulful music. "Put Your Records On" (2006) has become a timeless staple on smooth hits radio. She received accolades from Mobos and Grammys for her self-titled debut album, which sold 4 million copies in the same year. Playing at a small 300-capacity arts venue for three nights, after a series of low-key performances in North America, is an unexpected change from Bailey Rae's more glamorous persona.
However, she has always been a multifaceted artist beyond what her initial hit implied. While "Put Your Records On" may seem gentle, it actually celebrates female strength. The lyrics mention embracing an "afro hairdo". Prior to pursuing a solo career, Bailey Rae was a member of the all-female guitar band, Helen.
Unfortunately, at the peak of her accomplishments, a tragedy occurred. The Sea (2010), her second album, reflected the unexpected passing of her spouse, jazz musician Jason Rae. After a six-year gap, she released her third album, The Heart Speaks in Whispers, which aimed to recapture the effortless sound of her previous music. However, in interviews discussing her latest release, Black Rainbows, which came out in September, Bailey Rae revealed that this time was challenging for her as she strived to create popular songs that just wouldn't come together.
Originally intended as a side project, this fourth album marks a significant change in artistic direction. The textures and themes shed the superficial associations that have clung to Bailey Rae like lint. Tonight, she showcases her electric guitar skills and unleashes powerful howls; using dance as a means of release. The album delves into the horrors of racism, the complexities of Black identity, and the catharsis found in both anger and joy. Through a mix of distorted riot grrrl punk, retro soul, and genre-bending meditations, Bailey Rae explores a range of emotions. The addition of flute, saxophone, and polyrhythms in her live performance creates a spiritual jazz atmosphere, with subtle nods to house music.
The following is about the song Erasure, a three-minute piece featuring intense guitar playing – the type of music that typically inspires a moshpit but unfortunately doesn't. During her tour in 2017, Bailey Rae stumbled upon a museum in the South Side of Chicago. The museum, created by artist Theaster Gates, is known as the Stony Island Arts Bank and serves as an archive for various materials including records from Chicago's house music pioneer Frankie Knuckles, a collection of Ebony magazines, and a disturbing assortment of "negrobilia" – household items depicting Black people in a derogatory manner. As the band plays on, Bailey Rae passionately sings about a particular ashtray with a Black child's face on it, crooning: "They put out lit cigarettes/ Down your sweet throat".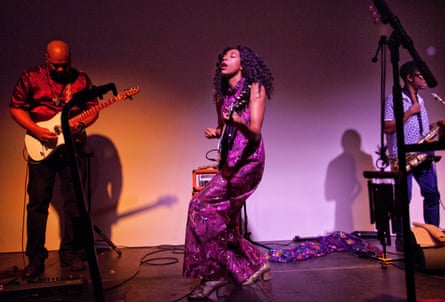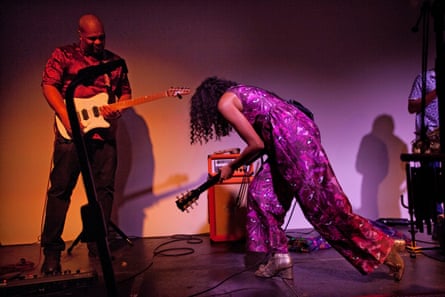 During breaks between songs, Bailey Rae shares the inspiration behind each track, almost as if she is guiding the audience through a photo album. One of her songs, "New York Transit Queen," was inspired by a photograph in Ebony magazine featuring Audrey Smaltz, who was crowned Miss New York Transit in 1954. Another song, "Peach Velvet Sky," is a stripped-down performance with Bailey Rae and her keyboard-player partner, Steve Brown. This song imagines the view of the sky from the perspective of Harriet Jacobs, an enslaved woman who spent seven years hiding in a crawl space. Her story was later published in 1861 as "Incidents in the Life of a Slave Girl." As Bailey Rae sings, her thumb and finger form the shape of the small hole that Jacobs carved to look outside, her voice graceful and full of emotion.
Songs are slowly being replaced with longer, more immersive experiences. The mesmerizing "Before the Throne of the Invisible God" is a free-flowing "sound bath" (as described by Bailey Rae) that elicits a sense of awe in the presence of the unexplainable – and the tangible. The inspiration for the song, the church complex of Lalibela in Ethiopia, was meticulously carved from sandstone as far back as the 7th century – a testament to the technical prowess of African culture. Bailey Rae's lyrics contemplate the throne carved for God within one of the buildings, while saxophonist Aaron Burnett's meandering melodies pay homage to traditional Ethiopian jazz styles.
The evening concludes with an unnecessary repeat performance of Bailey Rae's first song, "Like a Star." While the audience enthusiastically receives it, the true highlight of the concert is "Put It Down," a lively song that Rae explains was inspired by a night of dancing at the arts bank in Chicago. Attendees were invited to write down their deepest troubles on paper and place them in a bowl. At the end of the night, with DJ Duane Powell on the turntables, the contents of the bowl were set on fire.
In a time frame of approximately 15 minutes, Bailey Rae's musical group transitions Put It Down from a jazz style to a more intense trip-hop sound. As the song progresses, it evolves into yet another form. The introduction of a consistent beat creates a mini jazz party in the refined hall, featuring solos from various musicians. Towards the end, Bailey Rae joins the audience to dance and express her creative liberty while also releasing her troubles.
Source: theguardian.com