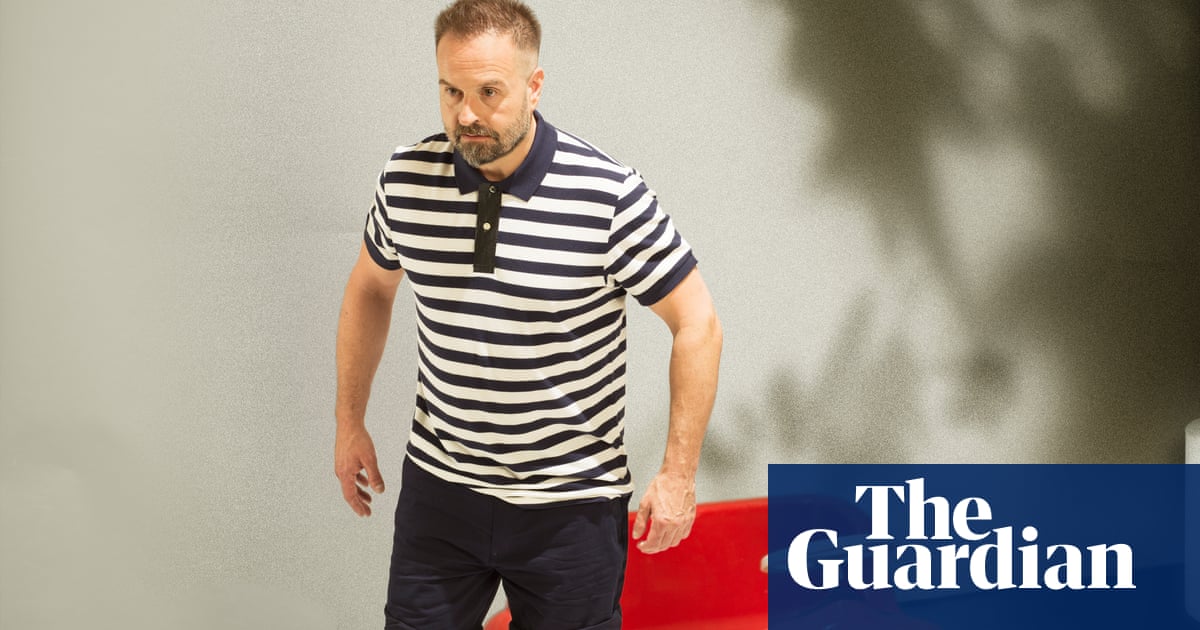 Alfie Boe, the most renowned tenor in the UK, was born in Blackpool in 1973. He grew up in Fleetwood, Lancashire, and his singing talent was discovered while he was working at a car factory. He was encouraged to audition for an opera company and has since then, made a name for himself as an alumnus of the Royal College of Music. Boe has starred in Les Misérables and won a Tony award for his performance in Puccini's La Bohème on Broadway. He has also achieved crossover success with his frequent collaborator, Michael Ball. His latest solo album, Open Arms – The Symphonic Songbook, will be released on October 27th.
I have a vivid memory of the day this picture was captured. I was only three years old and thoroughly enjoying my favorite activity – pretending to be my dad in his small red car. I would spend countless hours parking, reversing, and driving around. I even mimicked my dad by getting out of the car, locking the door, and walking away.
Being the youngest among nine siblings, I often had to entertain myself. I would come up with imaginative adventures, such as pretending to ride a horse on a wall that resembled a cowboy saddle. I also enjoyed climbing trees, building dens, and walking on the fences around our garden as if I were in a circus. Video games were not a part of my childhood, so I had to find ways to entertain myself using nature. My mother was older when she had me, so my sisters took on the role of caring for me. They continue to do so even now.
Growing up with three brothers and five sisters had a huge impact on me. Despite our small house, it always felt like a big and lively home. We shared bunk beds and had only one bathroom, with just one toilet and no shower. It may have been simple living, but it taught me to be confident. The constant interaction with different personalities and adapting to various social situations helped me develop important skills. Our family dinners often included my parents' friends, where I would try to entertain them with funny walks, dances, and silly faces. It was a joyful environment filled with delicious food, laughter, and fun. I was also introduced to a diverse range of music, including country, skiffle, and big band. Whenever the swing record "Moonlight Serenade" played, we all knew it was time to let loose and have a party.
During my childhood, I never found myself in any problematic situations. I was not interested in being provocative or defying my parents. As a teenager, I always made an effort to respect my mother's authority. She instilled good discipline in us and taught us the difference between right and wrong. Although I may have occasionally snuck a piece of chocolate from the box, I generally tried to stay on the right path.
With that being mentioned, my experience with school was never positive. I was not well-liked or considered cool by my classmates. Singing was a hobby of mine, but I was unsure of my talent. As a young boy, my voice was high-pitched like a soprano. However, when it changed at the age of 14, I discovered that my voice had a distinct quality. Prior to this, I would secretly sing along to my father's Elvis and Pavarotti albums. But once I realized I had my own unique style, my love for singing only grew stronger.
I constantly daydreamed about being a performer, envisioning myself playing the drums in a large arena surrounded by a talented band. To practice, I would use my pillows as makeshift drums and pretend to be on stage. One day, as I was lost in my drumming, my dad interrupted and asked me to come down for dinner. He also reminded me to clean up my things from the living room. Assuming I had left my school bag out, I quickly replied and rushed downstairs to tidy up. However, to my surprise, I found a drum kit in the middle of the room that my dad had bought for me. It was an incredible feeling.
I recognized the need to establish a career and understood that pursuing a career as a rock star required a backup plan. I decided to enter the automotive industry, although I was not successful and often avoided work. One day, a customer overheard me singing at the car factory and suggested that I should go to London and pursue singing. They told me about a company, D'Oyly Carte, that was holding auditions. That evening, I went to a singing lesson and my teacher informed me about the same audition advertised in a stage newspaper. I searched for the newspaper in Fleetwood, but it was not available except for one small newsagent. I purchased it for 25p, and the newsagent mentioned that no one usually buys it, so I was fortunate. The newspaper opened to the advertisement, which I took as a sign. I took a day off work to travel to London for the audition, despite my foreman's disapproval. I was invited for a second audition and was accepted into the company, much to my foreman's disappointment. It has been 30 years since then, and I have been singing nonstop ever since.
I was initially taken aback by the diversity of backgrounds within the operatic community, as it included individuals from all walks of life such as police officers and teachers. Despite my own regular upbringing, I never felt out of place and instead felt grateful for the opportunity to pursue my passion. It wasn't about the financial gain, but rather about the joy of performing on stage and sharing my voice with an audience. I strived for perfection in my performances, wanting to impress the musical director and fulfill their instructions with utmost seriousness.
Since that time, I have been given some amazing chances, including performing on the balcony of Buckingham Palace for the Queen during her Diamond Jubilee. I have experienced more moments of success than disappointment, although there have been times when my albums have not performed as well as I had hoped. However, I see these setbacks as opportunities to learn and grow. I don't consider my career to be a complete success – I am always concerned about becoming too comfortable. My ultimate goal is to continue singing well into my 80s and entertaining audiences with whatever unique sound I may produce at that stage of my life.
My father only saw me perform at the D'Oyly Carte and the Royal College of Music. He passed away when I was 23, but he was able to witness my graduation. I remember glancing into the audience while receiving my certificate, but unfortunately, my father had fallen asleep due to the effects of his brain tumor. We were unaware of this at the time, but his condition deteriorated quickly. My mother is currently 91 years old and approaching the end of her life. She suffers from dementia, so it is uncertain if she recognizes me at this time. However, this is a natural part of life. My parents were married for 47 years and eventually, they will be reunited again.
As I observe this picture, I perceive a young boy who greatly admired his father and never lacked anything. I am forever thankful for my upbringing and still sense my father's presence with me every day. There are moments when it feels as though he is no longer here, as if he has vanished. I become concerned, am I journeying on my own? Yet, I am aware that these are the times when he is actually nearer than ever before.
Source: theguardian.com