Pep Guardiola expresses his joy in leading City to become the top football team in Manchester as they prepare to face United at Old Trafford on Sunday. Since joining the Etihad Stadium in 2016, Manchester City has achieved five Premier League titles, two FA Cups, four League Cups, and the Champions League. In comparison, United's accomplishments during this time are limited to two League Cups and one Europa League victory.
When asked about his feelings on reversing the situation in Manchester, Guardiola responded, "Definitely. What's most rewarding is that our success was not just a one-year accomplishment."
During his time as manager at Manchester United, Sir Alex Ferguson did not view Manchester City as their primary competitors. As a result, City often lived in the shadow of United while Ferguson was in charge. Out of the 45 derbies played during Ferguson's reign, he won 25 and lost 11, demonstrating United's dominance. Guardiola acknowledged Ferguson's perspective, stating that City was not seen as a significant challenger during that time.
"When Sheikh Mansour and Khaldoon [al-Mubarak, the chairman] took over and made an investment, we were not present. At that time, clubs like United and Arsenal were the wealthiest, but we were not among them. Even Sir Alex Ferguson and I, during my time at Barcelona, could not have predicted what has transpired."
"Now that it's our current situation, our goal is to remain in this position for as long as we can. It may be uncomfortable for some that we were not part of the top tier before, but we are now and perhaps that makes them uncomfortable. We are present in this status and we strive to maintain it in the future."
United have secured victories in their last three games across all competitions with a one-goal margin, providing a crucial boost of confidence as they prepare for the upcoming derby against City. On Wednesday, City easily defeated Young Boys 3-1 in the Champions League.
Erik ten Hag's side sit six points behind City in the table after nine matches as the Manchester clubs prepare to face one another. During City's Guardiola tenure, United's best final league positions have seen them finish a distant second on two occasions and they are on their third permanent manager since the Spaniard was appointed.
When asked about City's main competitors, Guardiola stated that there was one year with Ole [Gunnar Solskjær] that was a close competition, but overall it has been Liverpool. He also mentioned that during his time with City, Liverpool has consistently been their biggest rivals and have pushed them to improve in all aspects. They have posed a unique challenge unlike any other team.
"Undoubtedly, Arsenal has made a comeback, Newcastle has joined the competition, and Chelsea is currently in the process of making some changes. It will take time, but with their current manager and investments, they will surely make progress in the coming years. Just look at how well Tottenham is performing now. Their early exit from the Carabao Cup will ensure they have a fresh team throughout the season. With their skilled manager, they are expected to be strong contenders. However, Liverpool has been our main rival in the past."
When asked if United could achieve similar success under Ten Hag's leadership, Guardiola responded by saying, "Perhaps not in the same manner as Sir Alex Ferguson's control during that time because there were only two or three teams at that moment. However, now there are more teams with exceptional managers. So maybe not in that specific way, but if they make wise choices and have a clear hierarchy with a sports director, manager, and players who share the same ideas, then they have a chance."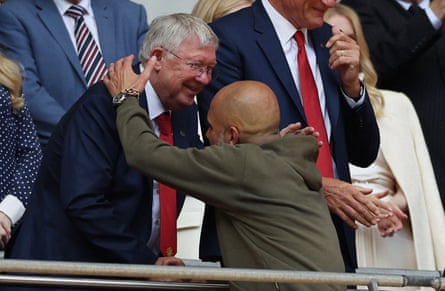 "When any event occurs at Manchester United, it receives extensive coverage and ensures that their reputation and prestige will always remain. However, they must ensure that everything falls into place in order to make the correct decisions. Whenever this occurs, they will be ready."
Source: theguardian.com