Jonas Eidevall, in a lighthearted manner, expressed his desire to create challenges and discomfort for Emma Hayes during her time in the WSL. However, he also mentioned that he plans to seek advice from the Chelsea manager once she departs from the club at the end of the season.
Chelsea's shock announcement that Hayes would be leaving the club after 11 years came before reports that she is frontrunner for the vacant USA women's national team job.
"The reason for her departure is unknown, but it is certain that she will leave a lasting impact at Chelsea," stated Eidevall after his team's 2-1 victory over Manchester City. "Her legacy is one that all football managers would be proud to leave behind. She should take great pride in that."
"I believe that myself and the other managers will make every effort to make her time in the WSL challenging and unpleasant before she departs," he stated with a smirk.
"Afterwards, she will likely be one of the first people I contact because I believe she has some intriguing concepts on building a successful football team."
"When we are not direct competitors, I would be interested in spending some time with her, hearing about her experiences at Chelsea and such. However, for now, that phone call will have to wait as we must maintain our competitive relationship. I hope she doesn't have a good experience at Chelsea, but that will not diminish her achievements. Wishing her the best of luck in all her endeavors."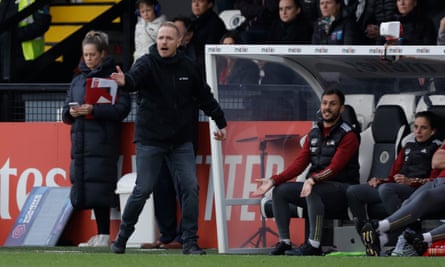 Gareth Taylor, the manager of the City team, was taken aback by the news of Hayes' announcement. He stated, "She has been with Chelsea for a while now and I can imagine she is wondering what her next move will be." Taylor also added that it was unexpected for such news to come out so early in the season and that he, like others, was taken by surprise.
Taylor mentioned that Khiara Keating, the 19-year-old goalkeeper, will receive proper care after she managed to stop a penalty, but was responsible for conceding both goals in Arsenal's 2-1 loss.
"She will be fine," he reassured. "Making mistakes is just part of the game. I've mentioned before that there will come a time when she makes a mistake, and this won't be the last one. But that's expected for all players and keepers. Despite that, she has also achieved many impressive things, and I have no doubt she will continue to excel."
"This situation may be unfortunate, but it will serve as a valuable learning experience for her. As a player, these challenges help shape and strengthen you. We will provide her with the necessary support to help her overcome this and she will be back on the court before we know it, continuing to achieve great things as she always has."
Source: theguardian.com