Novak Djokovic cruised to a record-extending seventh Paris Masters title, and became the first player to claim 40 Masters ATP 1000 titles, after beating Grigor Dimitrov 6-4, 6-3 in the final on Sunday.
Novak Djokovic, currently ranked as the world's top player, has just won his sixth trophy of the season. This victory has solidified his lead over Carlos Alcaraz, who is currently ranked second in the race to end the year as the top player. Djokovic will now be heading to the ATP Finals in Turin, where he has a good chance of securing the top spot after winning several close matches this week.
Djokovic expressed his amazement at his victory, given the difficult circumstances he faced this week. He mentioned how he had almost lost three consecutive matches on Thursday, Friday, and Saturday. To reach the final, the 24-times grand slam winner had to defeat Tallon Griekspoor, Holger Rune, and Andrey Rublev in three sets each.
Djokovic stated that he nearly lost the matches, but was able to tap into a higher level of performance when necessary. He also noted that both players were tense at the start and his opponent seemed fatigued. The score may not reflect it, but it was a close match and another impressive victory. He expressed pride in this win.
In a confrontation between the two most senior athletes in the top 20 rankings, 36-year-old Djokovic achieved an early advantage by breaking 17th-ranked Dimitrov's serve for a 4-3 lead in the first set. He then comfortably secured the set in just 51 minutes.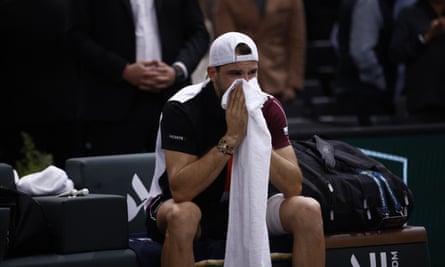 Dimitrov, who was not seeded, has only beaten Djokovic once in their 12 previous matches, which was ten years ago. Despite putting up a stronger fight in the second set, the 32-year-old was unable to stop Djokovic from winning his 40th Masters title, putting him four ahead of his closest competitor, Rafael Nadal.
Djokovic's current winning streak has reached 18 matches, as he has not experienced a loss since his defeat at the Wimbledon final by Alcaraz in July. He is expected to be the clear front-runner for the upcoming ATP Finals, where Alcaraz, Rune, Rublev, Daniil Medvedev, Stefanos Tsitsipas, Jannik Sinner, and Alexander Zverev will also compete.
Dimitrov, on the other hand, was in tears as he missed out on the chance to win his first title in six years. Djokovic, who interrupted his post-match interview to embrace his defeated opponent, stated, "I have experienced this many times before, losing in finals."
"I have been fortunate to win a greater number of finals than I have lost. I sincerely hope that he will maintain his performance at a high standard. He has been displaying some of his finest tennis this week and I wish him all the success. My hope is that he can emerge victorious in major tournaments."