I
In the early hours of Wednesday, October 25th, Josefina Maldonado, a woman in her 60s and a grandmother of two, residing in the Renacimiento district of Acapulco, witnessed her home's corrugated metal roof being lifted into the air by winds reaching 165mph (270km/h). The powerful hurricane brought heavy rain and inflicted terror upon her, her family, and two young children inside. The majority of their furniture, including their beds, were carried away by the storm.
Maldonado explains that it wasn't a matter of one being stronger than the other, but rather the combined force of the wind and water. They spent the entire night attempting to salvage what they could, while the children cried and screamed for hours.
Hurricane Otis caused extensive destruction along the Pacific coast of Mexico, resulting in over 200,000 homes being damaged and 45 fatalities. Many more people were reported missing. The lack of advance warning about the severity of the storm is widely acknowledged as a major failure in meteorological forecasting. Despite being classified as a category 1 storm by the United States National Hurricane Center two days prior, it was upgraded to a category 5 just hours before making landfall. This left minimal time for residents in Acapulco to evacuate.
The center reported that the climate emergency has changed the water temperatures in the Pacific, increasing the likelihood of rapid accelerations.
The day after the storm in Renacimiento, locals gathered rakes and shovels to gather the debris from their homes. This included refrigerators, mattresses, food containers, bent street signs, and children's tricycles. They then created a path for people to walk through the damaged properties.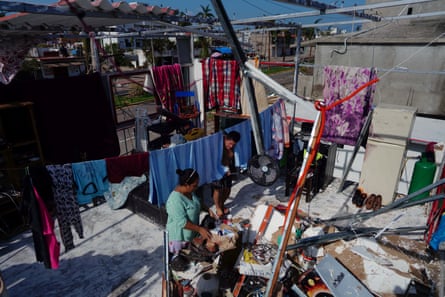 Maldonado was unable to locate her furniture amidst the wreckage. She had to wait in line at the entrance to the area for a military vehicle to bring water. It wasn't until the following day that she and other residents received an adequate amount of water supply in containers for their families to last them several days.
They would require sustenance, medication, and other supplies for their own well-being. Maldonado expresses, "We have hardly received any assistance."
Two days following the storm, the community was informed that marines would distribute canned beans, rice, and biscuits to households in a nearby area. However, upon arrival, it was apparent that there was not enough to go around as a large group had already gathered.
According to Maldonado, individuals began quarreling about the food, initially through shouting, and then resorting to physical altercations such as pushing and punching. As a result, the marines withdrew and ceased distributing the food.
Numerous individuals had to depend on assistance from more affluent neighbors. A few days after the storm struck, once the main roads of the city were cleared, an economy of disaster emerged, with prices being two or three times higher than usual. However, many residents no longer had access to cash. Some required assistance in arranging group taxi rides to locations up to an hour away where they had heard they could obtain food.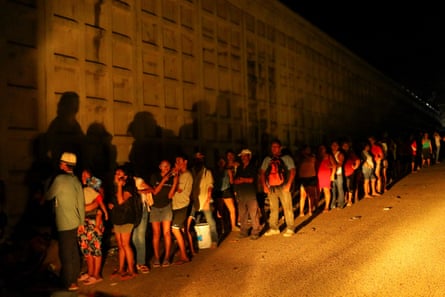 Although those living in the city's affluent hotel areas were able to evacuate, there was concern among residents in the working-class neighborhoods that support the tourist zones. They feared losing their possessions if they were to leave. While they were offered free transportation to the nearby state capital of Chilpancingo, they did not have enough funds to sustain their stay for more than a few days.
Maldonado gestures towards the collapsed buildings and their absent walls, stating that although everyone must return to work, the available jobs are no longer present.
Initial evaluations from local officials, announced on Thursday, indicate that the hurricane caused severe damage to around 80% of Acapulco's hotels. This would have a devastating impact on the economy of the region, as it is a popular destination for international tourists and located in one of Mexico's most impoverished states.
The Mexican government predicts that rebuilding Acapulco will require 61 billion pesos (equivalent to £2.8 billion). Many influential politicians from Mexico's leading party, Morena, have pledged to contribute a month's salary towards the total cost. Additionally, the government has delivered 20,000 food rations and 200,000 liters of water to Acapulco. Despite these efforts, hundreds of thousands of individuals have chosen to stay in the city, and the temperature has risen back to a sweltering 32C following the storm.
Ariadna Montiel Reyes, the secretary of welfare, stated on Monday that the government will offer assistance to those whose homes have been impacted. She also announced that the number of locations distributing supplies will increase in the coming days.
Abdul Ramírez, a taxi driver, finds the promises to be empty. He says, "We are patiently waiting for the government to take action. We do not necessarily hold them responsible, but they are not present."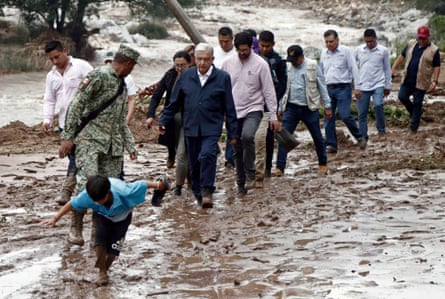 The president of the country, Andrés Manuel López Obrador, stated that the military would be responsible for distributing all aid to ensure that non-governmental organizations and local governments do not take advantage of people's desperate situation. He expressed optimism about the recovery efforts and wished for the people of Acapulco to be happy by Christmas.
In the La Colosio neighborhood, which also suffered significant destruction and inundation, individuals in dire need resorted to taking necessary items from a nearby Walmart. Without the store, many would have faced starvation for an extended period due to the severe flooding that isolated the area from the rest of the city.
The parking lot of the store was covered in sizable, pointed metal signs, fallen poles, and broken terracotta planters. Despite this, a group of men managed to clear a path and break a window to gain entry. Within 48 hours, the shelves had been completely emptied.
Laura Díaz, a GP, recounts that upon our arrival, all regular food had been consumed and only sweets remained. However, my husband reassured us by saying, "It's fine, chocolate will provide us with energy!"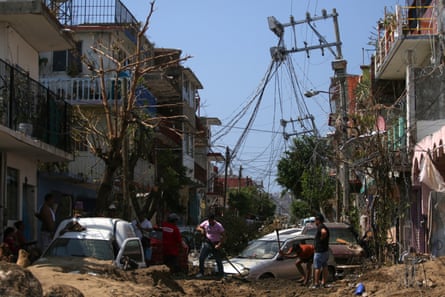 Due to a lack of gas, the residents have started to cook together by creating fires in the middle of garbage piles. As of October 29th, roads have reopened, but the government has not provided any food or water to La Colosio, except for occasional half-liter bottles distributed by national guard patrols.
As the city becomes populated with surveyors equipped with clipboards and soldiers armed with automatic weapons, Maldonado has started questioning why these individuals, who were meant to offer assistance, are not providing essential supplies like food and water. "Perhaps this is a trial from a higher power," she ponders. "It could be our punishment for something."
Source: theguardian.com