When Hebert Amorim was eight years old, he was introduced to funk carioca (Rio funk) through a pirated CD by Mr Catra, a favela MC known for his extremely explicit lyrics about gangs, weapons, and sexuality.
The 30-year-old artist from Senador Camará, a rough area in west Rio de Janeiro, confessed, "My mother caught me listening to it and became very angry."
Amorim was hooked. A few years later he sneaked off to his first favela funk party, telling his mum he was staying at a friend's. "I got there and just went: 'What is this? There was this surreal energy," he said, describing the electrifying collision of DJs, dancers, weaponry and bling that he witnessed and now recreates in his collages.
Amorim's works are included in a recent exhibition at the Museum of Art in Rio (MAR) that celebrates the impact of the funk movement on Brazilian society, culture, and politics. The exhibition showcases the talents of Brazil's up-and-coming artists, as well as international artists like photographer Vincent Rosenblatt. This is reportedly the first time a prominent museum has dedicated an entire exhibition to this genre.
Over thirty years after the emergence of funk carioca, there is still controversy surrounding its origins. This genre, which includes various subgenres and lyrics ranging from suggestive to politically conscious to glorifying criminal activities, has been described by some as a fusion of Miami bass and gangsta rap from South America. Others attribute its roots to an Afro-Brazilian rhythm known as Maculelê.
Marcelo Campos, the head curator for MAR, stated that the exhibition was intentionally challenging the elitist attitude of some art enthusiasts who believe that museums should only showcase the "high culture" of Brazil's white elite. These individuals often dismiss funk music as something associated with criminal behavior.
During a tour of the exhibition's two halls, Campos stated that its goal is to challenge the notion of funk music being viewed as taboo. One hall highlights Rio's black history while the other focuses on the favela funk movement. The message of the exhibition is that funk is a highly esteemed form of culture.
Amorim was not shocked by the fact that a prominent museum was featuring an exhibit about funk music, but rather by the fact that this had not occurred sooner. He believes that funk is one of the most significant legacies of our time and expressed this sentiment while sitting on his rooftop, overlooking the neighborhood that serves as inspiration for his art.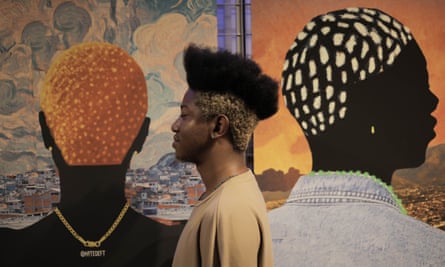 The MAR exhibition highlights the influence of black culture, resistance, and empowerment on funk music, tracing its roots back to iconic musicians like Pixinguinha, a flautist and saxophonist from the early 1900s. The origins of modern favela funk dances can be traced back to the 1970s, when fans of music would flock to suburban clubs to dance to the beats of artists like James Brown and Kool & the Gang.
In the 1990s and 2000s, Amorim witnessed the rise of soul and funk dances in the favelas, where 20% of Rio's population now resides. These lively events have become a significant cultural and social phenomenon, drawing thousands of participants and contributing to the local economy. The most popular bailes in Rio, often named after foreign locations such as Egypt, the Netherlands, Moscow, and London, continue to attract large crowds.
Amorim commented that during loud, all-night raves near his childhood home, sleeping becomes impossible as the music feels like it's inside your own house.
According to Amorim, funk music is a means of documenting and honoring the difficult circumstances in Rio's favelas, which are mainly controlled by heavily armed drug groups. He believes that funk music reveals the raw truth of life and reflects the harsh realities of their community, even though it may be a topic that is often avoided.
Artedeft, also known as Amorim, aimed to create a similar effect in his collages by combining elements of favela life with fragments from famous painters like Van Gogh, Edvard Munch, and Paul Gauguin. The artist explained that his work reflects the reality of Rio, which can be seen in every direction on the city streets. Interestingly, Amorim did not have the opportunity to visit an art museum until he was 21, when he attended a Salvador Dalí exhibition.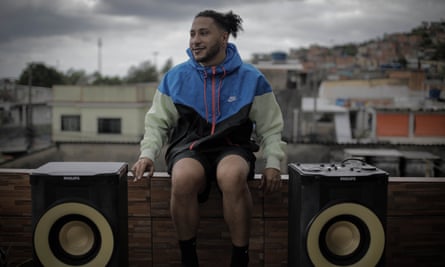 Juan Calvet, a 25-year-old artist featured in the exhibit, shared that he was moved to tears upon receiving an invitation from MAR. He had only been to his first museum three years prior. "It's an incredibly impactful experience, you know? To come to the museum and see yourself represented in such a diverse manner," Calvet expressed.
Visitors from the favelas expressed similar feelings as they took selfies with sculptures and canvases inspired by funk music, which resonated with their experiences.
"I witnessed it myself," recalled Andreia Sampaio da Silva, a trans woman in her forties, reflecting on the bailes de corredor ("corridor dances") she used to attend in her youth. These events often involved rival funk groups competing in dance-offs that sometimes ended in physical altercations.
Campos believed that long-standing intolerance and elitism were the reasons why museums had previously rejected funk and the favelas.
The curator stated that Funk faces the same discrimination that Samba once did. Samba was once seen as rebellious and even resulted in arrests, show closures, and banned lyrics. The curator hopes that MAR will use exhibitions that showcase modern society to challenge these stereotypes.
Continuing to hold onto the belief that displaying a Mona Lisa is the most effective way to educate society is no longer a valid approach. It is time to rethink our strategy.
Source: theguardian.com