In order to decrease the high rates of maternal and neonatal deaths, the Democratic Republic of the Congo has made the decision to provide free healthcare to pregnant women.
In 13 of the 26 regions in the country, women will have access to free services during pregnancy and for one month after giving birth by the end of this year. As part of this program, newborns will also be eligible for free healthcare for the first 28 days. The government aims to eventually expand this program to the remaining regions of DRC, but there is currently no set timeline for when this will happen.
However, health workers have raised concerns that hospitals and medical centres are ill-equipped to cope with any increased demand on services. Some told the Guardian there were not enough staff, facilities or equipment to successfully introduce the $113m (£93m) programme, which is supported by the World Bank.
The implementation of the program coincides with countrywide protests by nurses, midwives, technicians, and hospital administrative personnel, who are demanding increased salaries and improved working conditions.
The country of Congo has a high rate of maternal and neonatal deaths compared to other countries. Recent data shows that for every 100,000 live births, there are 547 maternal deaths and 27 neonatal deaths (deaths within the first 28 days of life). These numbers are far from the United Nations' goal of reducing maternal deaths to less than 70 per 100,000 and neonatal deaths to less than 12 per 1,000 by the year 2030.
The Minister of Public Health, Roger Kamba Mulamba, stated that the initiative would release women from being confined to a "prison sentence."
He stated that pregnant women no longer have to worry about receiving medical treatment, and babies are no longer at risk of death due to lack of access to antibiotics. Additionally, mothers no longer face death as a result of being unable to afford a caesarean delivery.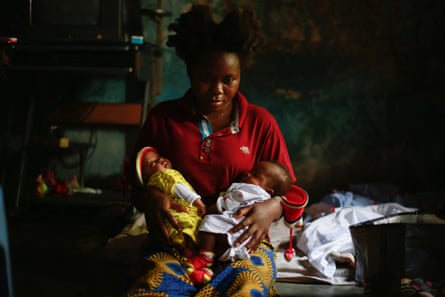 The cost of general health exams at public health centers is approximately 27,000 Congolese francs (£8). Ultrasounds are priced at 60,000 francs, while C-sections can cost up to 524,000 francs. The World Bank reports that over 60% of Congolese people live on less than $2.15 (5,600 francs) per day.
The Democratic Republic of Congo does not have comprehensive healthcare coverage, making it difficult for many individuals to afford the limited healthcare available. Hospitals have a practice of holding patients until their medical expenses are fully paid. This has resulted in new mothers being required to remain in overcrowded facilities for extended periods of time while their loved ones search for ways to cover the costs.
The plan was first implemented in Kinshasa, the capital, in September. It is now expanding to other areas of the country, such as eastern DRC, which has suffered from ongoing conflict. The health ministry has allocated $42 million for this program, which is the initial phase of a $200 million initiative focused on prenatal, maternal, and neonatal care. They are utilizing radio and television to spread awareness about the available free services for women.
Dr. Simplice Kibatatu, a doctor at Kinkole General Hospital located on the outskirts of Kinshasa, expressed his support for the program. However, he also mentioned that his health center has been inundated with the high volume of women seeking medical attention.
According to the speaker, there has been an increase in the number of women delivering each month from 30 to approximately 65. In the past, pregnant women would arrive at 10am, but now that the care is free, they are coming earlier at 8am and waiting for their consultation.
Claudel Diakileke, an employee at the maternity center located in Barumbu, a region of Kinshasa, described the pilot program as a failure. He stated that there was a shortage of physicians and educated midwives to accommodate the needs, and that the government had not allocated additional resources or medications to the health facilities.
The estimated number of doctors and nurses in the country is 9,500 and 73,000, respectively, to cater to a population of approximately 95 million. There is one midwife for every 20,000 individuals.
According to him, a few women were worried about the standard of treatment they would receive. He mentioned, "They express their concerns by stating that anything that is offered for free is often not of good quality."
Diakileke expressed disapproval towards the government's lack of consultation with healthcare employees and community liaison workers regarding the implementation of the scheme. These workers are vital in educating the population and building trust, especially with pregnant women, by informing them of the benefits of joining the scheme for quality care.
Nenete Asuka, the proprietor of a restaurant in Kinshasa, expressed that she has not yet seen any advantages from the program. She had to cover the cost of an ultrasound and other medical evaluations at the Barumbu center. "They promised free delivery, but when I arrived here, I still had to pay," shared Asuka, who is currently six months pregnant.
Filo Biancumpa, a pregnant dressmaker, expressed her approval of the program. However, she mentioned that she was not aware of the free birth delivery service being offered. She shared that every time she visits the health center, the health workers are on strike and she is unable to speak to female health workers who provide counseling for pregnant women.
Source: theguardian.com