B
"Bottoms" is a classic high school film that includes all the usual tropes found in these types of movies. There are the typical characters of nerds and jocks, as well as familiar scenes like slow clappings, grand gestures on the football field, and lockers covered in graffiti. The film even features a melancholic montage set to the tune of Avril Lavigne's "Complicated." However, the main characters, PJ and Josie, are not your typical leads. They are described as the "unattractive, untalented homosexuals" who start an after-school fight club in hopes of sleeping with the cheerleaders. The girls engage in physical altercations, teachers read explicit magazines in class, and everyone tries to appear "empowered" – yet somehow, the film still manages to be a heartwarming delight. What is most refreshing is that it may be one of the least serious films I have watched in years.
At 28 years old, Emma Seligman, the director, is currently in London, discussing the process of creating a comedy centered around amoral and sexually-charged teenage lesbians. It was not a simple or fast process, it turned out. Seligman and her co-writer Rachel Sennott, who plays PJ and also starred in Seligman's first film, Shiva Baby, began working on the concept six years ago. It was rejected by numerous studios except for one that showed some interest, Orion Pictures. Seligman states, "We were well aware that we were not making something that would be widely accepted, but Orion understood it." She adds, "I felt encouraged to just go for it. Anyone involved in this movie – whether it was financing, acting, or sound editing – knew what they were signing up for."
Surprisingly, given that they dreamed up the idea for Bottoms six years ago, it changed very little on its journey from page to screen. "Because the movie is so absurd, it existed in its own world," Seligman says. "If we were trying to make something more timely, it might have evolved more. But, if anything, the jokes that were written six years ago are just more relevant." One character says that her vagina belongs to the government, a line that was written long before Roe v Wade was overturned.
The time period of the movie is intentionally ambiguous, featuring both flip phones and CD Walkmans. This decision was made for practical and artistic reasons. The filmmakers did not want to include technology or social media in order to accurately portray how teenagers communicate. Additionally, this choice allowed for the inclusion of queer characters in various decades of teen movies that they have been historically excluded from.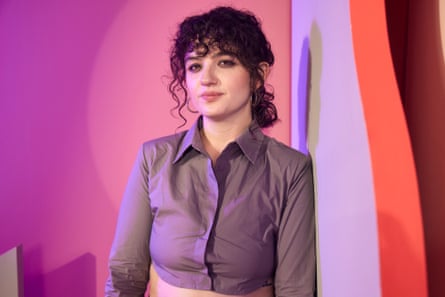 Seligman initially did not have any specific sources in mind, but after deciding that Bottoms could be successful, she and Sennott watched older LGBTQ+ classics such as the satire "But I'm a Cheerleader" and the spy school comedy "DEBS." The film even includes a nod to "But I'm a Cheerleader" as two characters go on a date to a place called "But I'm a Diner." Seligman explains, "The only reference I had for two teenage girls kissing out of desire, rather than for practice or manipulation, was Jennifer's Body." She refers to the horror film starring Megan Fox, which has gained more recognition in recent years. "I adore that movie. It was a significant moment for me."
The film Bottoms contains a sexual encounter, but it is not shown explicitly. The director explains that she did not want to include graphic scenes because she was unsure if it would objectify the characters. However, the scene ended up being more revealing than initially intended in order to convey the character's accomplishment before things take a negative turn.
Bottoms embraces the concept of "empowerment" in a playful manner. The fight club serves as a safe space for girls to openly discuss their personal issues and secrets, but ultimately, it exists for PJ and Josie's selfish desires. Seligman clarifies, "We found power in portraying the flawed sides of these characters. There is often pressure for female friendships on screen to be solely positive and uncomplicated, like a 'girlboss' narrative. While those are great, we wanted to showcase characters who challenge that idea rather than blindly promoting it."
The film Shiva Baby features Sennott as a young woman attending a shiva with her family. During the period of mourning, she encounters her successful ex-girlfriend and a married man who has been paying her for sexual services. The movie is a condensed and suffocating comedy, filmed on a small budget, and based on Seligman's short film from her time at New York University. The full-length version was set to debut at the SXSW festival in 2020, but was ultimately cancelled due to Covid. Sennott recalls finishing the film just before the festival's cancellation, and initially thinking it would not be released. She jokes that perhaps her tendency to have low expectations is influenced by her Jewish or Canadian background.
Shiva Baby was not just a forgotten project. It gained recognition, received accolades, and propelled Seligman and Sennott into the spotlight. Did Seligman, who has modest hopes, anticipate its success? "To some extent, yes," she admits. "I always had a small hope that it would do well. My initial goals were to premiere at a film festival, secure distribution, and fund my next project." However, the overwhelming support it received online from young people, LGBTQ+ individuals, and women exceeded her expectations. "It was heartening to see so many communities come together to support the film, particularly through virtual festival screenings prior to its official release."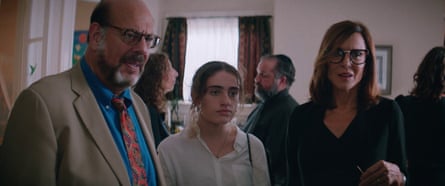 Shiva Baby cost $200,000, but Bottoms had a budget of $11.3m. Seligman admits that the shift, particularly in terms of scale, was not easy. "With Shiva Baby, maybe a week into the process, I felt like, 'This is my movie.' With Bottoms, I only really got there towards the end." On the former, she worked with friends from film school. Now, she was leading a much bigger crew. "All these men and people much older than me that were technically working under me. Even though they were all very lovely, it was a group of people I wasn't used to working with. I was taken out of my comfort zone." One of the film's producers is Elizabeth Banks, star of The Hunger Games and Pitch Perfect and the director of Cocaine Bear. "She just puts it so simply. She says there's no way to learn how to make movies other than to make them. So I just had to jump in."
Shiva Baby and Bottoms have been released "pretty much back to back", so Seligman is now in what she calls an "ideating phase", taking her time with whatever will be next. She is sure, however, that she will keep working with her core crew of Sennott, her director of photography Maria Rusche, and The Bear/Black Mirror's Ayo Edebiri, who plays Josie in Bottoms. Firstly, she says, it's just nice to have your friends around you. "And there's something so satisfying about knowing that you have a shorthand with someone. They get your style and you get their style."
Could Seligman potentially join the ranks of successful indie filmmakers like Chloé Zhao and Barry Jenkins by being approached by Marvel for a major movie franchise? When asked about the possibility, she responded by saying she is open to any genre and would be grateful for the opportunity, although she is unsure of her ability to excel in that realm. However, she adds with a smile, if the project had a strong LGBTQ+ representation, she would be very interested.
Source: theguardian.com