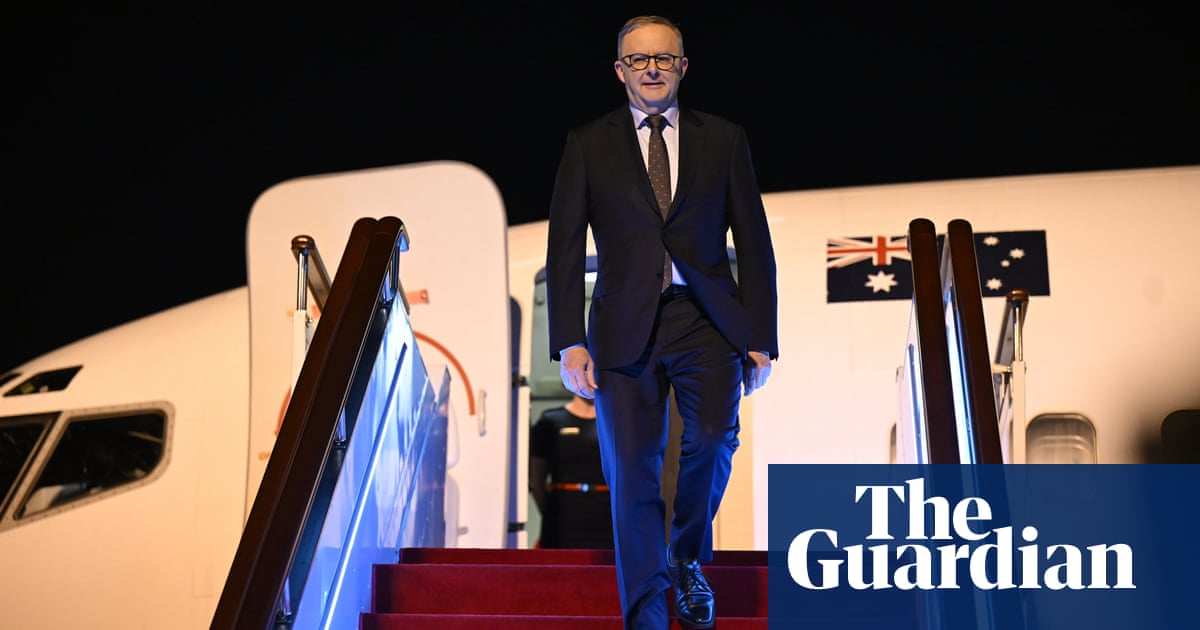 Anthony Albanese has declared Australia will "cooperate with China where we can, disagree where we must, but … also engage in our national interest" as the prime minister arrived in the People's Republic for a landmark three day official visit.
The prime minister of Albania arrived in Shanghai on Saturday night. Upon arrival at the airport, they were greeted by high-ranking diplomats from both nations. The prime minister then proceeded to attend a dinner hosted by China's premier Li Qiang to kick off the China International Import Expo in the heart of Shanghai.
Subscribe to Guardian Australia's complimentary morning and afternoon email newsletters to receive a daily roundup of news.
Upon his return from the banquet, the prime minister informed the travelling journalists that Australia's national interest is best served by maintaining a positive, constructive, respectful, and open dialogue with China – our largest trading partner.
"I aspire to accomplish that in the upcoming days," stated the prime minister.
Albanese has received backlash for maintaining a busy itinerary of overseas trips while Australians are struggling with rising living expenses. The prime minister acknowledged on Saturday evening that China is Australia's top trading ally and emphasized the importance of trade, which accounts for one out of every four jobs in the country.
Australian Prime Minister Albanese will be the first to visit China since 2016. He has scheduled meetings with Chinese President Xi Jinping on Monday and the premier on Tuesday in Beijing.
The purpose of the visit is to revive the diplomatic ties following a tumultuous period triggered by Australia's exclusion of Chinese firm Huawei from the 5G network implementation in 2018. The strained bilateral relationship further escalated into a trade conflict after former prime minister Scott Morrison demanded an independent inquiry into the origins of the COVID-19 outbreak in 2020.
The prime minister will be at the trade expo in Shanghai on Sunday. They will also have a meeting with business leaders from Australia and China at an event hosted by Tourism Australia. In the evening, they will travel to Beijing.
Albanese plans to address concerns regarding human rights and consular matters during his visit. Prior to departing from Australia on Saturday, Albanese was questioned about his message to China's premier and president regarding the detainment of writer Yang Hengjun for the past four years.
"I will express the need for Dr. Yang's case to be resolved," stated Albanese. "I will also address concerns about his human rights, the conditions of his detention, and the lack of transparency in the processes."
"We consistently bring up the concerns of Australian citizens during our meetings with international leaders. This is something we do consistently, and I will continue to do so in an effort to achieve a favorable outcome for Dr Yang and his family."
Source: theguardian.com