The Russian foreign minister was welcomed with enthusiasm by a lively crowd holding up pom poms and flowers despite the heavy rain, as he arrived at the Pyongyang airport.
Although the highly orchestrated receptions may be a common occurrence in authoritarian North Korea, Sergei Lavrov's uncommon trip to the nation coincided with increasing proof that Pyongyang has begun supplying artillery shells to Russia. This could have significant consequences for the conflict in Ukraine.
In recent weeks, the US announced that up to 1,000 North Korean shipping containers containing "equipment and munitions" were sent to Russia.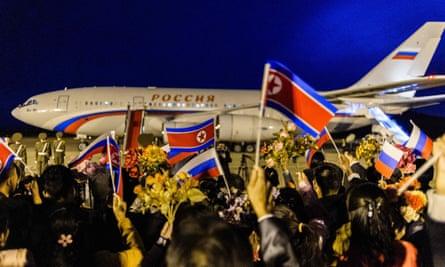 The White House shared satellite images showing 300 containers gathered in Najin, a harbor in the northeastern region of North Korea. The containers were then transported by sea and rail to a storage area near Tikhoretsk, a town in southwestern Russia located about 180 miles away from the Ukrainian border.
The Royal United Services Institute (Rusi), a thinktank based in London, has confirmed US intelligence findings. Their recent report states that Russia is most likely supplying North Korea with large quantities of weapons.
After examining detailed satellite pictures, Rusi reported that three cargo ships associated with the Russian military have been traveling between the North Korean harbor of Rajin and the covert port in Dunai, located in the far eastern part of Russia. This activity has been occurring since mid-August, with at least five round trips made.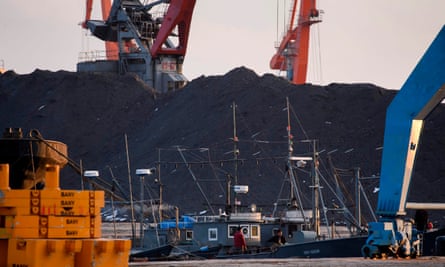 The research group reported that the vessels departed shortly after the Russian defense ministry's Sergei Shoigu visited North Korea and was informed about the latest military equipment by leader Kim Jong-un. Later on, Kim also visited Russia's eastern region and pledged support to Vladimir Putin in their "sacred battle" against the western nations.
Following the meeting between Kim and Putin, the Beyond Parallel project from the think tank Center for Strategic and International Studies in Washington examined individual satellite photographs which revealed a significant and unprecedented increase in the amount of freight train activity at North Korea's Tumangang rail station near the Russian border.
According to its report, the amount of train activity at the facility is significantly higher than what Beyond Parallel has previously observed in the last five years, even when compared to the levels before Covid-19. The report suggests that the recent summit between Kim and Putin, where they discussed potential military exchanges and cooperation, may be related to the significant increase in rail traffic, which could indicate North Korea's transfer of weapons and ammunition to Russia.
The Kremlin has consistently denied allegations from the West that it was purchasing weapons and ammunition from North Korea.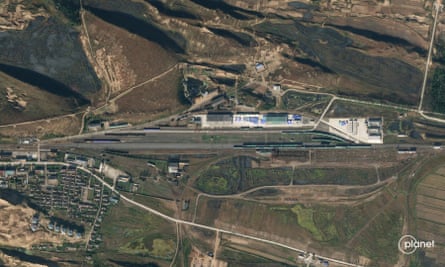 Despite the emphasis on modern, high-tech weapons, many experts view artillery as a critical factor in the ongoing conflict between Ukraine and Russia, even dubbing it the "king of battle".
According to Rusi's research analyst, Joe Byrne, if proven true, the act of North Korea providing large amounts of weapons to Moscow could greatly impact the ongoing conflict in Ukraine. Byrne also speculates that Russia would not seek out this alliance unless they were desperate for supplies. A significant supply line from North Korea would satisfy their need for munitions.
According to Maj Patrick Hinton, a British army artillery officer and visiting fellow at Rusi, who has extensively studied the conflict in Ukraine, North Korea possesses a significant supply of artillery shells and rockets that are compatible with the same Soviet and Russian weapons systems used by Moscow.
According to him, North Korea likely provided two types of weapons that are commonly used by Russia in warfare – 122mm howitzer rounds from the Soviet era and 122mm Grad rockets.
According to Hinton, North Korea is capable of producing a large amount of ammunition and has collected substantial reserves, despite facing sanctions. This has been a top priority for the country.
The exact amount of artillery pieces that the US suspects North Korea has transferred to Russia has not been disclosed.
Col Ants Kiviselg, the head of military intelligence in the Estonian defence forces (EDF), estimated that the 1,000 sea containers reportedly shipped to Russia held a total of 300,000-350,000 artillery pieces.
He stated during a press conference on Friday that with the Russian troops using 10,000 pieces of artillery ammunition daily, it would be sufficient for approximately one month. The receipt of supplies from North Korea suggests that Russia intends to prolong the conflict in Ukraine and is actively making preparations to do so.
There are still uncertainties surrounding the caliber of weapons being provided by Pyongyang.
In 2010, the North Korean military launched approximately 170 shells at Yeonpyeong, South Korea, with over half of them landing in the surrounding waters of the island.
According to Hinton, substandard ammunition may have an inconsistent effect. However, due to the large quantities used and potential for imprecision and misfires, any impact on results would be minimal. He also noted that when dealing with such vast numbers, the overall quality of the ammunition becomes more important than individual precision.
At present, Moscow has been increasing its production of missiles within the country, surpassing levels seen before the war. Putin has placed a high importance on military production in Russia, with plans to allocate nearly 6% of the gross domestic product towards defense spending in 2024. This follows a 3.9% increase in spending this year and a 2.7% increase in 2021.
In the previous month, Rostec, the largest weapons manufacturer in Russia which is owned by the government, reported a significant increase in production for different kinds of weapons, ranging from two to 10 times.
According to a report titled "Ukraine Must Prepare for a Hard Winter" by Jack Watling, a senior research fellow for land warfare at Rusi, the production of long-range missiles in Russia has significantly increased. In October 2022, Russia was producing about 40 missiles per month, but now it has increased to over 100 per month.
Kyiv must proceed cautiously in their military efforts due to the lack of progress in Ukraine's summer offensive and the change in resources. This is necessary for them to maintain control and momentum.
Source: theguardian.com