For the opening scene of Shaft – the 1971 film that helped inaugurate the "blaxploitation" genre and spawned an Oscar-winning song in Isaac Hayes's call-and-response classic Theme from Shaft – the director Gordon Parks mapped out to the actor Richard Roundtree exactly what would happen.
Roundtree – playing the New York detective John Shaft who "won't cop out when there's danger all about" as the song puts it – was to stride out of the subway near Times Square, tracked by assorted cameras positioned opposite him and at high angles. "I want you to walk across 42nd Street," Parks said. "And I want you to own it."
Own it he did. In his beige turtleneck and brown leather trench coat, Roundtree swaggers and weaves through the hubbub, looking bemused at a demonstration going on around him (which was nothing to do with the film itself but a real-life protest by the Gay Activists Alliance) and improvising the moment when he raises his middle finger at an impatient cabbie. "I did own it," he reflected. "Much better than I could ever have imagined."
The late Richard Roundtree's first notable role on screen was in the film, "Shaft," which he is most known for. He passed away at the age of 81 due to pancreatic cancer. He was chosen for the role after meeting with Gordon Parks, a former photojournalist, who presented him with a magazine ad and stated, "We're searching for someone who resembles this man." Interestingly, the advertisement featured Roundtree himself.
When MGM was deciding on adapting Ernest Tidyman's 1970 novel, which follows Shaft as he is tasked with saving a mobster's abducted daughter, they initially thought about making the characters Caucasian. However, Parks stood up for the novel's perspective, which includes a keen understanding of Black culture. He wanted viewers to witness a Black man coming out on top.
The determination and focus ultimately led to success, rescuing the struggling film studio from financial ruin. In 1972, the director expressed, "Urban youth were flocking to the city center to watch their role model, Shaft, and for once, they could see a Black man on screen without feeling ashamed." He continued, "While it's important to have films depicting the history of our community, we also need stories of heroism and fantasy. We all need a bit of James Bond every now and then."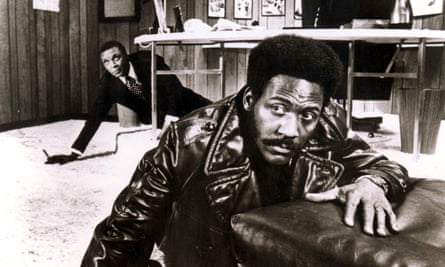 John Shaft was stylish and unwavering, empowered to deliver retribution on his own terms, and portrayed with a more sophisticated edge compared to the more dignified roles typically given to African-American actors such as Sidney Poitier. In 2000, critic Elvis Mitchell remarked that Roundtree's "enthusiasm on screen, which was its own form of energy, resonated with an audience's desire. And he commanded the screen with a regal presence." Mitchell drew comparisons to Sean Connery, noting "the same immense source of charm and masculinity, but with a touch of self-mockery."
Parks stated that Roundtree performed most of his stunts, allowing for close-up helicopter shots that truly showcased his talents instead of relying on a stunt double. The chase scene required 12 days of filming and resulted in the destruction of four cars, two boats, and a fake helicopter.
The performer reprised his role for two follow-up movies: Shaft's Big Score! (1972), which was also helmed by Parks, and Shaft in Africa (1973), which, unfortunately, was not. Following a short-lived Shaft television series in the same year, Roundtree referred to it as "a low point in my extensive and distinguished career", and decided to move on from playing John Shaft. At least for the time being.
Richard was born in New Rochelle, New York to Kathryn (nee Watkins) and John Roundtree. His mother was a cook and housekeeper and his father was a refuse collector before becoming a church minister. He went to New Rochelle high school and earned a football scholarship to Southern Illinois University. After working at Barneys department store, he became a model and was featured in the Ebony Fashion Fair, which was a traveling version of Ebony magazine. He later joined the Negro Ensemble Company in New York City and played a lead role in their 1967 production of The Great White Hope.
Taking advantage of the success of Shaft, he teamed up with Charlton Heston and Ava Gardner in the disaster film Earthquake (1974), portrayed the lead role in Man Friday (1975) alongside Peter O'Toole as Robinson Crusoe, and made an appearance as a charming carriage driver in the slavery-themed TV series Roots (1977).
During breaks from TV shows, such as his recent appearance on Netflix's Family Reunion, he also acted in the action comedy City Heat (1984) with Clint Eastwood and Burt Reynolds, the popular serial-killer movie Seven (1995) with Brad Pitt and Morgan Freeman, the Disney comedy George of the Jungle (1997), and Rian Johnson's clever neo-noir thriller Brick (2005).
After rejecting numerous offers related to Shaft, he eventually agreed and appeared in John Singleton's remake, Shaft (2000), alongside his nephew played by Samuel L Jackson. He later reprised his role in a comedic take on the franchise titled Shaft (2019), which revealed that Jackson's character was actually his son, and introduced a new generation through a grandson who was sensitive and disliked guns.
During a 2019 interview with the Los Angeles Times, Jackson expressed that for a significant amount of time, everyone aspired to be like Roundtree. He stated that Roundtree set the standard for what it meant to be cool, with his appearance, mannerisms, and attitude.
After being typecast in the 1970s, Roundtree eventually came to terms with it. He stated, "Sometimes it's simpler to just go with the flow."
He was previously married and divorced two times. His first marriage was to Mary Jane Grant, followed by Karen Ciernia. He is survived by four children: Kelli and Nicole from his first marriage, and Tayler, Morgan, and John from his second marriage.
Source: theguardian.com