Hundreds of people have gathered near a state funeral home in China as former premier Li Keqiang was being laid to rest.
Police, both in plain clothes and uniform, were stationed along the road to the funeral home. They stopped traffic and instructed people to continue moving while also keeping an eye out for any unofficial or foreign media.
Xi Jinping, the president of China, and his wife Peng Liyuan, were present at the funeral, along with six other members of the Politburo standing committee, as reported by Xinhua. The agency also mentioned that former president Hu Jintao sent a wreath to express his sympathy.
The government is closely monitoring public displays of honor for Li in order to avoid a large display of sorrow that could potentially lead to social instability.
However, even with restrictions on expressing strong emotions and large gatherings, hundreds of people in Li's hometown of Hefei, located in Anhui province, paid their respects by laying down flowers for one of their esteemed locals over the past weekend.
Weibo, a social media site, replaced the like button with a chrysanthemum flower on posts about Li, as a way to show mourning. The three most popular topics on Weibo were focused on Li's life and funeral.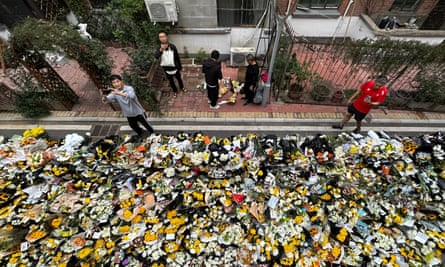 The passing of former leader Zhou Enlai in 1976 and former CCP general secretary Hu Yaobang in 1989 sparked widespread expressions of sorrow that eventually transformed into demonstrations.
In recent times, the passing of Covid whistleblower Li Wenliang in 2020 and a fatal apartment fire in Xinjiang in 2022 have led to outpourings of public mourning. The latter incident sparked the "white paper" demonstrations that spread to multiple cities.
To pay tribute to Li, flags were lowered to half-staff at Tiananmen Square, as well as at governmental and political offices throughout China and at international embassies and consulates.
CCTV reported that in honor of comrade Li Keqiang, flags were lowered to half-mast at Tiananmen Square in the capital. The report was accompanied by a photo of the flag being lowered in front of the monumental gate on a foggy grey morning.
Unfortunately, Li passed away due to a heart attack at 68 years old on Friday. The media reported that he was scheduled to be cremated on Thursday, but no details were given about his funeral arrangements. As per tradition, retired officials of high rank are usually displayed for a short period of time, while top leaders pay their respects and lay white flowers as a symbol of mourning.
Li served as a leading figure in China's economic policies for ten years, but was subsequently removed from the Communist Party's influential politburo standing committee in October 2022. He stepped down from his position in March 2023, even though he was two years younger than the customary retirement age of 70.
During his tenure, he faced various challenges such as the Covid-19 outbreak, but he was viewed as a potential replacement for the dominant party leader Xi Jinping who was becoming more authoritarian. Li assumed the role of premier, the second most influential position in China's government, in 2013 with the expectation of promoting private businesses and promoting a thriving free market.
However, Li's authority was significantly diminished when Xi consolidated his power as the strongest Chinese leader in many years and increased his grip on the economy and society.
Xi awarded himself a third five-year term as party leader and filled the top party ranks with loyalists. The role of premier was given to Li Qiang, the party secretary for Shanghai, who lacked Li Keqiang's national level experience and later told reporters that his job was to do whatever Xi decided.
– Via the Associated Press
Source: theguardian.com