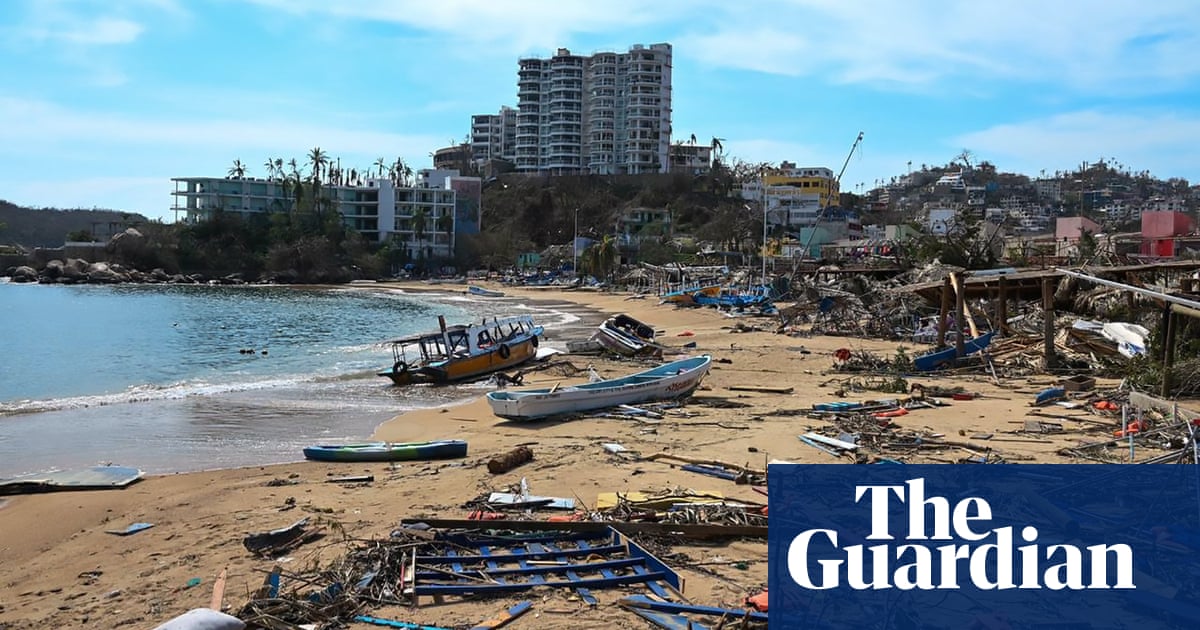 Hurricane Otis caused extensive damage to the beach town of Acapulco, resulting in the death of 27 individuals and leaving four others still unaccounted for. The natural disaster destroyed homes and hotels, submerged cars, and caused communication disruptions.
The full impact of the category 5 hurricane that hit Mexico on Thursday with wind speeds of 165mph is starting to be revealed as numerous first responders and military personnel have begun evaluating the destruction. According to the defense ministry, approximately 8,400 members of Mexico's army, air force, and national guard were sent to aid in the cleanup process.
"The destruction that Acapulco experienced was truly catastrophic," stated President Andrés Manuel López Obrador during a press conference in Mexico City following a quick visit to the affected region. He reported that certain parts of Acapulco, a popular tourist spot with a population of almost 900,000 and visitors from all over the globe, were still without electricity and means of communication.
According to officials, Otis was an extremely strong storm that made a significant impact on the country. It caught forecasters and scientists off guard with its sudden strengthening as it moved over warm waters along the Pacific coast. The storm caused extensive damage to streets and scattered debris as it reached land.
According to officials, numerous patients are currently being relocated from ruined medical facilities to more secure locations.
As cellular network coverage gradually improved in certain areas of the city, citizens banded together with the support of acquaintances and family members residing in different regions of Mexico and the United States. They united by locality through the use of digital messaging platforms such as WhatsApp. By Thursday, there were approximately 1,000 individuals participating in 40 group chats.
They shared photos of flooded neighborhoods and tips for finding cell phone signals, while asking for information about loved ones they had not heard from. When someone joins from a neighborhood they're asked by people outside the city to look for other residents there.
Juan Pablo Lopez, age 26, was on the phone with his spouse when their conversation abruptly ended on Wednesday due to Otis's arrival. His wife had gone back to Acapulco to be with her relatives and deliver their baby, which occurred a month ago. Meanwhile, Lopez was in his residence in Cancún.
He expressed deep concern for his newborn son.
On Wednesday, since there was no new information, he organized an online chat with his loved ones from Guerrero state, which is home to Acapulco, the biggest city. He also included friends who had moved to the US and requested them to add their local contacts.
The hurricane's sudden increase in speed, powered by a surge of warm ocean water, has caused concern about the effects of climate change on destructive storms. Research has shown that the rapid strengthening of storms is becoming more frequent in a warmer environment. In just 24 hours, Otis's wind speeds rose by approximately 110 mph, leaving communities with limited time to make preparations.
The city of Acapulco in the Mexican state of Guerrero saw a surge in tourists and visitors attending an international mining convention. According to Evelyn Sagaldo, the governor of Guerrero, 80% of the city's hotels were affected by the storm.
It took nearly all day Wednesday for authorities to partially reopen the main highway connecting Acapulco to the state capital Chilpancingo and Mexico City. The vital ground link allowed dozens of emergency vehicles, personnel and trucks carrying supplies to reach the battered port.
Acapulco's commercial and military airports were still too badly damaged to resume flights, though López Obrador said the plan was to establish an air bridge to move in resources.
Source: theguardian.com