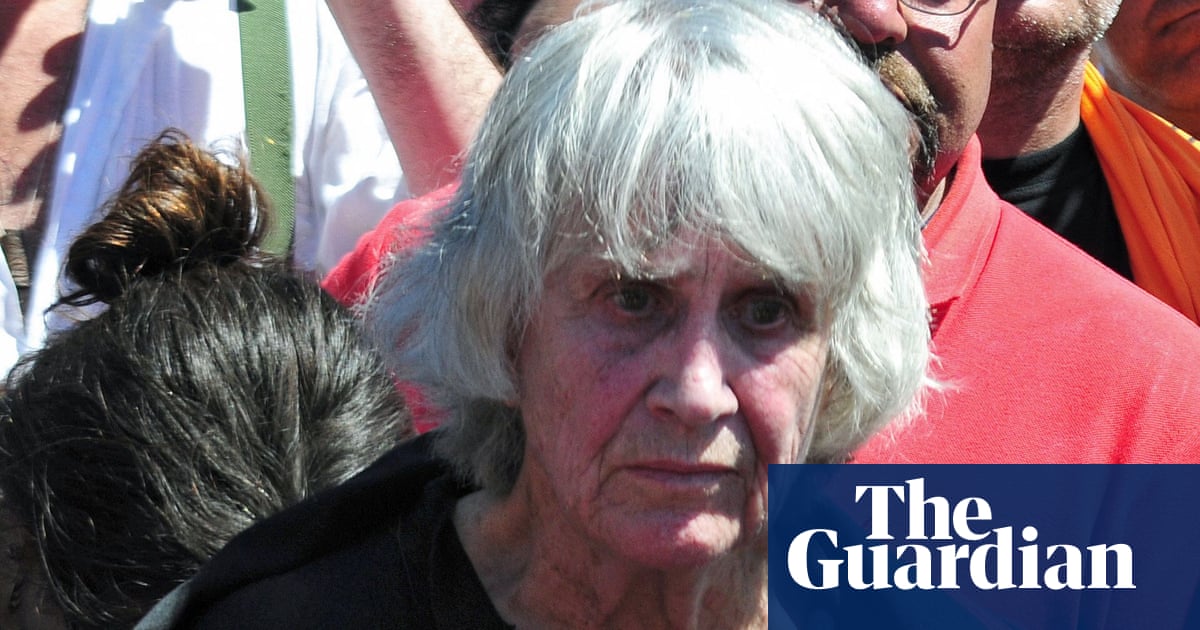 Joan Jara, a British performer, dance creator, and advocate for human rights, passed away at 96 years old in Santiago. She was the wife of the late Víctor Jara, a renowned Chilean folk singer. Her death occurred just two weeks before her husband's murderer is set to be sent back to Chile from the US.
She became a symbol of opposition to the Chilean dictatorship for her unrelenting pursuit of truth and justice for her husband, who was brutally tortured and killed after Gen Augusto Pinochet's coup d'état.
While living in the UK, Joan Jara played a vital part in bringing attention to the atrocities happening in Chile during Pinochet's violent rule. She also served as a significant witness in the 2016 civil case against former Chilean army member Pedro Barrientos, who was ultimately held responsible for the death of Victor Jara.
On Monday, a large group of people mourning the loss of Joan gathered at the Centro de Danza Espiral. This dance school was founded by Joan and her first husband, Chilean choreographer Patricio Bunster. Her body was laid to rest there before the burial on Wednesday.
Gabriel Boric, Chile's liberal president, commended her as "a woman who fought for justice for 50 years, leaving behind an enduring legacy in the arts and the protection of human rights."
According to Camila Vallejo, the spokesperson for the government, your determination and opposition for the sake of truth, fairness, and restitution will be remembered for eternity.
Joan Alison Turner was born in London on July 20, 1927. In the mid-1950s, she relocated to Chile and became a soloist with the Chilean National Ballet. She later became a dance instructor at the University of Chile, where she crossed paths with Víctor Jarain in 1960.
The couple married and, with Víctor a committed communist closely tied to socialist president Salvador Allende's Unidad Popular government, raised two young daughters in the shadow of political upheaval.
On September 11, 1973, the planned coup d'état that Jara had predicted for a long time was carried out with support from the US. Together, Joan and Víctor listened at their home as they heard Allende's last words being broadcasted from the presidential palace in Chile.
Víctor departed for a nearby university to await developments with other supporters of Allende in a last act of rebellion, during which he was apprehended and transported to Estadio Chile, a compact indoor stadium located in central Santiago.
On September 16, he was subjected to humiliation, torture, and beatings before ultimately being killed in the locker rooms under the stadium. He was shot a total of 44 times before his body was discarded on the street.
Passers-by alerted Joan to the presence of her husband's body among a group of corpses that had been dumped at a morgue in Santiago. She had to retrieve his remains from the grim scene.
She escaped to the United Kingdom with her two young daughters, adopting Jara's last name, and tirelessly advocating to bring attention to the tragedy that had occurred in Chile.
In the mid-1980s, Joan came back to Chile and established the Fundación Víctor Jara to advocate for justice for her deceased spouse after the country had transitioned to democracy in 1990.
In 2009, the government of Michelle Bachelet granted her Chilean citizenship as recognition for her efforts in promoting human rights and contributing to the restoration of democracy in Chile.
Joan received Chile's national arts award in 2021.
As Jara continued to make significant contributions to the arts in Chile, she also reached out to individuals who had been in attendance at the stadium, now known as Estadio Víctor Jara, and gathered accounts of the singer's assassination.
The inquiry into the death of Víctor was resumed in 1999. In 2016, a civil court in Orlando, USA, held Barrientos responsible for the torture and unlawful killing of Víctor Jara. They ordered Barrientos to compensate the family with $28 million in damages.
In 2018, an additional eight ex-officers received a prison sentence of 15 years for their involvement in the murder of Jara.
In October, Barrientos, who left Chile in 1989 and later became a US citizen through marriage, was arrested in Deltona. He is scheduled to be sent back to Santiago on November 28 to face charges in a criminal trial. Earlier this year, his US citizenship was taken away because he did not reveal his ties to the Pinochet dictatorship.
Jara is survived by her two daughters, Amanda Jara and Manuela Bunster.
Source: theguardian.com