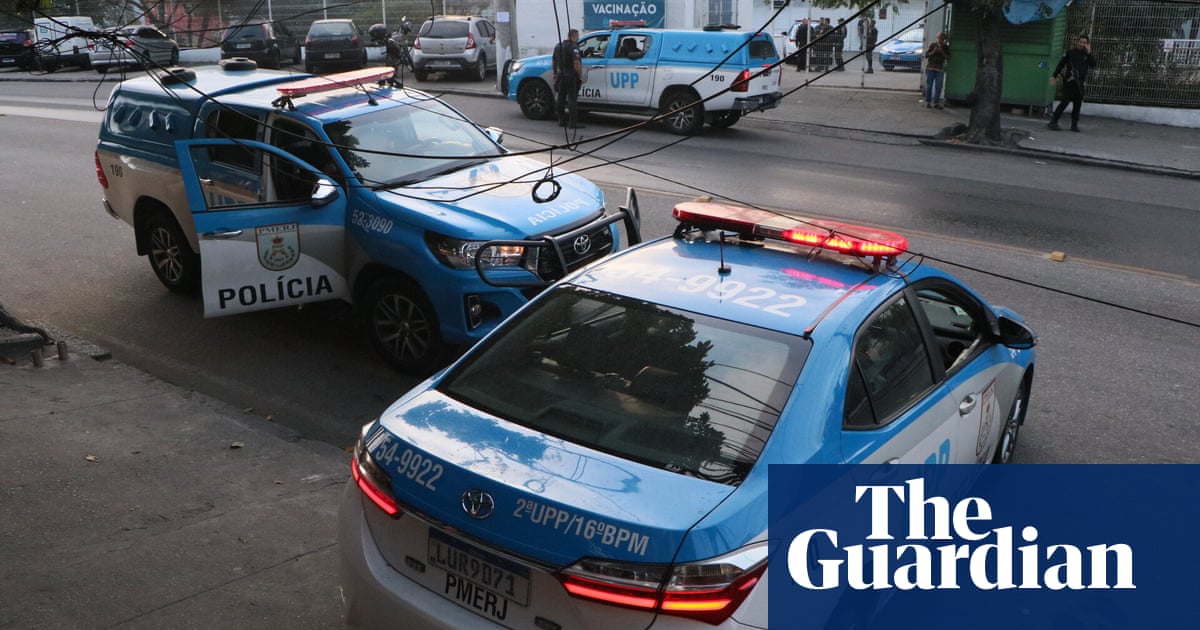 The Brazilian federal police have apprehended two individuals believed to be linked to the Lebanese militant organization Hezbollah. They were allegedly planning to carry out acts of terrorism targeting the Jewish community in Brazil.
Police conducted an operation on Wednesday to prevent terrorist acts and gather evidence regarding the potential recruitment of Brazilians for extremist activities. Several arrests were made during this operation.
According to media sources, a male individual was detained at Guarulhos, São Paulo's largest international airport upon arriving from Lebanon. CNN Brasil reported that the federal police suspect he was carrying information to share with his accomplice regarding the planned attacks.
According to Rio's O Globo newspaper, investigators suspect that the group intended to carry out attacks on buildings owned by Brazil's Jewish community, such as synagogues. However, they did not mention any specific targets.
The Israeli prime minister's office expressed gratitude to Brazilian security services for apprehending a terrorist cell linked to Hezbollah, which was planning an attack on Israeli and Jewish sites in Brazil.
Netanyahu's team stated that the Mossad, Israel's intelligence agency, and other foreign security agencies were involved in the mission. They claimed that the operation prevented a terrorist attack in Brazil, organized by the terrorist group Hezbollah and funded by Iran. The network was reportedly operating in multiple countries.
The country of Brazil is the location of the second largest Jewish community in Latin America. There is also a synagogue from the 17th century that is believed to be the first one built in the Americas.
Several sources have stated that the detained individuals have ties to Hezbollah, a militant group based in Lebanon.
Authorities stated that they had executed search warrants in three different areas, including São Paulo, Minas Gerais, and the federal district encompassing Brazil's capital, Brasília.
According to a statement from the police, both the recruiters and the people they recruit may be charged with involvement in a terrorist group and planning to commit acts of terrorism, which could result in a maximum prison sentence of 15 and a half years.
In the aftermath of Israel's 1982 invasion of Lebanon, Hezbollah was established by radical Shia clerics. Today, the organization holds significant political influence and also operates as a militant group with a presence in regions around the world, including South America. While the US categorizes Hezbollah as a foreign terrorist organization and the UK labels it as a proscribed international terrorist group, it has gained notoriety for its use of mass casualty suicide attacks.
Hezbollah has been implicated in previous incidents of terrorism, such as the 1983 suicide attacks on American and French military personnel and the US embassy in Lebanon. These attacks resulted in the deaths of over 300 troops and civilians.
Hezbollah was also blamed for the March 1992 bombing of the Israeli embassy in Argentina's capital, Buenos Aires. That attack killed 29 people and was carried out by a suicide bomber called Muhammad Nur al-Din, a Lebanese citizen who had originally emigrated to Brazil. The bombing was reportedly planned in the triple border region between Argentina, Brazil and Paraguay.
In 1994, Argentina's Jewish population faced another devastating tragedy when 86 individuals lost their lives in the bombing of the AMIA Jewish community center. The New York Times described the event as "one of the most deadly acts of antisemitism since World War II."
Last year, a report in the same newspaper stated that Mossad's investigation found that the two attacks in Argentina were conducted by a covert Hezbollah team as revenge for Israeli actions against the organization, such as the 1992 killing of their leader, Abbas Musawi. It was reported that the bombs used in the Buenos Aires bombings were brought into the South American country on flights from Europe, hidden in shampoo bottles and chocolate boxes.
Latin America has numerous significant Jewish populations, with the largest being in Argentina where an estimated 180,000 Jews reside. Approximately 100,000 Jews also call Brazil home, with the majority living in Rio and São Paulo, while 40,000 reside in Mexico.
Source: theguardian.com