F
At Maccabi Haifa's hotel in Larnaca, football seems insignificant. The individuals present, including players, coaches, and staff, are supposed to be preparing for their match against Villarreal in the Europa League. However, the current circumstances are far from normal. The community is reeling from the brutal attack by Hamas that killed 1,400 Israelis and took 240 hostages in Gaza. This tragedy has left everyone traumatized and it's difficult to concentrate. "Usually, we would focus on the game and tactics," explains Sean Goldberg, a defender for Haifa. "But our minds are elsewhere."
Haifa should not be here. There has been no football in Israel since the horror of 7 October and trauma hangs over the country's best side. Elad Ashkenazi, the team's mental coach, wonders how to lift the squad's morale and fear lingers in the air when Uri Harel, a fitness coach, talks about his 29-year-old son leaving his job as a lawyer to join up with the army.
Gil Ofek, the team's schedule manager, shares that his 71-year-old father survived an attack on his kibbutz by taking refuge in a shelter for 36 hours. Dror Shimshon, a fitness coach, is brought over to recount how his 22-year-old son managed to escape from the Nova music festival.
However, although domestic soccer in Israel is currently on hold, European competitions are continuing. On Thursday, Maccabi Tel Aviv, who are participating in the Europa Conference League, will play an away game against FC Zorya Luhansk. Meanwhile, Haifa has traveled to Cyprus for a home game against Villarreal, which will be held on neutral ground.
"It's difficult to discuss football," stated Haifa's manager, Messay Dego, during the game at AEK Arena on Wednesday evening. Dego, an Ethiopian Jew, shared that his grandmother had passed away earlier in the day. After a brief statement, he declined to answer any questions. "Unfortunately, many of our fans were lost," Dego acknowledged. "However, Israel is resilient and we will persevere."
This is a period of solidarity and resistance for Israelis. The Israeli military has heavily attacked Gaza, resulting in the deaths of numerous innocent Palestinians. The pain and anguish felt by both sides is devastating. However, some Israelis view Hamas as a major threat to their survival. Rami Gershon, a defender from Haifa, asserts, "Israel has the right to protect itself. We did not initiate this conflict."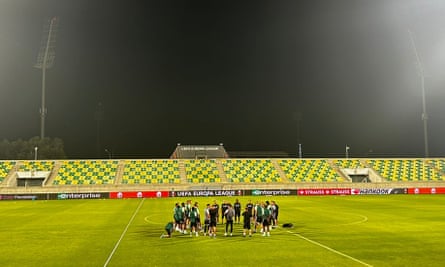 Gershon discusses a close acquaintance whose child is among the 240 individuals being held captive in Gaza. One of Goldberg's companions, who was serving as a soldier, lost his life on October 7th. Goldberg pays tribute to him, stating, "He was a brave and admirable individual. I will remember him during my time on the battlefield tomorrow."
Haifa, the top team in Israel, does not have high expectations. They have not competed since October 5th, only have one point from their first two games in Group F, and their international players are not currently with the team. However, the fact that Haifa's match against Villarreal was delayed last month and is now planned for December 6th does not have much of an impact. Everyone here is connected to October 7th.
Harel says that she cannot sleep when her son is serving in the army.
Ofek interrupts, stating, "This is our narrative. His son is currently engaged in battle, potentially in Gaza or the north. My father endured the worst time of his life."
65 individuals were killed at the kibbutz, where approximately 45 young people resided. The location was the site of a brutal massacre. According to Ofek, the perpetrators specifically targeted the children. One employee displayed a silver medallion typically worn by soldiers for identification purposes, engraved with the Hebrew phrase "Our heart is in Gaza". The message advocates for the release of the hostages.
According to Gershon, each of us knows individuals who have joined the military, even people like ourselves. Just imagine having to give up everything to protect your country. This is the situation we are faced with.
"I know people who died. One ex-player, Leo Assoulin, who was at the music festival. Football is a community. Another player, Ben Binyamin, lost his leg. He and his fiancee went inside the shelter at the musical festival. The terrorists threw a grenade in the shelter. He and his fiancee are supposed to get married next month. Each of them lost their right leg."
Gershon and Goldberg, who both represent Israel on the international stage, are aware that facing Villarreal will be a challenging task. However, despite the absence of their devoted fans, Haifa is determined to bring pride to their country. The team is recognized for their inclusivity, serving as a symbol of acceptance. Located in the northern region of Israel, Haifa is a melting pot of different cultures and backgrounds, with a diverse roster consisting of Jews, Christians, Arabs, and Druze. The team also has a significant following among Israeli Arabs.
Goldberg states that there is no conflict among the Jewish and Muslim members of the team. He refers to them as brothers and emphasizes that this is not the first time they are facing a national crisis together. He believes that, regardless of their religious backgrounds, they are all human beings who can coexist peacefully.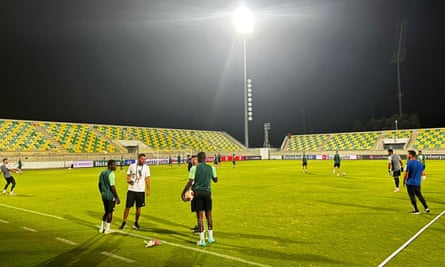 Gershon agrees, saying: "Sometimes it is uncomfortable but it goes quickly. This is a symbol for religious diversity."
However, it can be challenging for Arab athletes when Israel is under attack. This was evident in the case of Dia Saba, a Palestinian who holds Israeli citizenship and is one of Haifa's top players. Saba received criticism from commentators and fans after his wife's Instagram post, which acknowledged the violence in Gaza and the innocent children affected. The post caused a stir, and despite Saba's apology, he has not joined the team in Cyprus. His position on the team will be filled by Anan Khalaili, another Arab player.
This is a delicate subject and there is optimism that Saba will rejoin the team in the near future. However, for the time being, the players preparing to compete against Villarreal are aiming to bring some joy to their supporters at home. Gershon shares, "In the past month, we have made efforts to give back to the community. We have visited injured soldiers and heard heartbreaking stories. We could spend 24 hours telling you about the terrible things we've heard."
Gershon discusses how football can provide a form of escape. After the attack, Goldberg struggled to sleep and was constantly consuming news. However, he realized that he couldn't directly defend his country, but he could contribute by bringing joy to others, such as visiting children from the kibbutz. While some may feel conflicted about playing during this time, it is their responsibility to support people's mental well-being. If they can bring some pride and distraction for 90 minutes, then it is a positive contribution. They are not just playing for Maccabi Haifa fans, but for the entire country.
Source: theguardian.com