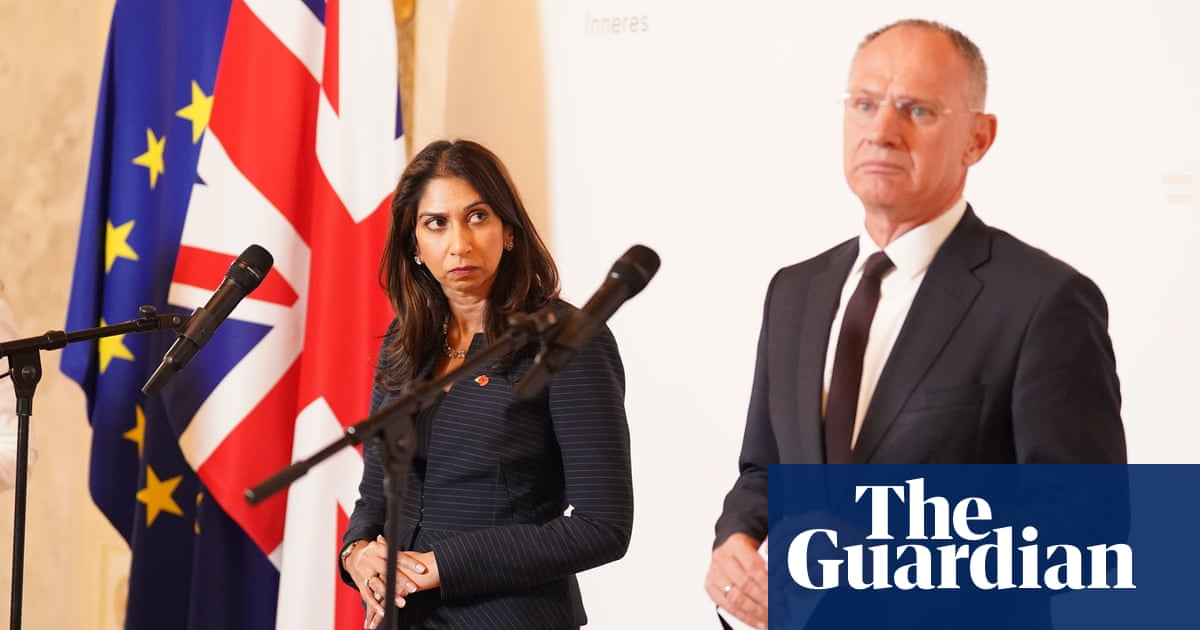 Austria is aiming to implement a similar agreement as Rwanda's for sending back asylum seekers to a different country, after reaching a deal to collaborate with the UK on migration.
Suella Braverman and Gerhard Karner, the Austrian Minister of Justice, signed a "migration and security agreement" aimed at increasing cooperation between their respective countries.
This is the initial European Union nation to agree to a deal with the United Kingdom. The UK's plan to deport individuals to Rwanda, costing £140 million, is currently suspended until a ruling is made by the supreme court on its lawfulness.
The offshoring plan in Austria would be distinct from the UK's in that individuals deported to a third country would have the opportunity to come back to Austria if their request for asylum is approved. Those who are denied would be sent back to their countries of origin.
According to the UK's proposed plan for Rwanda, individuals would be sent back to the central African country with a one-way ticket in order to seek asylum, unless they can prove that it would put them in danger of "serious and irreversible harm".
Rishi Sunak and the home secretary are urging European allies to revise global asylum agreements, such as the refugee convention and the European convention on human rights (ECHR), due to the ongoing migration crisis worldwide.
In December, the supreme court will make a decision regarding the lawfulness of the UK's policy towards Rwanda. If the decision is in favor, the Home Office plans to begin deportation flights in February.
If it is deemed illegal due to the potential for asylum seekers to be sent back to their country of origin and their human rights being violated, Sunak may face strong pressure from numerous Conservative Members of Parliament, including at least eight members of his cabinet, to resign from the European Convention on Human Rights.
Austria has been advocating for the EU to implement a plan similar to that of Rwanda throughout Europe in response to the increased influx of migrants from the Mediterranean and its eastern borders.
Austria's interior minister, Karner, stated that during a meeting in Vienna with the UK's home secretary, they discussed the valuable experience the UK has in handling asylum requests outside of Europe, which could be beneficial for Austria in the future.
"We will persist in our efforts to persuade the EU Commission to facilitate and promote these procedures beyond Europe."
Braverman stated that the current issue of global migration is the primary challenge of our time. The UK and Europe are experiencing a large influx of individuals crossing borders unlawfully, which is straining our communities and public services in an unprecedented manner.
Austria is a strong partner in addressing unlawful immigration, and we have already started exchanging information about our efforts and plans, such as deportations to third countries. This joint declaration is a pledge to collaborate more closely in order to accomplish our goals and strengthen our partnership on various security issues.
Denmark is the only other country that has previously drawn up plans to deport asylum seekers to third countries but its proposals have been on hold.
Source: theguardian.com