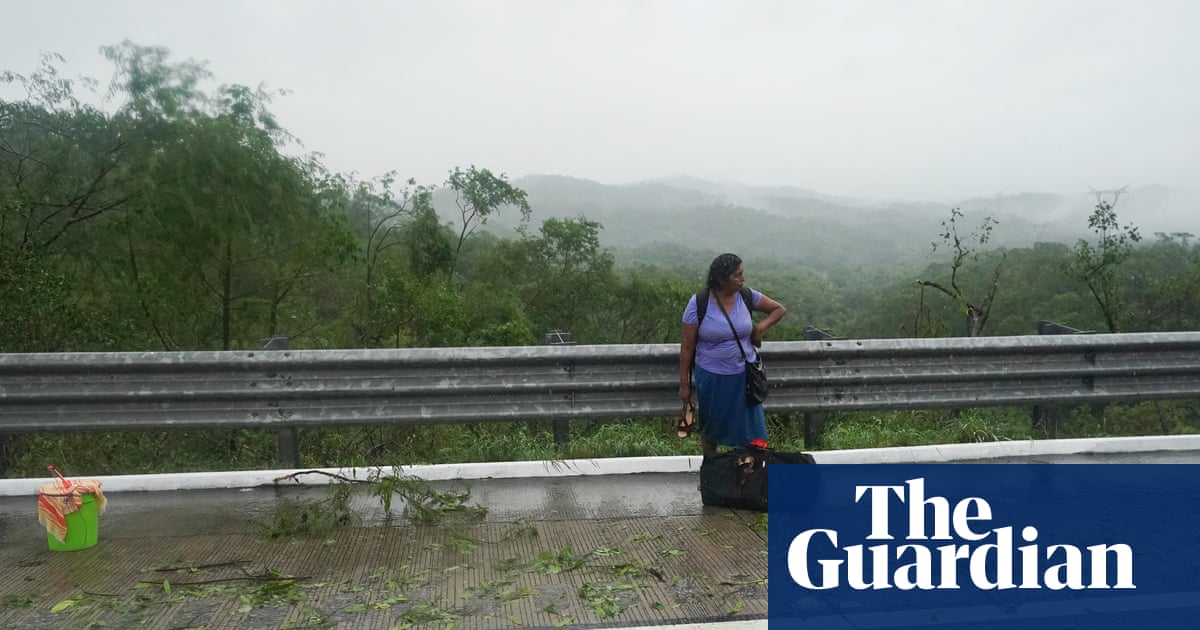 Hurricane Otis has smashed through the Mexican resort city of Acapulco as a category 5 storm, wrecking homes, hotels and hospitals, and leaving a trail of destruction, but with communications to the city still severed the full scale of the devastation remained unclear.
On Wednesday morning, images and footage shared on the internet depicted damaged structures and inundated vehicles in the state of Guerrero, where officials were assessing the extent of the destruction.
The president of Mexico, Andrés Manuel López Obrador, stated that there have been no reported fatalities thus far. However, he also noted that there is still a lack of communication with the affected region.
In a matter of hours, Otis quickly escalated from a tropical storm to a category 5 hurricane, catching both residents and officials off guard. The storm's winds reached over 250 kmh, making it the most severe level on the scale. By Tuesday night, the US National Hurricane Service was warning of a potential "nightmare scenario".
Jorge Lozano Bello, a 36-year-old resident of Chilpancingo, a town located about an hour away from Acapulco, stated that this was the first time they had experienced a category 5 hurricane. Despite initial expectations, the town was fortunate to not sustain significant damage from the storm. However, at 10pm last night, communication with Acapulco was lost.
On Wednesday morning, individuals throughout Mexico were eagerly anticipating updates from loved ones whose final communications revealed them seeking refuge in bathrooms as the strong winds damaged windows and ripped the roofs off homes.
The lack of communication was a result of impaired infrastructure and power outages. According to Mexico's Federal Commission for Electricity, 300,000 individuals are still without power.
According to Lozano, the administrator of the Solo Acapulco Facebook page, the signal was sporadic. It would return for a brief period, displaying additional images of devastation, before disconnecting once more.
"We have received numerous reports of homes being inundated," he stated. "Numerous roofs have been ripped off, including those belonging to my relatives."
Despite the opening of storm shelters, the rapid intensification of Hurricane Otis into a category 5 storm and the limited time available for preparation have raised concerns about potential high numbers of casualties.
Lozano stated, "The speed at which this storm transformed was unprecedented. People were caught off guard and had to react quickly." There are recorded videos showing individuals seeking refuge in a bus as the wind shatters the windows.
In 1997, Hurricane Paulina caused significant damage in Acapulco with five hours of heavy rainfall resulting in landslides, floods, and the loss of over 100 lives. The financial impact was also in the millions.
When asked about the similarities between Otis and Paulina, Ricardo Vega Moreno, a former cliff diver aged 80, stated that there was no basis for comparison.
"Let's not worry about it! This situation is even more difficult … we can only be patient." He mentioned that he had been attempting to reach his friends in Acapulco but had not been successful. "Please inform me as soon as you find out that the communication lines are back up."
Approximately 850,000 individuals reside in Acapulco, and the city was also hosting a mining conference when the hurricane hit, attracting numerous tourists and delegates.
The storm also affected smaller fishing towns along the coast and communities inland.
Otis has relocated to central Mexico and has decreased in strength to a tropical storm. However, the official meteorologist warned that areas of Guerrero and Oaxaca could still experience up to 8 inches of rainfall until Thursday, which may result in flash floods and landslides.
At this time, it is not possible to drive to Acapulco due to road closures caused by landslides or flooded rivers.
López Obrador stated that he is contemplating a trip to Acapulco later today, pending favorable conditions. The military has been deployed to provide aid.
This marks the third hurricane to hit Mexico within a few weeks, with Norma causing three fatalities in Sinaloa and Lidia resulting in at least two deaths in Jalisco and Nayarit.
Due to its extensive shorelines along the Pacific and Atlantic oceans, Mexico is among the nations at greatest risk for hurricanes.
Climate experts have cautioned that climate change and rising ocean temperatures have increased the likelihood of extreme rapid intensification, as observed with Otis.
A previous cliff diver, Frank Gomez Lopez, currently employed as a waiter in Mexico City, shared that he had attempted to contact his friends in Acapulco throughout the day, but was unsuccessful. He expressed uncertainty about the authenticity of photos being shared, unsure if they were from current or past storms.
"However, it was certainly not good."
Source: theguardian.com