Among the 220 empty seats at a carefully laid table for Shabbat, were five highchairs representing the babies and children held hostage by Hamas.
On the white tablecloth, there were baby bottles, plastic utensils, and beakers placed alongside dinner plates, bottles of red wine, challah bread, and candles.
Images of nine-month-old Kfir Bibas and his four-year-old brother, Ariel, were featured on posters attached to unoccupied seats to symbolize the numerous individuals currently being held captive in Gaza since 7 October.
The emotional exhibit at JW3, a center for the Jewish community in Finchley, north London, follows significant gatherings held globally to remember the devastation caused by the Hamas terrorist attacks.
"The vacant seats on this Shabbat symbolize the magnitude of the atrocities, even in a small sense," stated Sir Ephraim Mirvis, the leading rabbi.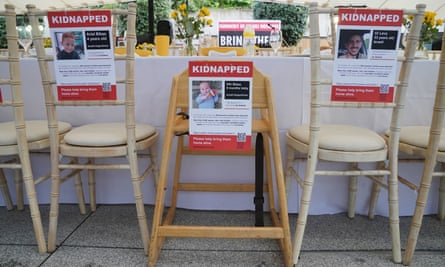 During a passionate speech, he described the devastation caused by Hamas militants who attacked communities in southern Israel three weeks ago, resulting in the deaths of 1,400 people and injuries of hundreds more. He shared heartbreaking stories of families torn apart as loved ones were taken captive by the cruel gunmen.
Mirvis said: "We are sickened as we think of their plight, as we wonder what kind of a Shabbat will they be having tonight and tomorrow. What is their state of mind? What is their mental state? We know that some of them went into captivity with medical conditions. We know that some were shot at and are injured.
We anxiously ask ourselves, will they return to their families unharmed? As you see these tables and chairs, we express our concern and longing for those who are still held captive. We want to make it clear that we will not stop fighting until they are free.
Up until now, only four prisoners have been freed. These individuals are Judith Raanan, aged 59, and her daughter Natalie, aged 17, both of whom hold Israeli and American citizenship. Yocheved Lifshitz, an 85-year-old grandmother and advocate for peace, and Nurit Yitzhak, aged 79, who also goes by Nurit Cooper.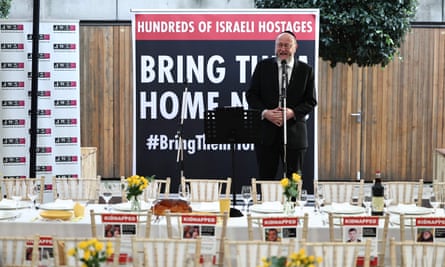 Noam Sagi, speaking at an event, described the emotional impact of his mother Ada Sagi's kidnapping from Nir Oz kibbutz at the age of 75. He stated, "The empty chair symbolizes the emptiness we feel in our hearts."
The therapist, who is 53 years old and was raised in a kibbutz but now resides in London, called on the British government to intervene and assist in securing the release of the hostages. He also urged the Israeli authorities to prioritize the captives, including three-year-old Avigail Idan.
In an interview with the Guardian, he expressed that he was experiencing "psychological torture." However, he remains determined and dedicated to his goal of bringing his mother, her friends, and all those who are being held captive back home. He refuses to let fear and worry control him, as he knows that the situation in Gaza is truly frightening. He believes that his own struggles are insignificant compared to what others are facing.
The speaker expressed his joy that four hostages had returned home and mentioned the existence of a system to build trust. However, he acknowledged that there is still much to be done as there are many more individuals who need to be brought back home.
Source: theguardian.com