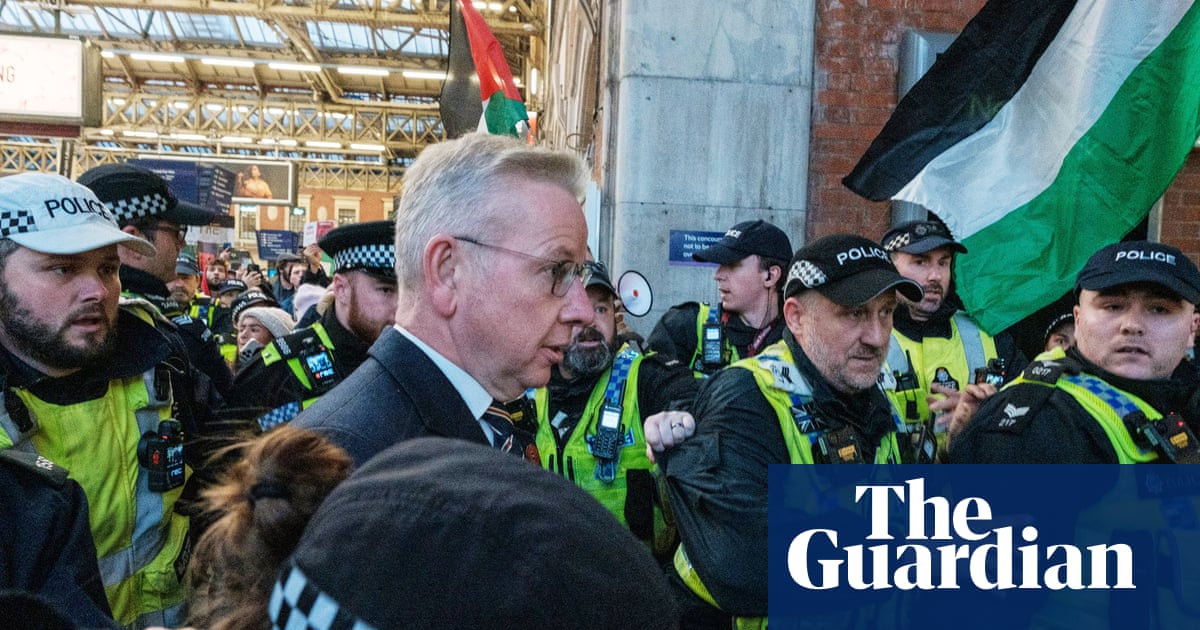 Moments after a sit-in protesting for Palestine concluded, Michael Gove was swarmed by demonstrators while passing through London's Victoria station.
"Amid a crowd of pro-Palestinian demonstrators, the communities secretary was escorted through the concourse, while protesters chanted "shame on you." A video shared on the social media platform X captures the moment as some protesters brandished flags and moved towards Gove, prompting Metropolitan police officers to push them back and command them to step away."
According to reports, Gove was heading to a train station in central London on Saturday evening. On Armistice Day, thousands of protesters gathered in London to demand a ceasefire between Israel and Gaza. The organizers have stated that this march may be one of the largest in British history and have estimated that 800,000 individuals participated.
The rally has been the backdrop to a political row over Suella Braverman's public criticism of the policing of protests. The home secretary has been accused of fuelling far-right violence near the Cenotaph after branding pro-Palestinian demonstrators "hate marchers" and "Islamists" who were intending to use Armistice Day to dominate the streets of London. The march passed off peacefully but at least 92 counter-protesters were arrested on Saturday as far-right groups clashed with police.
On X, another video was posted featuring Gove strolling down a street in London while protesters followed closely behind, shouting "Shame on you."
Several politicians have shown their support for the high-ranking cabinet member. Arlene Foster, a former first minister in Northern Ireland, posted on Twitter: "This is absolutely unacceptable. I stand in solidarity with Michael Gove and all those who are trying to go about their personal affairs on a Saturday afternoon, but are being harassed by violent individuals."
Sadiq Khan, the mayor of London, stated that efforts to intimidate politicians are not acceptable.
Stephen Flynn, the leader of the SNP in Westminster, stated that it is not unusual for Michael Gove to use a large subway or train station. He should be able to travel without disturbance like any other individual.
"Those acting in this fashion damage their cause and, along with those displaying abhorrent antisemitism among the rally today, must be condemned."
The comment request has been sent to Gove's office.
Source: theguardian.com