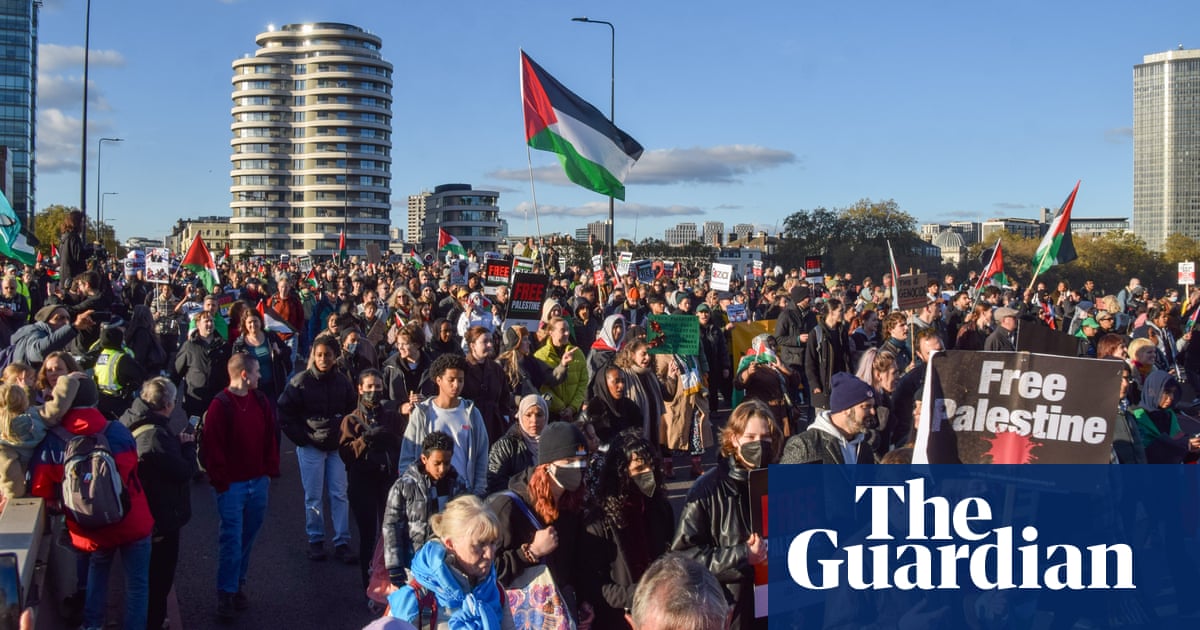 Organizers have stated that over 100 pro-Palestine events are scheduled to occur in the UK this weekend, advocating for a ceasefire in Gaza. However, there is no planned large-scale protest in London.
The organizers of the demonstrations in support of Palestine, which have attracted large crowds in London, have decided to hold smaller events in various villages, towns, and cities instead of a national march in the capital this Saturday. They explained that it is difficult to coordinate nationwide protests every week and that there is increasing support throughout the country. The next major national march in central London will take place on November 25th.
On Saturday, individuals from various parts of the UK will once again demonstrate their support for a ceasefire, according to Ben Jamal, the director of the Palestine Solidarity Campaign (PSC), a main organizer of the protest.
Organizers are anticipating large crowds at vigils, protests, petitions, fundraisers, and marches in multiple London boroughs and cities such as Birmingham, Cambridge, Liverpool, and others on Saturday.
Jamal stated that there will be a demonstration in support of Palestinians who are facing severe harm. The demonstration will also bring attention to the underlying issues that should not be overlooked, such as Israel's prolonged military occupation of Palestinian territories and the discriminatory system of apartheid against Palestinians.
The United Kingdom experienced its biggest protest movement in recent times following an unexpected attack by Hamas in Israel on October 7th. The attack resulted in the death of approximately 1,200 people in Israel and the capture of over 200 hostages. In response, retaliatory strikes have caused the deaths of over 11,000 innocent civilians in Gaza, with two-thirds of them being women and children. This has also led to 1.5 million people being displaced from their homes, according to health authorities controlled by Hamas.
The most recent event occurred one week after a large crowd of individuals peacefully marched through the center of London. Despite the prime minister and former home secretary's demands for the march to be prohibited, police officers have stated that their perceived bias played a role in clashes between far-right counter-protesters and police before an Armistice Day ceremony.
The Labour party faced a significant uprising on Wednesday, demanding an urgent cessation of hostilities, while the government and Keir Starmer stood by their stance of advocating for longer humanitarian breaks in the ongoing conflict. Numerous Labour MPs have expressed feeling immense pressure from both party members and constituents to take a stronger stance against the Israeli invasion of Gaza.
Jamal called the endorsement of Israel by British politicians "unfair and unacceptable." He stated, "We urge for fairness for the Palestinian community – their entitlement to self-governance and the ability to reside in liberty, security, and with complete human rights."
Reworded: The PSC, in collaboration with Stop the War, the Muslim Association of Britain, Friends of Al-Aqsa and other organizations, will continue the national march in London on November 25th. The organizers have stated that the march will persist until a ceasefire is achieved.
According to Hassan Kassem, a PSC communications officer in Kent, the conversation is reaching various regions and demographics in a way that has not been seen before.
Earlier this month, nearly 150 people had turned out in a show of solidarity for Palestinians in Tunbridge Wells at the first national day of action, said Kassem. He anticipates a similar turnout this weekend at their stall outside Barclays bank, which PSC says holds more than £1bn in shares, and provides more than £3bn in loans to companies supplying military arms and technology to Israel.
"During this weekend, the focus is on raising awareness about the involvement of multinational corporations in aiding Israel's indiscriminate assaults on Palestinian citizens," he stated.
This engagement is aiding in connecting with individuals in a novel and distinct manner. I believe it is increasing awareness among a larger audience about the issue at hand and the necessary actions to address it.
A representative from Barclays stated that the company is dedicated to upholding human rights as outlined in the international bill of human rights and also considers other globally recognized human rights norms and frameworks.
Our strategy is guided by our official statements and policies, which cover topics such as defense and safety. We carefully review our clients in the defense and security industry as needed through thorough due diligence.
Source: theguardian.com