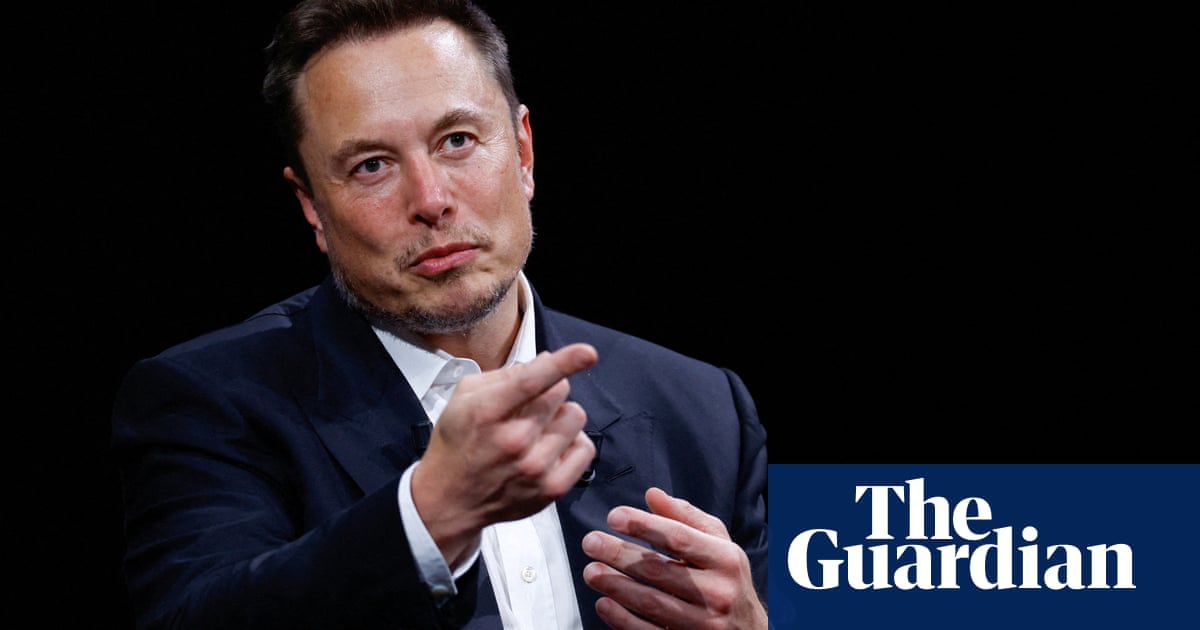 Government sources have confirmed that Elon Musk will be present at Rishi Sunak's AI safety summit at Bletchley Park this week. The two men will be holding a live discussion on Musk's social media platform, X, on Thursday.
The tech billionaire will be among the most prominent guests at the two-day conference organized by the prime minister to address the risks of advanced artificial intelligence.
Musk's presence at the summit will enhance its profile, as several global leaders have chosen not to attend.
The officials at Downing Street have maintained that Sunak is not being disregarded by other global leaders, even though it is anticipated that only a small number will be in attendance.
According to No 10, the government is satisfied with the reactions to the summit invitations. Sunak, who introduced the summit earlier this year, aimed to establish the UK as a leader in global AI regulation.
The prime minister is expected to be accompanied by only a small number of his international counterparts, as several have chosen to send junior ministers or officials in their place.
Some notable individuals who have declined to attend include Emmanuel Macron, the president of France, and Joe Biden, the president of the United States. Instead, Vice President Kamala Harris will be representing the US.
According to sources, Canadian Prime Minister Justin Trudeau will be represented by his science minister François-Philippe Champagne at an upcoming event, with the possibility of attending virtually on the second day. It is anticipated that German Chancellor Olaf Scholz will not be in attendance at all.
The upcoming summit is anticipated to be attended by noteworthy politicians including Ursula von der Leyen, who serves as the president of the European Commission, and Giorgia Meloni, the current prime minister of Italy.
Two days prior to the summit, a spokesperson from Downing Street stated that they are confident in the selection of AI experts, top companies, and world leaders who will address this crucial issue.
This summit marks the first of its kind for AI safety. It is a noteworthy accomplishment that individuals from various countries, including world leaders and experts in the field of AI, are gathering to address potential risks at the forefront.
Sunak updated his post on X, stating that he had a conversation with @elonmusk after the AI Safety Summit on Thursday night. Sources have confirmed that Musk will be present at the summit and that the two will have a face-to-face conversation on X.
Earlier this year, Musk introduced his own AI enterprise named X.ai. However, his company falls behind other established AI developers like Google's DeepMind and OpenAI.
Attendees at Bletchley Park on Wednesday will participate in two days of conversations regarding the potential dangers that AI presents to humanity, as believed by many in the industry.
Sunak declared the convention for this season following apprehensions about the development of advanced AI models without supervision from international governing bodies. Some professionals fear that if these models surpass human intelligence, they may choose to eradicate humans altogether.
As the summit approaches, the list of attendees is still being finalized.
Last week, Sunak's team extended an invitation to China to participate in the summit, stating that it is important to engage with the top AI nations in the world.
However, there is still no confirmation from Beijing on whether any representatives from the Chinese government will attend the summit. According to reports, officials from the UK have chosen to elevate the invitation and personally invite President Xi Jinping.
It is not anticipated that Xi will be present, however British diplomats are of the opinion that extending a personal invitation to him will demonstrate their strong desire for China to send high-ranking officials.
On Monday, Sunak's spokesperson stated that they will not discuss the specifics of the guest list. They have always aimed to have a proper balance of representation. It is crucial to invite China as they are also at the forefront of AI technology.
As the summit approached, government officials have introduced a variety of new plans regarding artificial intelligence.
The home secretary, Suella Braverman, convened a gathering with various technology corporations, including Tik Tok and Snapchat, to address the issue of AI-generated child sexual abuse images. Braverman referred to these images as a "pervasive problem" on the internet. As a result, the technology companies pledged to take action against this issue.
In other areas, government officials promised an additional £2 million to support the creation of AI resources for educators, as well as £16 million to gather more health information for AI-based diagnosis.
The Minister of Policing, Chris Philp, sent a letter to police leaders urging them to increase their use of facial recognition technology. Meanwhile, the Secretary of Health, Steve Barclay, hosted a roundtable discussion with NHS trusts to discuss the role of artificial intelligence in healthcare.
Source: theguardian.com