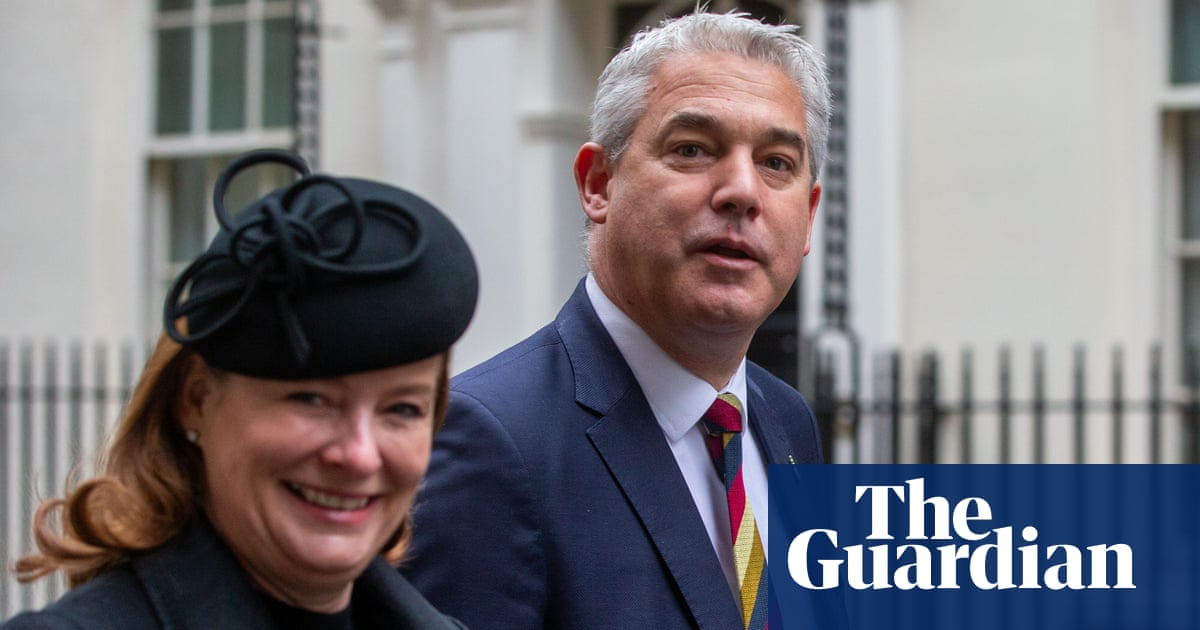 Activists have expressed worries about a possible issue of conflicting interests for the recently appointed environment secretary of the UK, Steve Barclay, as his spouse holds a prominent position at Anglian Water.
Barclay was appointed to the environmental position in Rishi Sunak's cabinet reshuffle this week. His wife, Karen Barclay, serves in a high-level role at a water company, overseeing major infrastructure planning and engaging with stakeholders.
Barclay, in his role as secretary of state, is in charge of monitoring the activities of water companies. He is tasked with ensuring that these companies comply with the government's plan to reduce sewage pollution through the storm overflow reduction plan.
Ofwat, the regulator, is investigating Anglian Water along with five other companies for allegedly dumping untreated sewage. The Environment Agency is also conducting a large-scale criminal investigation into these water companies, specifically looking into over 2000 water treatment facilities.
Water suppliers are urging the government and regulatory agency Ofwat to authorize a £96 billion spending plan for upgrading infrastructure in order to address issues such as leaks, sewage pollution, and insufficient treatment plant capacity. The companies are proposing that customers cover the costs through increased bills. However, some skeptics argue that the public has already footed the bill for these improvements and should not be burdened with paying for the companies' failure to fulfill their legal obligations.
Tim Farron, the rural spokesperson for the Liberal Democrats, said: "Ministers' spouses do of course have the right to their own careers, but I do worry about the possible conflict of interest here for the man charged with forcing the water companies to clean up their act.
"We must ensure that the secretary of state is dedicated to utilizing all available resources to put an end to the sewage scandal."
During the summer season, Anglian Water admitted to being responsible for the release of millions of litres of untreated sewage from a water recycling facility in Essex. The company was charged a fine of £2.65m, which was the highest penalty ever given for environmental violations in the eastern region of England.
Ashley Smith, representing Windrush Against Sewage Pollution, expressed concerns about a potential conflict of interest involving the recently appointed secretary of state.
Smith stated that it is not only concerning that the new environment secretary's spouse has a high-ranking position at Anglian Water, but also that the water industry frequently operates unlawfully, has misused billions of dollars from customers, and is now demanding higher bills to address the problems it caused. Smith also expressed doubt in the industry's ability to not take advantage of any additional benefits given by the government.
A representative from the government stated that all ministers from Defra disclose their personal interests in accordance with the ministerial code.
"There is an established regime in place for the declaration and management of interests held by ministers. This ensures that steps are taken to avoid or mitigate any potential or perceived conflicts of interest."
According to Craig Bennett, the CEO of the Wildlife Trusts and chairman of Anglian Water's independent challenge board, it would be wise for him to ensure that this has been publicly disclosed and made transparent. This way, it can be properly addressed and handled.
Karen Barclay was asked for a statement, but Anglian Water did not provide a response.
Source: theguardian.com