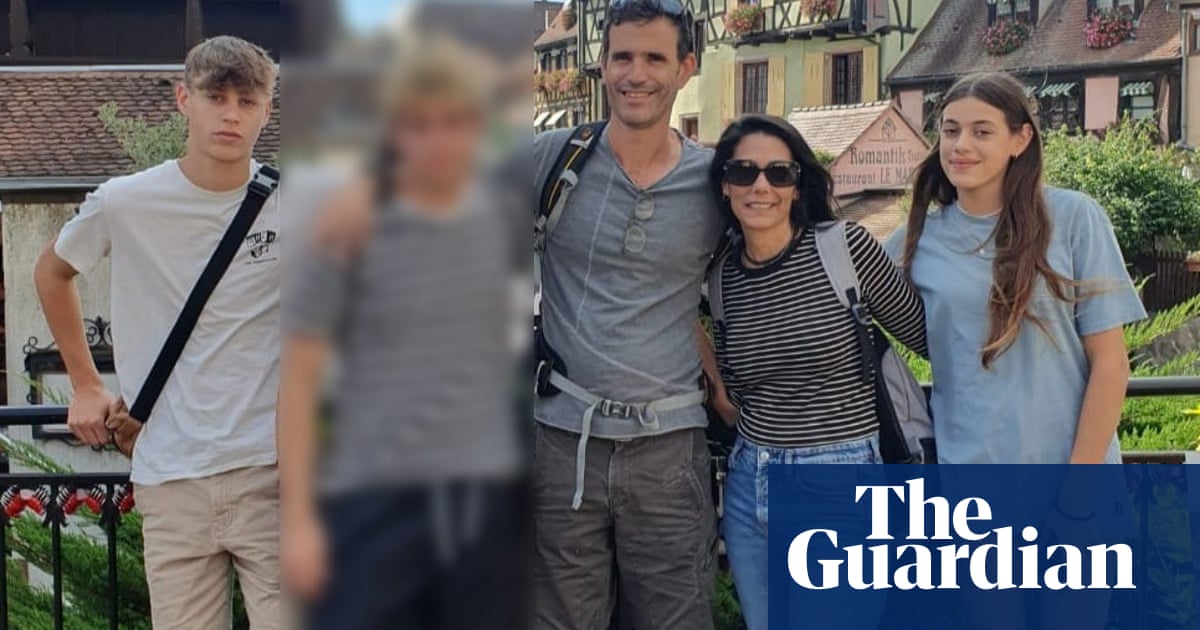 A lawyer from Britain and Israel is optimistic about reuniting with his family, who are being held captive by Hamas, after receiving news that his sister was killed by the gunmen.
Ahal Besorai reported that Hamas militants forcibly removed his sister Yonat Or (50), her husband Dror (50), and two of their three children (ages 15 and 13) from the safe room of their residence in Be'eri kibbutz on October 7th.
Besorai, 60, who lived in London for 25 years and is now in the Philippines, spent hours trawling through Hamas propaganda videos online in the hope of spotting his family alive after Yonat's phone was traced to Gaza. But he said he was told on Friday that his sister's body had been identified among the 120 people murdered at the kibbutz. The rest of the family remains missing.
He expressed his devastation and could not find the words to describe the murder of such a lovely person by these brutal terrorists.
Besorai is holding onto hope that he will be able to see his brother-in-law, nephew Noam, and niece Alma once again as he continues to mourn. Despite the difficult circumstances, he believes in the power of hope and remains optimistic. He expressed, "We always have hope. It is ingrained in us. As long as they are alive and we do not have confirmation of their death, we will continue to hold onto hope."
I remain optimistic that the IDF may intervene and retrieve them, and that there could be external pressure from Qatar or other Middle Eastern nations to secure the release of innocent civilians such as infants, children, women, and elderly individuals.
Besorai, who grew up in the kibbutz before moving to the UK in 1991 to study law at Cambridge University, spoke to his sister while she cowered in a safe room as Hamas gunmen rampaged outside. He recalled: "She said: 'I cannot talk, terrorists are around, they are shooting', and she hung up the phone."
Besorai's 89-year-old father and another sister, 58, who live in the same kibbutz, sheltered in their own safe rooms before being rescued hours later. A nephew, Yonat's eldest son, 17, whom the family did not name, escaped the attack as he was volunteering with the Israeli army.
"He is deeply devastated," Besorai expressed. "I don't believe he has fully accepted it yet, as it takes time. With no grave, there is still a glimmer of hope that this is just a nightmare and we will eventually wake up from it. At this moment, he is an orphan – his mother has passed away and his father and two siblings are believed to be held captive in Gaza. It's a very grim outlook for him."
The family intends to hold Yonat's funeral this weekend as they hope for the survival of their loved ones. "We postponed the funeral because we couldn't bear the thought of having four funerals. It would have been too much for us. Instead, we are waiting to receive news about the unidentified bodies," the family member shared.
Many people anticipate me to have a strong demeanor, but I also have moments of weakness. I desire to express my emotions and feel sadness. I am making an effort to stay resilient for my father and others, but it is not always simple.
Besorai paid tribute to his sister, who ran a successful vintage furniture business on the kibbutz. "She was an entrepreneur in spirit. She was spiritual, a very kind person and an amazing mum to three kids. She was just a really sweet person, she was really something unique," he said.
Besorai said he wants Hamas to be "wiped out" and he is "really pained" that the horrors have changed him as a person. "When I was a teenager lying on the lawn in the kibbutz and looking at the sky and seeing a falling star all I wished for is not to be rich, not to have money, just I prayed for peace," he said.
"We value peace, but we are currently facing a difficult situation that is hard to put into words. Some refer to it as Nazi-like or related to Isis, but I believe it is even more severe. We must take action."
Source: theguardian.com