The greater the stakes, the greater the performance from Novak Djokovic. This has always been one of the key pillars of Djokovic's success as he has swept up all of the significant titles in sight so many times over, and it has also been perfectly demonstrated throughout another triumphant week in Turin.
Five days following their intense round-robin match where Jannik Sinner put up a tough fight and ultimately defeated Djokovic after three grueling hours, Djokovic once again raised his performance to a level that Sinner could not keep up with. As a result, Djokovic easily secured the ATP Finals championship with a 6-3, 6-3 victory over the Italian.
Currently in Djokovic's career, each victory brings along a new record. The Serbian athlete has just won his seventh ATP Finals title, surpassing Roger Federer. He is also inching closer to reaching 100 titles, a feat only previously accomplished by Jimmy Connors (109) and Federer (103) in men's tennis. On Monday, Djokovic will celebrate his 400th week as the world's number one player, a whopping 90 weeks ahead of Federer in second place.
During this year's season, Djokovic has consistently emphasized that his focus is on the major tournaments, a principle he has consistently followed. He has emerged victorious in four out of the five biggest events of the year, including the Australian Open, French Open, US Open, and ATP Finals. The only obstacle to his dominance was an impressive display by Carlos Alcaraz at Wimbledon. Djokovic concludes the ATP season with a total of seven titles and an impressive record of 55 wins and 6 losses.
Djokovic arrived in the final after producing one statement performance against a youngster, Alcaraz in the semi-final, dropping only five games to his closest adversary. Less than 24 hours later, Djokovic simply picked up where he left off.
Sinner's serve has received a lot of well-deserved recognition in recent months, especially this week, due to the improvements he has made. However, Djokovic's serve was the standout in their match, demonstrating how much it has evolved in recent years. He served flawlessly, hitting seven aces in the first set and only dropping two points on his serve against one of the top returners. This continued until he led 6-3, 3-2.
In the same way, Sinner is recognized as one of the most powerful and precise hitters in the tennis world, while Djokovic is often labeled as a player focused on defensive play. However, in the recent match, the current champion surprised everyone by aggressively dominating with his forehands, which is a significant adjustment he has made in the later years of his career. By the fourth game, Djokovic's average forehand speed was 86mph, compared to Sinner's 74mph. Djokovic overwhelmed his opponent with deep shots, precise direction changes, and consistent, clean ball striking.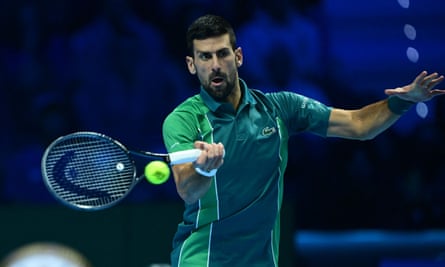 How do you handle a situation where the greatest returner and defender in history is also serving and hitting better than you? In the first set, Djokovic gained momentum and won 14 consecutive points to secure a set and a break advantage, while also attempting to achieve a second break.
Despite the odds, Sinner put up a strong fight. Trailing 0-2 and facing a 0-30 deficit on his serve, Sinner showed immense skill in saving another break point during a lengthy deuce game and managing to stay in the match. Shortly after, Djokovic countered with three powerful aces and an unreturnable serve, holding to love in just one minute.
Djokovic's inability to capitalize on Sinner's service games resulted in a tense end to the match. He found himself behind 15-40 and 0-30 in back-to-back games, causing potential complications. However, Djokovic remained composed and regained his footing, ultimately securing the win and adding another impressive title to his collection.
Sinner has had a remarkable week, solidifying his position among his fellow players. He has displayed ongoing development as a well-rounded athlete, demonstrating mental fortitude and establishing himself as a top contender in major tournaments.
The challenge facing talented young players is that despite their progress, 36-year-old Djokovic continues to improve. His dedication to honing his skills and evolving as a player, despite his already impressive accomplishments, is remarkable. As a result, Djokovic continues to dominate in major tournaments, with very few players able to compete against him.
In the meantime, Joe Salisbury from Britain and Rajeev Ram from the US successfully defended their doubles title at the ATP Finals by defeating Horacio Zeballos and Marcel Granollers.