CNN
—
The day after being disqualified from the French Open for accidentally striking a ball girl with a ball, Miyu Kato was visibly emotional and had difficulty responding to inquiries about the event.
Kato and her teammate Aldila Sutjiadi were disqualified from the doubles tournament on Sunday when Kato accidentally hit a ball girl while returning a ball to the back of the court after a point.
Kato, who was visibly upset after being disqualified during her match, returned to play on Monday. She and her German partner, Tim Puetz, won in straight sets and advanced to the semifinals of the mixed doubles event.
There are numerous reports stating that Kato cried on the court after winning the quarterfinals and was visibly emotional during the subsequent press conference. She briefly left the room to gather her composure before answering a question.
"I believe that our main priority, including Miyu, is the well-being of the ball girl who was hit. We are relieved that she is doing well," Puetz informed reporters upon returning to the room with Kato.
"Miyu feels terrible about what happened. This was just very unfortunate for everyone, especially for her and the girl."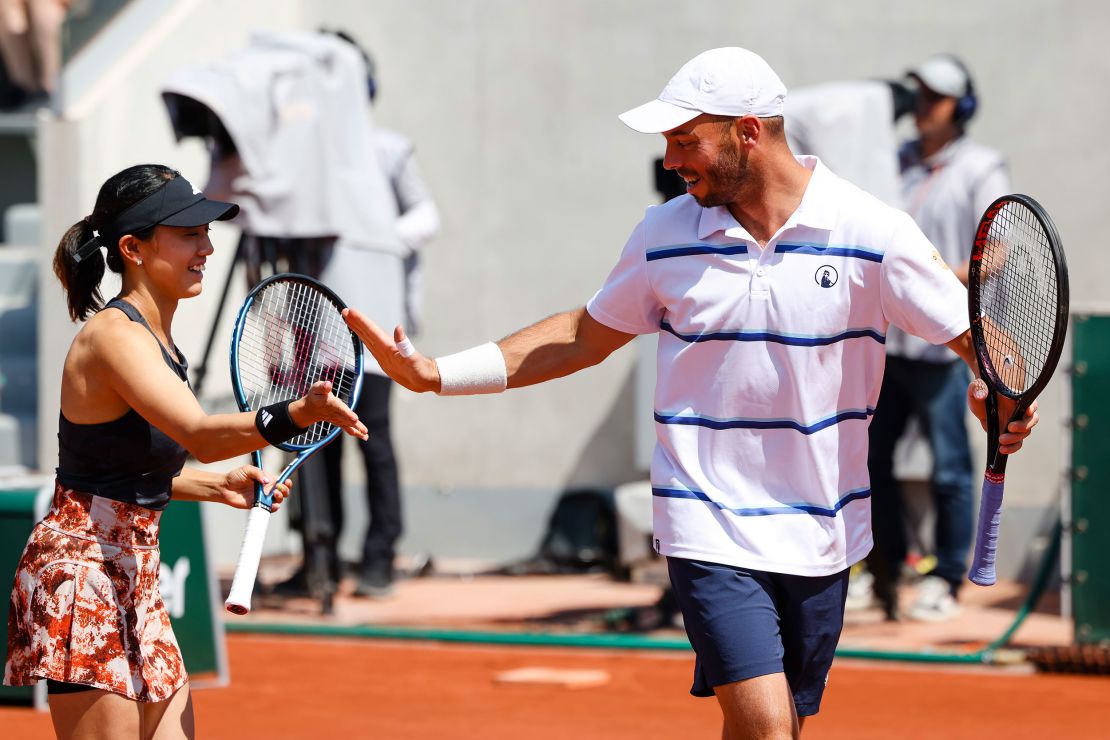 Kato, with tears in her eyes, responded briefly in Japanese, explaining that it was challenging for her to communicate in English currently.
Puetz acknowledged the reasoning behind the officials' choice, but emphasized that there was no deliberate intention to harm the ball girl.
"He added that he comprehends that she struck the ball girl, but it was not purposeful and he does not believe it was done in anger."
"I believe everyone has seen the images. It was not an intentional action on her part. Regardless, it did strike the ball girl."
"Subsequently, two supervisors must attend the court, potentially without witnessing the incident. All they witness is a distressed ball girl who was struck by a ball."
"It can be extremely challenging to make a decision in that moment."
On Monday, Kato issued an apology via Twitter to the ball girl, her doubles partner, and her supporters. She stated that the incident was not intentional.
She expressed gratitude to all for their ongoing support. She received a global wave of positive vibes, which greatly uplifted her, as stated in a post that received backing from fellow players.
"I am currently headed into the semifinals for mixed doubles, and I plan to harness all of that positive energy in order to achieve success!"
The rules
Per the rules of the grand slam, players are prohibited from aggressively, dangerously, or angrily striking, kicking, or throwing a tennis ball on the tournament grounds, unless it is a reasonable action during a match (including warm-ups).
The rule book declares: "In any instance of failure to fulfill an obligation, the decision of the referee, after consulting with the grand slam chief of supervisors, will be considered final and cannot be challenged."
According to the rule book, a defaulted player forfeits any ranking points and prize money earned at the tournament.
Source: cnn.com