Jessica Pegula caused an upset by defeating the top-ranked Aryna Sabalenka 6-4, 6-3 in her second match of the group stage at the WTA Finals in Cancun. This victory secured her spot in the semi-finals. In the evening match, Elena Rybakina narrowly defeated Maria Sakkari 6-0, 6-7(4-7), 7-6(7-2).
Pegula entered the competition with a poor 1-4 record against the strong-hitting Sabalenka, but was able to handle her strong serve and prevent her from making a comeback.
Sabalenka expressed concerns about playing at the recently built Estadio Paradisus and appeared uneasy during her match against Pegula, making 29 unforced errors on a sunny day in the Mexican city by the coast.
In the first set, the number one seed made a comeback after being down 5-2. She hit a powerful forehand winner to break Pegula, followed by a successful service hold, bringing her within one game of the American.
Pegula maintained her composure and won the initial set following a tense exchange that concluded with Sabalenka hitting a backhand into the net on set point. In the second set, Pegula quickly gained a 4-0 advantage, but Sabalenka fought back again, breaking Pegula's serve to narrow the gap to 5-3.
Pegula needed seven opportunities to win the marathon final match, but she ultimately sealed the victory when Sabalenka made a mistake on her backhand, securing Pegula's fifth consecutive win against a top-10 opponent.
Following the match, Pegula refuted the idea that her playing style is deficient in strength in comparison to players like Sabalenka.
"I have a strong hit," she informed Tennis Channel. "It seems like people don't believe that I hit hard, even the commentators. Honestly, I don't understand why they say that. Perhaps it's because it doesn't look like I do? My hits are more flat, not as heavy as Aryna's, but they are still powerful."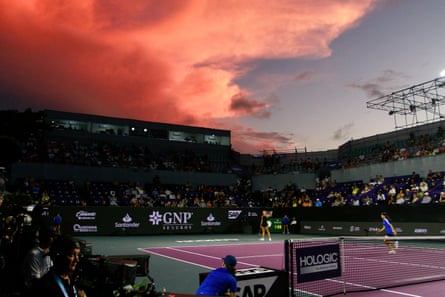 Pegula secured her second consecutive win in the group stage, guaranteeing her spot in the semi-finals later that evening. Meanwhile, fourth seed Rybakina fought off a late comeback from Sakkari to claim her first victory in the competition.
Rybakina routed her Greek opponent 6-0 in the first set, but Sakkari fought back, taking the subsequent sets into tiebreakers despite Rybakina's commanding start in the third set that had her 4-2 up.
Sakkari was able to break Rybakina's serve for the first time and evened the set at 6-6. However, Rybakina kept her composure and expertly won the tiebreaker, ultimately winning the intense match that lasted two hours and 26 minutes.
Rybakina stated in a post-match interview that Maria may have needed some time to adjust to her speed during the one-sided first set. She also acknowledged that the surface was not ideal and all players were facing challenges.
On Thursday, the fourth-ranked Kazakh player will compete against Sabalenka in order to advance to the semi-finals. Pegula, who has already secured a spot in the semi-finals, will play against Sakkari in their last group stage match.