Coco Gauff had a strong beginning at the WTA Finals, held in Cancún, Mexico, as she easily defeated the No. 6 seed Ons Jabeur 6-0, 6-1.
In just 57 minutes, the 19-year-old from Florida, who was seeded third, defeated her opponent from Tunisia to secure the win. She is the first teenager to win a singles match at the season-ending finals in 14 years since Caroline Wozniacki. Last year, Gauff did not win any of her three singles matches at the WTA Finals in Fort Worth, Texas.
After winning her first grand slam title at the US Open, Gauff has her sights set on a strong end to the season. Despite making it to the Wimbledon final, Jabeur has yet to secure a major championship, despite reaching three finals.
The first game of the Chetumal Group saw both players in action. The remaining two players in the group also played their first match on Monday. Second-seeded Iga Swiatek from Poland defeated seventh-seeded Czech Marketa Vondrousova with a score of 7-6 (3), 6-0.
In the first stage of the tournament, there are two round robin competitions with four players in each group. The top two players from each group will move on to the semi-finals on Saturday. The winners of the Saturday matches will then face off for the championship on Sunday.
On Wednesday, Gauff and Swiatek, both co-leaders of The Chetumal Group, will compete against each other.
Gauff successfully defended against three break points from Jabeur, all of which occurred in the last set. She also managed to capitalize on five out of eight break chances.
Gauff, a skilled player, admitted to feeling unsettled throughout the match, despite not appearing so. However, she expressed her joy at finally achieving a victory in this event. She acknowledged that a rain delay can often change the course of a match, but she was able to maintain her composure throughout.
"I received a proposal of marriage yesterday, and I am currently feeling very loved here in Cancún. To be honest, I didn't anticipate such a strong show of support today. I am grateful for all of you and I hope we can continue to attract more people as the week goes on."
Previously, Swiatek overcame a 5-2 disadvantage in the initial set to defeat Vondrousova. The player from Poland triumphed in four consecutive games to level the score, and then gained momentum with four points in a row during the tiebreaker after being tied at 3-3.
"I didn't feel like I was playing poorly, even during the beginning of the match," Swiatek stated. "It was more that I was making mistakes on the final shots of each rally. I knew there was definitely room for improvement, but I didn't need to make major changes. I simply aimed to be more accurate and consistent, rather than taking risks."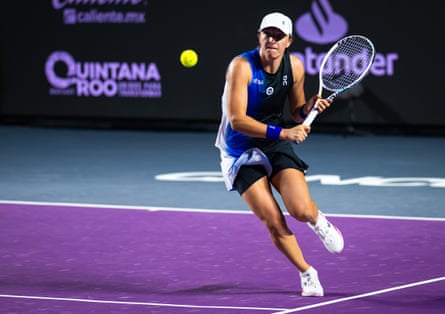 Vondrousova's performance declined in the second set, with only one successful shot and 13 mistakes due to her own errors. "I had a lead of 5-2 and then she stepped up her game," Vondrousova explained. "I didn't have many opportunities after that. In the second set, she played incredibly well and there wasn't much I could do."
The Bacalar Group will resume play on Tuesday. The number one-seeded Aryna Sabalenka from Belarus will face off against the fifth-seeded Jessica Pegula from the US in a match between players who won their first game. Meanwhile, the fourth-seeded Elena Rybakina from Kazakhstan and the eighth-seeded Maria Sakkari from Greece will compete against each other after both losing their first match.