D
In the 1980s, Wally Badarou, a French keyboardist and synthesizer trailblazer, collaborated with numerous artists such as Grace Jones, Talking Heads, and Robert Palmer on successful singles and albums. He also worked with other notable musicians including Mick Jagger, Herbie Hancock, and Jimmy Cliff. Despite his impressive collaborations, Badarou claims that only once in his illustrious career did he have a strong feeling that a song, specifically Foreigner's "I Want to Know What Love Is," would become a major hit.
He explains that the iconic soft rock power ballad was intentionally created in that manner, as requested by the record label. Other songs such as "Pop Muzik," "Addicted to Love," and "Burning Down the House" were not intended to be hits, but they ended up becoming successful. He was surprised by their popularity.
Born in Paris to Beninese parents, Badarou's eclecticism was a byproduct of his formative years as a Parisian session player in the late 70s, where he worked on records by the likes of Manu Dibango and the Gibson Brothers, forming a close bond with their producer Daniel Vangarde (father of Daft Punk's Thomas Bangalter). "It was an incredible schooling," he reflects thoughtfully, his considered English accent making him sound like an Oxbridge don. "Because you had to provide. You had to deliver in time as studios were expensive. So, by the time I was working with Foreigner, I knew I could do it, I could adapt."
His ability to play music was a product of his upbringing. His family relocated to Benin (formerly known as Dahomey) where he was exposed to classical music at a young age. When he moved back to Paris at 16, he had already blended his African and European musical influences, even before learning to play synthesizers.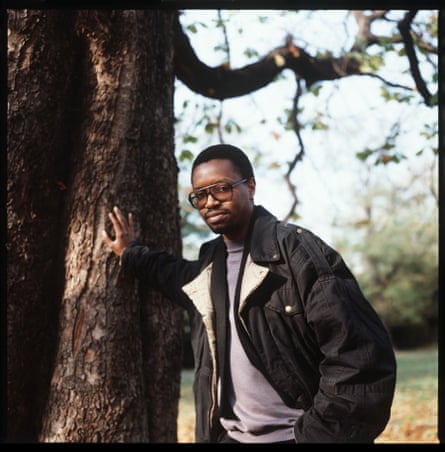 Becoming proficient in early synthesizers (which required manual programming and live performance due to limited memory) led to a high demand for his skills. During a seemingly ordinary session, except for the fact that it was for a pornographic film, he collaborated with British musicians for the first time. This resulted in a jazz fusion jam that caught the attention of bass player Julian Scott. He then introduced Badarou to a project his brother Robin was involved in. A few days later, Badarou joined them in a small studio in Paris and was invited to work on the hit song "Pop Muzik."
He rose to fame after his significant role in M's revolutionary pop album. Then, while collaborating with Talking Heads on Speaking in Tongues, David Byrne questioned him about the song that foreshadowed the electronic sound of the 1980s. Byrne was curious about the unique approach taken in the song and complimented it as a reflection of innovative music-making.
Chris Blackwell, the owner of Island Records, was also a fan of the track. He was in search of a European synth player to join a group he was assembling at his Compass Point Studio in the Bahamas to help with Grace Jones's artistic revival after her disco trilogy. Blackwell turned to Vangarde for recommendations and Badarou's name was suggested. Recognizing him as the same person involved in Pop Muzik, Blackwell knew he had found the right person for the job.
Using only a gut feeling as his guide, Blackwell gathered together a diverse group of musicians, which Jones jokingly referred to as the "United Nations in the studio". This group included Badarou, renowned Jamaican musicians Sly Dunbar and Robbie Shakespeare, as well as their fellow countrymen Mikey Chung and Sticky Thompson. British guitarist Barry Reynolds, who had recently worked on Marianne Faithfull's album Broken English, was also part of the ensemble. Thus, the Compass Point All Stars were formed.
Initially, Badarou was not impressed. The sessions did not begin on schedule, his housing was subpar, and he was not accustomed to waiting around. He completed his work on Jones's Warm Leatherette and Nightclubbing albums in three weeks; the remaining three weeks were spent goofing off. He was eager to return to France as soon as possible.
Upon returning to Paris, he was given the opportunity to listen to a rough version of Jones's new wave dub disco track, Private Life. This experience completely changed his mood, as he was blown away by the unique sound. He was filled with excitement, realizing that they had created something truly amazing. He was so enamored with Compass Point studio that he returned and built his own studio in his bedroom there. This marked the beginning of a 14-year love affair with the studio and a lasting friendship with Blackwell. Whenever they were working with Sly & Robbie, Blackwell's body language conveyed their success and they knew they were creating something special. It was an uplifting feeling, and no words were necessary to express it.
While on a plane, Blackwell leaned in and said to Wally, "I truly believe that we have the greatest band in the world with you guys." Badarou recalls that he was sincere and earnest in his statement.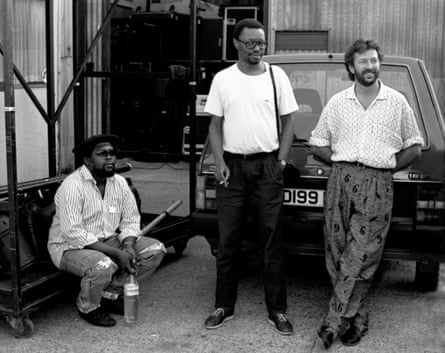 Blackwell is the driving force behind his current conversation. In 2000, Blackwell's partner Nathalie Delon (previously married to actor Alain Delon) produced a yoga DVD. The two had become close friends 20 years ago when they were the only French individuals at Compass Point. Delon then asked Badarou if he had any music, to which he gave her some demos he was working on, unaware that they had potential as yoga music. Delon was captivated by the atmospheric Afrofuturist sounds and a limited CD of the music was released after the DVD's success.
The album, Colors of Silence, has gained a cult following among fans of experimental electronic Balearic music over the years. Badarou, one of the artists behind the album, describes the music as nearly empty, giving it a sense of silence. This month marks its first release on vinyl. The demos from the album have also served as the foundation for The Unnamed Trilogy, a project that Badarou has been developing for the past three decades.
"I possess a vast amount of music," he states in regards to this unreleased trilogy. "However, I made the choice to reserve that magic for myself. Magic is the proper term. It's not about achieving perfection. I'm not striving to be the greatest. My goal is simply to create something magical. Those demos possessed a certain magic and even 10, 20, or 30 years later, they still sound magical to me."
Although he refrains from sharing juicy stories from his time at Compass Point, he does admit that Grace Jones was not his preference. Some notable visitors to his bedroom studio included Mick Jagger and Jeff Beck, who worked on Jagger's solo album in 1985. Badarou was surprised by Jagger's dedication and attention to detail in perfecting his vocals. On another occasion, Paul McCartney, Robert Palmer, and Emil Schult (known for collaborating with Kraftwerk) visited the studio while on vacation nearby. Badarou laments the lack of smartphones for taking selfies at the time and recalls that Emil recorded a jam session, although nothing particularly noteworthy came out of it.
On another occasion, Badarou returned from Paris to Nassau and it took him 20 hours to complete the journey. Upon arrival, he encountered engineer Godwin Logie who convinced him to add synth lines to a new album by Gregory Isaacs. Initially asked for one more song, Badarou ended up completing the entire album in one take per song. At the time, he was unaware of Isaacs' future success. However, a session with James Brown is a source of regret for Badarou as it was declared that all the music they worked on would be credited solely to Brown due to his manager's decision.
Badarou's music has stood the test of time. For instance, his track Mambo, which was featured on his solo album Echoes in 1984, became a fundamental part of Massive Attack's song Daydreaming. However, he takes the most pride in a moment in 1992 when France held a referendum on the Maastricht Treaty, which is a crucial aspect of the modern European Union. One evening while watching the news, Badarou heard his song The Dachstein Angels from his 1989 solo album, Words of a Mountain, playing in the background of a pro-Treaty rally. He states, "They didn't ask for permission, but it was amazing."
Shortly after, a different individual began to utilize the music – the head of the extremist National Front group, Jean-Marie Le Pen. "I suppose they were unaware of the composer's identity." Once they discovered that it was Badarou, they ceased using his music. "I felt a sense of pride that day because I had made my stance clear," he states. "It's not about your origin, but rather how you develop and progress. I have merged these cultures because I am both European and African."
Source: theguardian.com