Joss Ackland, a renowned British actor, passed away at the age of 95. He was a prominent figure in the British film industry for many years and also had a strong presence in the Old Vic, the Royal Shakespeare Company, and the West End stage. In 1982, he portrayed Falstaff in the opening RSC production of Henry IV, Parts One and Two at the newly built Barbican Centre.
He appeared in more than 100 films, and countless TV plays and series, usually, in later years, white-haired and bearded, but always with energy and force, whether as the cuckolded husband, Jock Delves Broughton, in Michael Radford's White Mischief (1987) with Greta Scacchi and Charles Dance, or as the drug-running heavy in Lethal Weapon 2 (1989) with Mel Gibson and Danny Glover.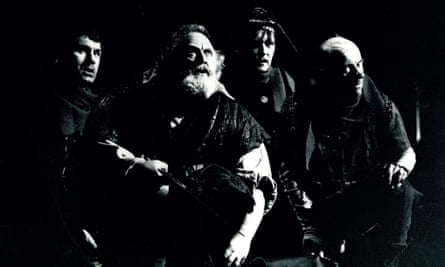 In 1958-59, Ackland performed as Toby Belch, Caliban, and Falstaff in The Merry Wives, as well as Pistol at the Old Vic. The company also included Maggie Smith, Moyra Fraser, John Moffatt, Barbara Jefford, and Alec McCowen. This season was a significant moment and a turning point in their individual careers.
Ackland continued to take on prominent parts for Bernard Miles at the Mermaid, where he also held the role of associate director. He portrayed the titular cockney hunter in the musical Jorrocks (1966) by Beverley Cross and David Heneker at the New theatre, now known as the Noël Coward theatre. In later stage productions in London, he played the tragic and formidable Mitch in the 1974 revival of Tennessee Williams's A Streetcar Named Desire alongside Claire Bloom, a remarkable and almost eerie Frederick Egerman in Hal Prince's 1975 London premiere of Sondheim's A Little Night Music with Jean Simmons and Hermione Gingold, and an impressive Perón in Prince's Brechtian rendition of Evita by Tim Rice and Andrew Lloyd Webber in 1978.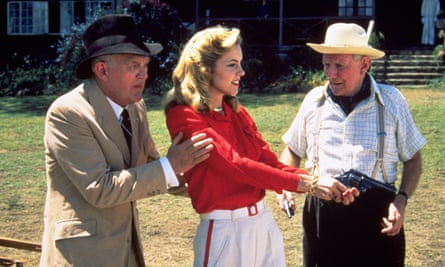 It is noteworthy that the individual in question never experienced joy or a sense of belonging in any of their performances. Ackland was often referred to as a "challenging" actor, as he did not align with progressive ideas and disliked the rehearsal process under Trevor Nunn at the RSC. He also rejected the idea that his portrayal of Captain Shotover in Nunn's acclaimed production of Shaw's Heartbreak House at the Chichester festival in 2000 could be seen as a relevant political statement. He maintained his identity as a proud, traditional outsider, a supporting actor with significant impact.
He was born in the northern part of London to Norman Ackland, an Irish journalist, and his wife Ruth (nee Izod). He attended Dame Alice Owen's school in Islington, but left at the age of 15 with the goal of becoming an actor. He briefly worked in a brewery and a dairy in Bedford before encountering his father's cousin, the playwright Rodney Ackland, who encouraged him to pursue acting at the Central School of Speech and Drama.
In 1945, he had his first performance in London in The Hasty Heart at the Aldwych. He also had small parts at Stratford-upon-Avon in 1947 with Donald Sinden and Paul Scofield. He then spent seven years working in various repertory theatres in Croydon, Wimbledon, Chesterfield, and Coventry.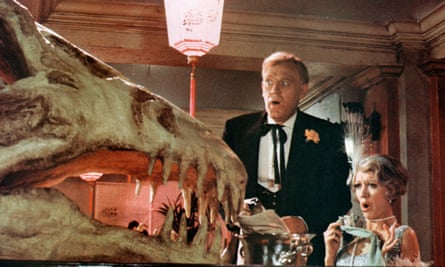 In 1951, while performing in JM Barrie's Mary Rose in Pitlochry, Joss met Rosemary Kirkcaldy, who would become his future wife. She was also an actor and was born in Nyasaland (now Malawi). They got married at the end of the year. Despite not experiencing any major success, the couple decided to try their luck in South Africa in 1954. Joss worked as a field assistant on a tea plantation in Beira, Mozambique before moving to Cape Town for two years. He also spent six months in Johannesburg where he appeared in plays by Terence Rattigan and Coward alongside Moira Lister and Dulcie Gray.
In 1957, the Ackland family returned to Britain with a larger family of seven children. Suddenly, Ackland became a sought-after actor, starting with his work at the Oxford Playhouse under director Frank Hauser. He then went on to perform at the Old Vic and the Mermaid, playing major roles such as Bluntschli in Shaw's Arms and the Man, Kirilov in Dostoevsky's The Possessed, and the lead role in Brecht's Galileo between 1962 and 1964. His talent for performing in contemporary plays was evident in John Osborne's intense Hotel in Amsterdam (1968) at the Royal Court and Duke of York's, as well as in John Mortimer's comedic collection of short plays, Come As You Are (1970), alongside Glynis Johns, Pauline Collins, and Denholm Elliott at the Duchess.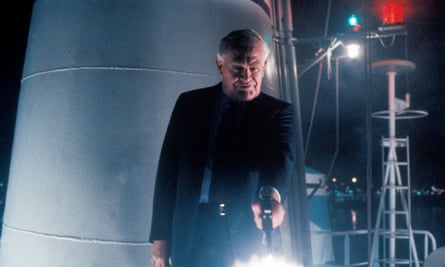 In the early 1960s, he gained prominence as the narrator of 26 episodes of Rudyard Kipling's Indian tales. However, it was his portrayal of Joe Gargery in ITV's 1974 adaptation of Great Expectations (alongside Michael York as Pip and Margaret Leighton as Miss Havisham) and his performance as CS Lewis in the acclaimed television movie Shadowlands in 1988 that solidified his public image and endeared him to audiences.
Additionally, Ackland showcased his talents at the Barbican by appearing in the RSC's production of Peter Pan as the formidable Captain Hook, after his successful portrayal of Falstaff. He also starred as Gaev in The Cherry Orchard at Chichester opposite Bloom in 1981, and played a commanding role at the National in The Madras House in 1977 with Scofield. However, his performance in the 1983 musical Jean Seberg, directed by Peter Hall and scored by Marvin Hamlisch, was not well-received.
In 1982, he went through a challenging experience when he played the role of "Sir" in Ronald Harwood's The Dresser to audiences that never showed up during the tour with Kenneth Haigh. However, he always held onto the hope of one day playing King Lear in the afternoon and Sir in the evening, but unfortunately, it never happened.
Although his movies ranged from One of Our Dinosaurs Is Missing (1975) with Peter Ustinov and Helen Hayes to Peter Greenaway's A Zed and Two Noughts (1985), he gained recognition on television in the 1970s with shows like The Barretts of Wimpole Street and Great Expectations (featuring Sarah Miles and James Mason). He also appeared in a star-studded 1987 adaptation of Priestley's When We Are Married (where he played a drunken photographer) alongside Timothy West and Prunella Scales as one of three couples who discover they are not actually married.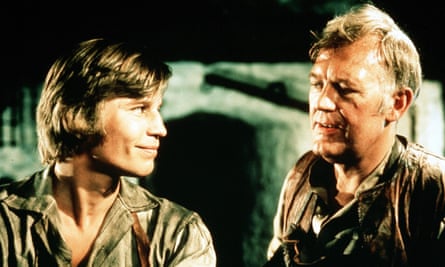 In the 1990s, there were notable performances by Lauren Bacall in film and television. She received praise for her roles in The Visit in 1995, where she sought revenge, Misalliance in 1997, where she played John Tarleton, a wealthy underwear businessman, and as the remarkable Captain Shotover, a portrayal comparable to Colin Blakely's at the National. His final stage appearance was in 2012, as a commanding King George V with a goatee in The King's Speech at the Wyndham's theatre.
In his autobiography from 1989, titled "I Must Be in There Somewhere," British actor Ackland uses a metaphor of an old actor searching for his identity in a box of makeup and props to describe his own search for self-discovery. The book also delves into some personal events, including a fire at his residence in Putney in 1963. His wife Rosemary, who was pregnant with their sixth child at the time, miraculously survived the disaster but suffered a broken back. Despite being told she may never walk again, she defied the odds and was able to leave the hospital 18 months later, though she had to use callipers.
In 1982, the oldest child of the couple, Paul, passed away. In 2000, Rosemary was diagnosed with motor neurone disease and passed away in 2002. Her diaries, kept for over five decades, revealed her perspective on the events and were later edited and incorporated into Ackland's second book, My Better Half and Me (2009).
Ackland was awarded the CBE in 2001 and is survived by his son Toby and five daughters: Melanie, Antonia, Penelope, Samantha, and Kirsty. He also leaves behind 34 grandchildren and 30 great-grandchildren.
Source: theguardian.com