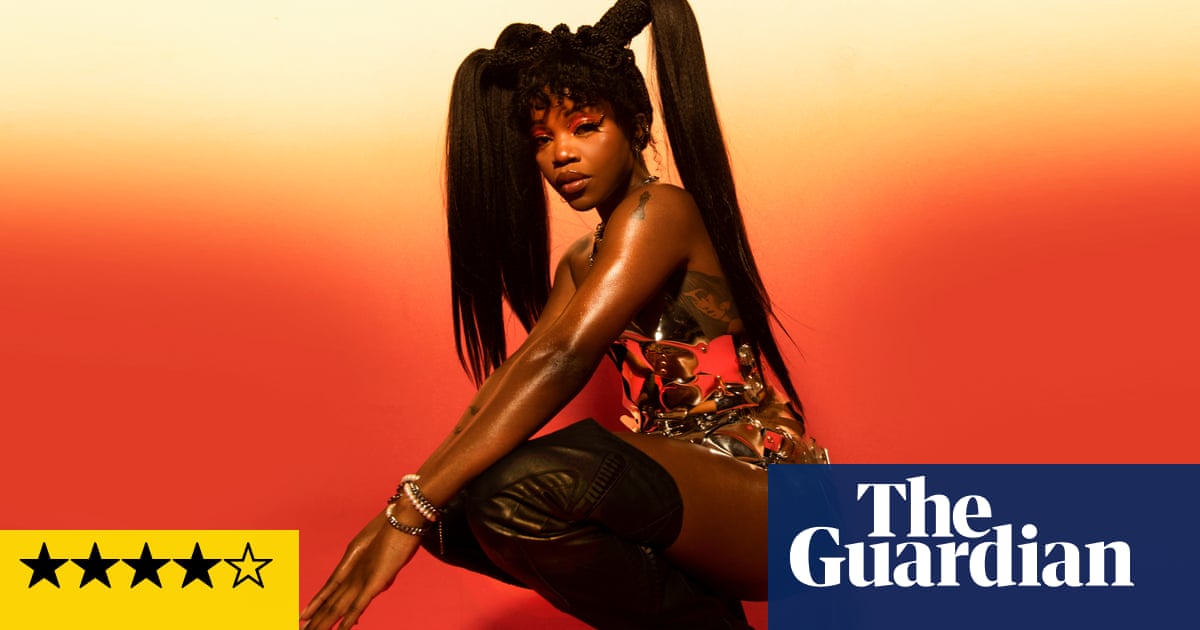 B
From 2018 to 2021, Tkay Maidza launched a set of three EPs called Last Year Was Weird. This provided an opportunity for the rapper and musician, originally from Zimbabwe but raised in Australia and now based in Los Angeles, to experiment with various genres of music, often blending them together. With influences ranging from pop and R&B to trap and industrial, it marked a growth in her musical style – a bold move into uncharted territory.
This year is proving to be just as strange as the last, as Maidza releases her sophomore album, Sweet Justice, with a bang. This ambitious and expansive record continues to challenge genre boundaries, incorporating various styles and sounds. While more diverse and daring than her debut album Tkay released in 2016, Sweet Justice maintains the same pop sensibilities on tracks like Out of Luck (featuring Lolo Zouaï and Amber Mark), Walking on Air, and Ghost's synthy beats.
The foundation of this album is smooth, bass-driven production and the artist's self-assured delivery, which is crucial to the theme of reclaiming one's identity. Maidza has labeled Sweet Justice as a breakup album, but with a unique twist – instead of parting ways with a person, she is breaking away from an outdated lifestyle and emerging renewed.
Some of these songs speak to one another. "Free throws, you know that I don't really need those," she spits on opener Love and Other Drugs, before circling back to the idea on the fast-flowing Free Throws. There is a world of possibilities here, both artistically and personally; a sense of flow, connectivity and rebirth.
The atmosphere of the record is reminiscent of another impressive second album from the past year, SZA's SOS. It feels like these artists have reached a new level in their artistic journeys. Both albums incorporate a variety of emotions and musical styles, executed with skill and confidence; they also include notable collaborators who enhance the overall sound without taking away from the main artist's unique flavor and texture.
For her album Sweet Justice, Maidza joined forces with Canadian producers Stint and Kaytranada, along with Australian artist Flume. One of the standout tracks is Silent Assassin, a collaboration between Maidza and Flume that features intense industrial elements. Maidza's rapping skills are on full display and Flume's fast-paced, pulsating beats complement them perfectly.
The record contains familiar sounds that pay homage to those who came before. Some are expected and some are unexpected. On Ring-A-Ling, she displays her Missy Elliott-like flow, while the guitar on Love Again brings to mind Radiohead's music. Won One has a nostalgic feel of 90s R&B, and Gone to the West samples Skee-Lo's 1995 track I Wish, which itself samples Bernard Wright's Spinnin'. Collaborating with rapper Duckwrth, Maidza puts a new spin on the recognizable instrumental, incorporating electronic and dance elements to give it a fresh sound.
Combining the past and present, Sweet Justice is a dynamic and mesmerizing album overflowing with originality and ingenuity, offering something unique and captivating with each listen. Maidza is a versatile and imaginative artist who is quickly rising to the top of her field – and while listening to this album with its diverse range of sounds, it becomes clear that she is just beginning to make her mark.
The release of Sweet Justice is now available. Tkay Maidza will be embarking on a tour in the United States, Europe, and UK in November, with shows in Melbourne on November 23 and Sydney on November 28.
Source: theguardian.com