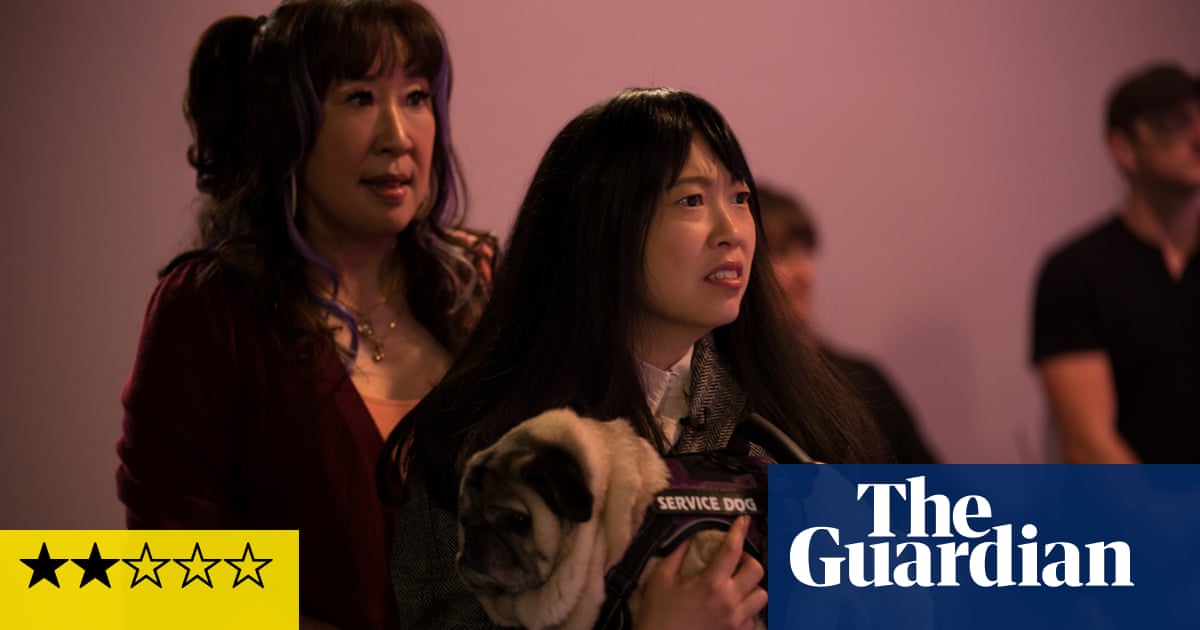 I
In Hollywood, it is common for a well-known actor to take on a role that goes against their usual persona – playing a loser, an oddball, or a recluse. This can also involve portraying a distorted or dysfunctional version of themselves, as seen in films like Amy Schumer's Trainwreck and Pete Davidson's semi-autobiographical comedy. The new Hulu show Quiz Lady follows this tradition, with comedian Awkwafina (also known as Nora Lum) taking on the role of Annie Yum, a slouchy thirtysomething who is obsessed with a daily quiz show. Annie's older sister, Jenny, is played by Sandra Oh, who breaks away from her typical type to portray a brash and youthful character.
The premise is promising but the execution is rough. Quiz Lady, a film directed by Jessica Yu and written by Jen D'Angelo, struggles to find a balance between its conflicting tones, shifting from exaggerated satire to heartfelt moments to absurdity in a way that is more annoying than funny. The Yum sisters are exaggerated caricatures of childhood trauma, played for comedic effect. In a brief flashback to 1996, we learn that Jenny coped with her chaotic and dysfunctional family by acting out, while her younger sister Annie found solace in television and her pug named Mr Linguini. Annie becomes obsessed with the Jeopardy-inspired game show Can't Stop the Quiz, which is more of a satire than a tribute, and its clumsy yet dependable host Terry McTier (played by Will Ferrell, who is also a producer).
The evening routine – turning on the quiz show alarm, switching on the television, and quickly answering questions with the outdated Mr. Linguini – continues in the present, where Annie is stuck in a dead-end accounting job in Pennsylvania. Her only social interactions are with her kind but confused elderly neighbor, Francine (played by Holland Taylor, who gives a stellar performance in a small role). Annie's simple life is interrupted when her mother disappears from her retirement home – she has a gambling addiction and fled to Macau. Jenny then shows up to stay on Annie's couch, serving as more of a comedic prop than a person – we first see her get hit by a car, only to immediately bounce back and yell at the driver.
Both Annie and Jenny are depicted as extremely childlike, going beyond the typical regression that occurs when a nuclear family is stuck together. Annie walks with an exaggerated slouch and constantly wears expressions of frustration, anxiety, and determination. Jenny behaves like a typical teenager, with trendy fashion choices and a lack of impulse control. Neither of them is prepared to help their mother pay off her gambling debts, which are owed to a gangster who loves animals (played by Jon Park) and who has kidnapped Mr. Linguini for ransom. Jenny, who fancies herself as a life coach, convinces Annie to come up with a plan to win a quiz show and take the prize money from the bank, dethroning the show's despised champion Ron Heacox (portrayed convincingly by Jason Schwartzman).
The chaotic and strained antics within this plan involve: a popular video that labels Annie as the "Quiz Lady", a sports bar in Philadelphia, an old-fashioned inn managed by someone impersonating Ben Franklin (Tony Hale), multiple arguments between sisters, and an accidental drug trip (stressful, but a great display of Oh and Awkwafina's comedic chemistry). (There is also a brief appearance from the late Paul Reubens, also known as Peewee Herman, in one of his last film roles.) At times, Quiz Lady hints at making a social statement ("People don't like when women are bad at things," says Annie. "People don't like when women are good at things either"), but it is more effective when the characters use assumptions about racism for personal gain. ("Oh! A real racist comment," Jenny exclaims when one character makes a derogatory remark.) The 99-minute film is heavy on shouting and laughter, but light on punchlines.
In short, the characters in this film are not very believable or reliable. Many people have discussed how Oh's career has been held back due to limited opportunities for Asian actors in Hollywood, causing her to often be cast in supporting roles. It's refreshing to see Oh play a goofy and deceitful character, as she is known for portraying strong and competent women (such as in Killing Eve and Grey's Anatomy) or showing empathy (in Netflix's The Chair). However, Jenny's character is inconsistent, with Oh's natural sincerity and seriousness conflicting with the juvenile and self-absorbed persona that is often portrayed as unintelligent. Awkwafina, who plays Annie, does a better job, although her performance can feel one-dimensional at times. The film improves when she breaks away from Annie's aggressive persona and shares genuine moments with her sister, leading to a charming and absurd quiz show ending.
The comedic chemistry between Awkwafina and Oh is evident in their daring performances; however, Quiz Lady's effectiveness as a comedy is primarily due to their efforts, even though their performances feel stretched in a full-length feature. Unfortunately, this film is not a success.
.

Lady Quiz will be released on November 2nd on Hulu in the United States and on Disney+ in other countries.
Source: theguardian.com