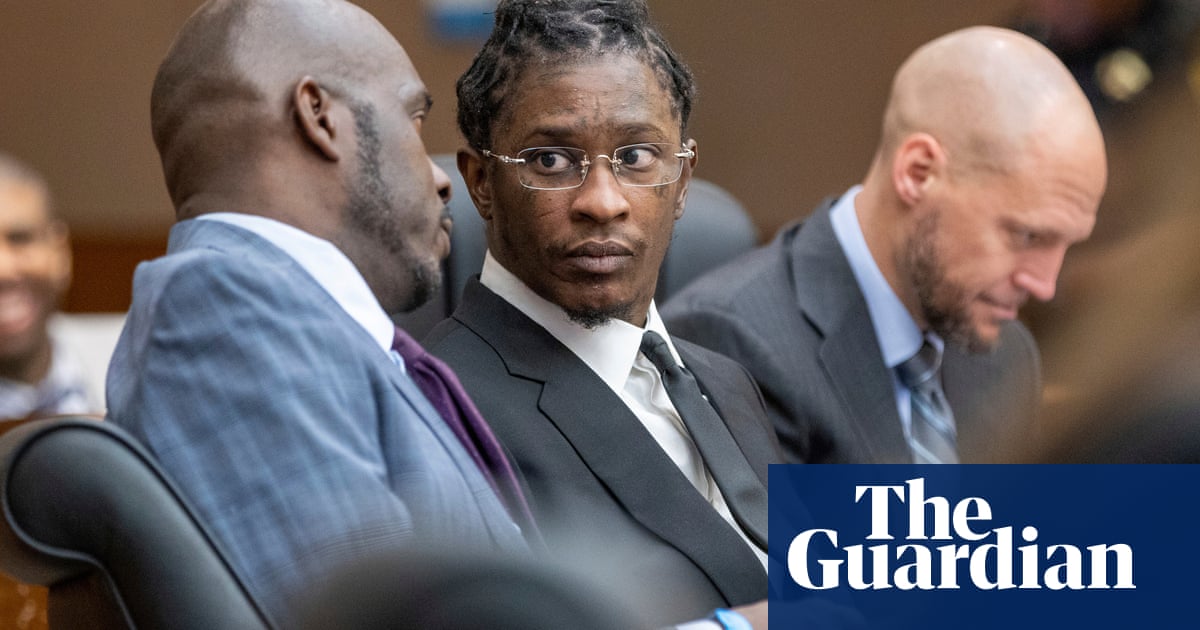 A court official has declared that the words of songs will be allowed as proof in the legal proceedings involving American rapper Young Thug, a contentious procedure that has been condemned by organizations advocating for freedom of speech and other prominent artists like Jay-Z and Coldplay.
Jeffery Williams, known by his stage name Young Thug, is a highly successful and critically acclaimed American rapper renowned for his unique vocal style. His albums So Much Fun and Punk have both reached the top of the charts in the US. Williams is currently facing trial in his hometown of Atlanta for racketeering, with accusations of being the leader of a criminal street gang known as YSL (Young Slime Life or Young Stoner Life). Members of this gang have been charged with various crimes, including murder and carjackings. Williams' legal team argues that YSL is simply a record label and music collective, and his lawyer Brian Steel maintains that the rapper has not violated any laws.
Initially, 28 individuals, including popular rapper Gunna (birth name Sergio Kitchens), were accused and charged. Gunna accepted a plea bargain that allowed him to declare his innocence. Some of the other defendants also accepted plea bargains, were not apprehended, or had their cases separated from the racketeering case. This left Williams and five other individuals as the remaining defendants to stand trial.
The presiding judge, Ural Glanville, has authorized prosecutors to present select song lyrics by Young Thug as evidence in the case, stating: "I will conditionally allow specific lyrics to be admitted."
Speaking to Williams's lawyers during the court session, Glanville contended that the prosecution was not targeting their clients based on the content of their songs. Rather, the songs were being used as evidence to support potential involvement in other matters. Glanville also stated that he did not view this as a violation of free speech.
According to Fox 5 Atlanta, prosecutor Mike Carlson stated that the lyrics are being utilized as evidence to demonstrate the nature of YSL as a racketeering organization and their reputation as a criminal street gang. He also mentioned that there are confessions from members related to the offense of murder, making the lyrics important evidence in the case.
In court, Prosecutor Simone Hylton referenced lyrics that state, "I just avoided a murder conviction, I paid my attorney 30 thousand for that." There were additional lyrics before and after that line that mention, "My friends and I believe we are exempt from the law."
The defense lawyers argued that the lyrics in question were a form of creative expression and should not be used as evidence of criminal activity. Doug Weinstein, the attorney representing rapper Yak Gotti (also known as Deamonte Kendrick), pointed out that there is a disregard for art in this case. He stated that the art and reality must be distinguished, and that Kendrick's lyrics are simply a reflection of his upbringing. He also noted that it would be unrealistic for Kendrick to sing about topics such as "Daydream Believer" or cute animals.
The use of lyrics as evidence in criminal trials, a tactic that has been employed in cases against American rappers like Tekashi 6ix9ine and Tay-K, is facing growing resistance. This method is becoming more prevalent in the UK, as evidenced by a study conducted by the Guardian which identified 240 instances in the past three years.
In January of 2022, Jay-Z and Meek Mill were in favor of a proposed adjustment to New York state legislation that would bar the use of lyrics as evidence. State senator Jamaal Bailey stated, "The freedom of speech is protected by both our federal and state constitutions. Allowing artwork to be used as criminal evidence only undermines this essential right, and the inclusion of rap and hip-hop lyrics specifically highlights the pervasive racism within our justice system."
A comparable law has been suggested in the state of Georgia, specifically in Atlanta, by US Representative Hank Johnson. He expressed his belief that it should not be permissible to use lyrics as evidence of someone's state of mind when they are being accused.
In September of 2022, California passed a law prohibiting the use of lyrics as evidence in trials within the state. The chief executive of the Recording Academy, Harvey Mason Jr, referred to this as a significant triumph, stating that silencing any type of artistic expression is a violation against all individuals involved in the music industry.
During an address to his supporters while in jail, Williams urged them to sign a petition called "Protect Black Art." He expressed his belief that as a Black artist and rapper, there is a lack of freedom in using music as a form of artistic expression. Similarly, Kitchens commented upon his release from jail that his art is not simply for entertainment and that as a Black man in America, he is not granted the same freedoms.
In November 2022, the Protect Black Art movement received support from major record labels, streaming and social media companies, as well as numerous artists such as Megan Thee Stallion, Coldplay, Future, and Post Malone. In an open letter, they argued against the use of rap lyrics in trials, stating that it goes against American values and is unjust. The letter further emphasized that rap is a form of storytelling, where artists create intricate worlds with multifaceted characters who can be both heroic and villainous. However, rap lyrics are often being used as incriminating evidence, targeting and stifling Black creativity and artistry more than any other art form.
Glanville reports that Williams's trial, which has undergone a 10-month jury selection process, is set to commence on November 27 and is projected to span six to nine months.
The musician dropped an album titled "Business Is Business" while incarcerated, and it rose to the No. 2 spot on the US charts in June.
Source: theguardian.com