I was not anticipating it, but it turned out to be wholesome and pleasant.
I accompanied my child, who is a big fan, to the event and was not particularly excited about it due to its length. However, I was pleasantly surprised by the fun costume changes, impressive production, and amazed by Swift's endurance. The most memorable moment for me was during the enchanting Folklore segment, when the young Swift fans in the front held hands and danced in a circle together. It was a heartwarming and endearing sight. Melanie Seddon, West Sussex
This is an excellent overview of Taylor's accomplishments in various genres.
I was pleasantly surprised by the concert-like experience at the cinema, as they allowed for singing and dancing and the audience was full of enthusiastic Taylor fans. It was heartwarming to be surrounded by fellow Swifties, with inside jokes and synchronized singing throughout the film. As a long-time fan, watching Taylor perform songs from her entire discography was a nostalgic and prideful experience. One standout moment was her raw and emotional performance of "Illicit Affairs," showcasing her vocal talent and depth of emotion. The whole crowd joined in for this fan favorite, creating a memorable moment. – Arabella, 25, London
'We shouted every single word of All Too Well'
I accompanied my former co-workers from a record store to see a Taylor Swift concert film. Listening to her albums always made our workday go by quickly and we would often play them on repeat. The film featured a mix of popular songs and lesser-known tracks for her dedicated fans. We stood, sang, and had a great time despite the lack of a large audience. A group of young girls nearby seemed to enjoy themselves, although they may not have known all of the non-single songs like the four 30-year-old indie rock fans in the corner who passionately sang along to every word, including the 10-minute version of "All Too Well." The most powerful moments were when Taylor stopped singing and let the audience take over. In those close-up shots of her face, she seemed like a regular person caught up in the energy of the performance – it's easy to forget that she's a celebrity too. Overall, the concert film was quite grand, but it probably wouldn't change the opinion of someone who isn't a fan. It's the strong dedication of her followers, us "Swifties," that truly made the film special, and Taylor would likely agree. Matthew, age 30, from London.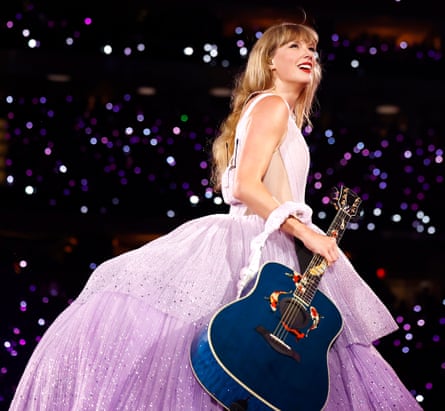 'I nodded off'
I am not a fan of Taylor Swift, but I must admit that the production and transitions were well executed and her performance was impressive. Although I did doze off at one point, which may be due to my lack of enthusiasm for concerts in general. I personally do not understand the high prices people are willing to pay for a live concert experience. However, I found $20 per ticket to be reasonable for a night out and my wife thoroughly enjoyed it. It was a smart decision by Swift's promoters to release the concert film in theaters quickly, considering the high demand. I have definitely paid more for shows that were less entertaining. Anonymous, 47, from Chicago, IL.
'The show is bitty, but full of great moments'
It's possible that not everyone has caught onto the Taylor Swift craze. I had the entire auditorium to myself for the 11:15pm premiere of her show at Vue cinema in Birkenhead. It was a great experience for me, sitting in the middle of the back row. The show itself was a bit choppy and lacked the smooth staging seen in her 1989 and Reputation tour films. However, it still had some great moments. One that stood out was her captivating performance of "All Too Well." She sang with such conviction that all the elaborate sets and grand scale of the concert seemed to disappear. For 10 minutes, it was just her and her honest emotions, with the camera focused solely on her face. The set design for the Evermore songs was also striking and memorable. The final song, "Karma," was a wild and colorful display, where everyone on stage could let loose a little. I'm hoping to find resale tickets so I can see the concert live at Anfield next year, as long as the prices are reasonable. John Keogh of Birkenhead shares my enthusiasm.
'A surreal cinema experience'
My friend and I purchased tickets for a concert next year. We opted out of dressing up or exchanging friendship bracelets beforehand, saving it for the actual event. The concert began with an announcement allowing us to fully express ourselves through singing, dancing, and being as loud as we wanted. It was impossible to resist getting caught up in the energy, and the experience turned out to be quite emotional. Taylor Swift's music has been a part of our lives for the past 15 years, making this concert even more special. The film lasted almost three hours but it felt like time flew by. During the song "Tolerate It," some audience members were moved to tears while singing along. Each song held a unique meaning for different individuals, so with each transition, there was always someone standing up in excitement. In front of us sat a family – a mother, father, and older daughter – who held hands during some of Taylor's older songs from the album Fearless. Sophie, 25, from London was in attendance.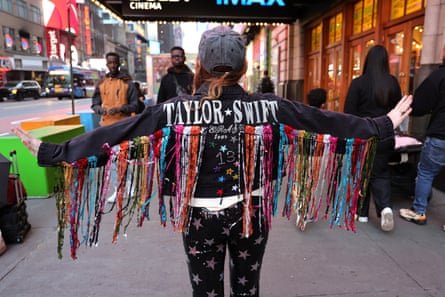 "You are carried away."
I went to see this movie at Cineworld Imax in Leicester Square with my 15-year-old son. I was truly impressed by the film. While it may not have a traditional storyline, there is a beautiful flow of emotion, rhythm, and theme throughout with no jarring moments. Despite its length, the film keeps you fully engaged. The live performances of some songs bring a whole new dimension to them – Champagne Problems is especially breathtaking and August is a standout centerpiece. As with most concert films, it may not have the same impact on a smaller screen, but on the big screen it is truly amazing. Jeremy Reynolds, 57, London.
Source: theguardian.com