I
The origin of it all can be traced back to a loft located in Tribeca, New York, way before it became a popular and sought-after area. Bob George, who had recently released a discography of punk and new wave music, remembers having 47,000 records that nobody wanted. As a result, many individuals approached him, urging him to preserve the material since no one else was doing so. This sparked the beginning of his efforts in his loft, which was situated in what is now considered a fashionable neighborhood, but was once known as a dangerous and undesirable war zone back in 1974 when he first arrived.
In 1985, George and co-founder David Wheeler established the ARChive of Contemporary Music (Arc), which houses over 3 million sound recordings and 90 million songs. It is now a non-profit music library and research center, and has received donations and support from prominent figures such as David Bowie, Jonathan Demme, Lou Reed, Martin Scorsese, and Paul Simon.
The Arc is currently not accessible to the general public, but has been a valuable asset for individuals in the film, writing, and research industries. This includes Ken Burns, who utilized it to find a song for his series Baseball, as well as the new Grammy Hall of Fame and Museum in Los Angeles, which needed cover art for its inducted recordings. Unfortunately, this one-of-a-kind collection is now facing a potential threat to its existence.
The Arc is in need of a new and larger location, as they cannot continue to stay at their current premises in Hudson Valley for an indefinite amount of time. George expresses concern for the collection, which is currently stored on pallets, and hopes to find a patron similar to James Smithson, who famously left his estate to the US to establish the Smithsonian Institution. The organization is actively searching for assistance in purchasing a suitable property or constructing a new building on unoccupied land in upstate New York.
George, originally from Youngstown, Ohio, relocated to New York in 1974 to pursue a career in visual arts. As a DJ, he began collecting records and in 1981, he released Laurie Anderson's debut single, O Superman. The single was a huge success, selling close to a million copies globally and reaching the top spot on the UK singles chart. He was also a featured guest on John Peel's renowned BBC radio program, where he introduced lesser-known records from New York. Additionally, he introduced music to European broadcasters and received rejected records from other collections.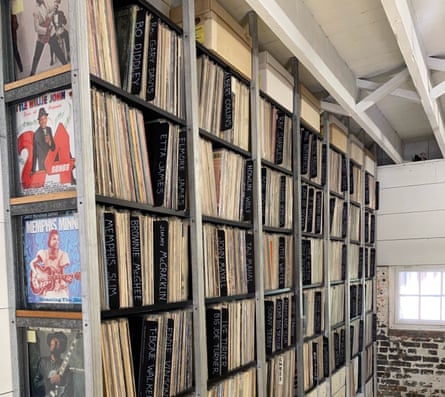 I was working on a book and doing Peel shows when it unintentionally turned into a large collection that nobody was interested in. They repeatedly stated that they only collected classical, Broadway, and ethnic music. I responded by saying that I had funk, reggae, African, and hip-hop, but they dismissed it. Now, forty years later, I realize that when you combine all of those genres, you get what music has evolved into.
The simple goal of the archive, which has always had a peripatetic existence, is preservation. "We have no interest in quality," George cheerfully admits. "It started that way from the very beginning because there's no way to tell what's valuable in the future. Everybody brings their own criteria and tastes to things in their own time. But the future is quite different, as we hope."
The collection has not received assistance from any local, state, or national institutions, but its size rivals that of the Library of Congress. It has acquired significant collections from both musicians and fans, and is the primary location for Rolling Stone Keith Richards' vast collection of blues materials.
George sent two large trucks to a dilapidated home in Boston, which was struggling under the heavy load of Jeep Holland's collection of over 125,000 records and 2,500 autographed albums from artists like the Rolling Stones, Jimi Hendrix, Bob Marley, and the Sex Pistols. According to reports, George discovered that the bathroom had a gas stove with the pilot light still on and records were even stored in the oven. The home was primarily being used as a storage unit. Due to the overwhelming amount of records, George had to leave his car behind and rent a new one.
George has frequently traveled to several countries including Brazil, Cambodia, Colombia, Cuba, Japan, Jordan, Laos, and Thailand. The Arc houses Demme's personal assortment of Haitian records. Over 150,000 world music pieces have been recorded and there is still more to be done. "We have made an effort to obtain as many of these materials as we can, making this collection truly remarkable."
The Arc stores duplicates of all recordings in various formats. It has digitally organized over 400,000 sound recordings and converted 200,000 with the Internet Archive, making it the largest collection among public universities and private libraries in the United States. Additionally, it holds over 3 million items, such as photographs, videos, DVDs, books, magazines, press kits, sheet music, and memorabilia.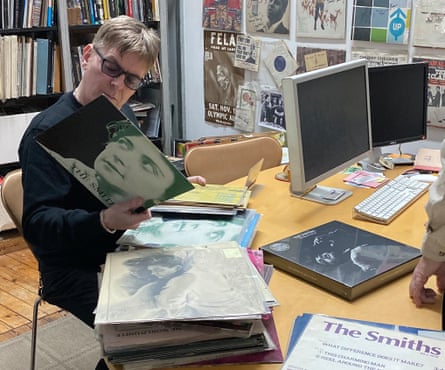 George stated that they have recently organized 105,000 individual songs and still have around 200,000 or 300,000 more to categorize. This was the initial approach for a band to gain exposure by releasing a few singles. If these singles were successful, they would be given the opportunity to create an album. However, a large portion of this music is not available on traditional formats like LPs or CDs. Slowly but surely, some of it may become accessible through streaming platforms like YouTube. However, George believes that YouTube, despite its advantages, will eventually cease to exist along with all other commercial forms of media.
Oscar-winning filmmaker Ang Lee has utilized the archive to obtain records from singer Bert Sommer for his movie Taking Woodstock. According to Lee, the archive holds a plethora of valuable resources that are only discovered when needed. In fact, during a search through the stacks, five LPs by Bert Sommer were unearthed. Despite being unfamiliar with Sommer's work, Lee believes he is a folk musician. Music legend Quincy Jones also utilized the archive, receiving a list of the 8,000 projects he has either produced or been involved in.
"Research was how we basically stayed alive along with the largesse of the rock stars or celebrities that we had hooked up with. The idea was never to open to the public but that's what we want to do now. I don't think it's untrue that we're one of the largest in the world and that we want to make that available. We've tried to save two copies so there will always be a listening copy and then that would then become a listening library."
George is optimistic about the possibility of the new archive being accessible to a diverse audience, including students, educators, historians, musicians, authors, journalists, and the general public. An undisclosed donor has generously pledged one million dollars to support this vision, however, additional funding is still required. A potential location for the archive could be an abandoned 34-acre IBM campus, but it would require a budget of $8-10 million. George is also exploring the option of collaborating with a university in the upstate area and intends to provide opportunities for scholars to reside at the archive.
Individuals can contribute their work, whether it be a blog, essay, tape, compilation, or new recording, to be shared with the world. Our approach is not focused on academia, instead valuing the sharing of ideas and bringing them back into the world. We aim to avoid creating an interactive experience for everyone and instead encourage individuals to share their ideas and creations. Our goal is not to be like Disney World, but rather to offer seminars, listening parties, and dances.
Source: theguardian.com