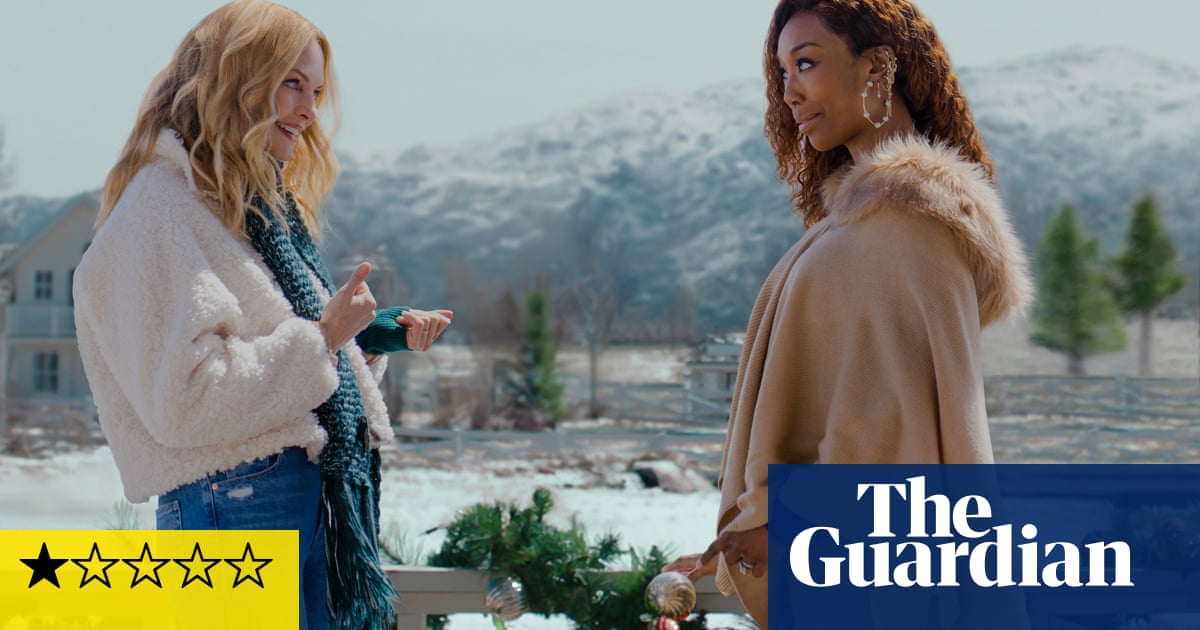 I
It is currently the busiest season for streaming services, releasing low-budget Christmas movies that are poorly made and hastily written, making it a challenge to sit through them without a strong holiday spirit. This year marks the 20th anniversary of Will Ferrell's comedy, as well as Love Actually and Bad Santa. These films all evoke a special time for holiday movies, each earning a spot for easy rewatching when November arrives.
Comparing Netflix's holiday film, Best. Christmas. Ever!, to its more beloved standouts is unfair and pointless. While it may not have been intended to reach the same level of quality, it certainly doesn't need to be as bad as it is. In the past, mediocre holiday movies were typically found on Hallmark and Lifetime channels, catering to those who have grown accustomed to lowered expectations year-round. However, Netflix has eagerly joined in on the trend, despite losing some of its prestige in recent years. This is the same platform that attracts talented filmmakers, yet somehow they also produce lackluster and unambitious films like this one. Even with low expectations for a comedy starring Heather Graham, it's easy to overlook just how mediocre these films can be throughout the rest of the year. The most crucial aspect in these movies seems to be the set decoration, attempting to distract from the overall dullness with an abundance of festive props. However, no amount of decoration can disguise the laziness and boredom of this film, serving as a depressing reminder of what's to come for the next six weeks.
The movie is under 80 minutes and feels more like a long montage of short clips rather than defined scenes. This is surprising considering the impressive background of one of the scriptwriters, Charles Shyer, who has worked on popular comedies such as Private Benjamin, Father of the Bride, Baby Boom, and The Parent Trap. However, this film lacks any of the wit or skill seen in his previous works, aimlessly following the story of two old friends reuniting during the holiday season.
Brandy Norwood has a never-ending tale of triumph, while Graham sees himself as a disappointment. Graham feels envious and doubtful due to Brandy's boastful Christmas letters. When an unusual turn of events brings them together for Christmas, their competition reaches its peak.
This film, directed by Mary Lambert, presents a premise that is both salty and sweet. However, it falls short in delivering any fun or witty moments. Instead, it becomes a sappy family movie filled with empty life lessons and overly sentimental child characters. The lack of a sharp edge hinders the potential for the two lead actors to truly shine, as they both seem to be going through the motions in their roles. The script fails to establish a strong bond between the two main characters, opting for a weak conflict based on romantic jealousy involving their husbands. This takes away from the potential for a more focused exploration of the women's relationship.
During the final act, the bizarre elements of the story become so chaotic that the movie teeters on the edge of being so bad that it's enjoyable. The main characters are on a path towards disaster, riding an uncontrollable solar-powered hot air balloon. Graham, a failed inventor with underutilized talents, may be able to save them with his unsuccessful creation of "chip mitts" for protecting hands from Cheetos dust. However, this twist comes too late and is not enough to make up for the dullness of the earlier parts of the film.
This could potentially be the first Christmas movie from Netflix this year, but it's difficult to envision it being any worse.
Best. Christmas. Ever! is now available on Netflix
Source: theguardian.com