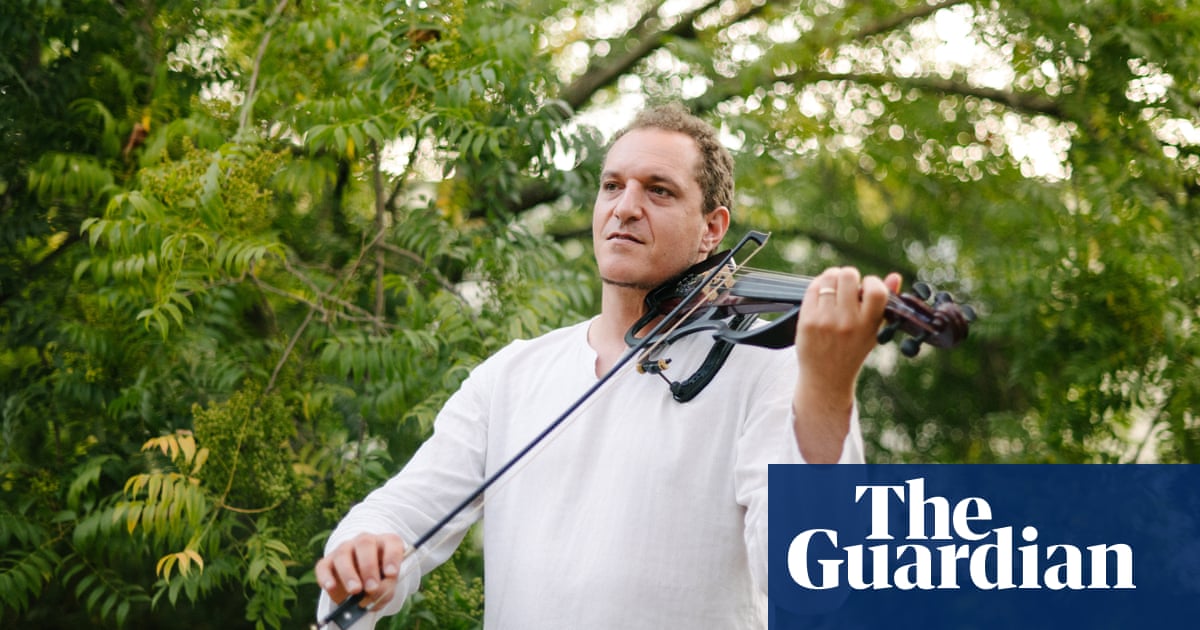 C
It's likely that you've already been exposed to the music of Miguel Atwood-Ferguson. You may not be familiar with the composer and strings performer based in LA, but if you've listened to modern American music or watched recent television and movies from the US, you have probably heard the sound of his bow gliding over orchestral strings.
Atwood-Ferguson, often seen in a casual outfit of a faded t-shirt and sweatpants, has a gentle demeanor and is known for his musical arrangements and performances for a variety of artists including Ray Charles, Stevie Wonder, Quincy Jones, Rihanna, Dr Dre, and the Roots. Over the last ten years, he has become a significant figure in the beats and jazz scene on the west coast, alongside musicians like Flying Lotus, Kamasi Washington, and Thundercat, who are all signed to Flying Lotus's label Brainfeeder. Blurring the lines between classical, jazz, hip-hop, and pop, Atwood-Ferguson has an impressive catalog of over 600 recordings and has played in more than 2,500 live shows in the last two decades. He is highly sought after for his ability to create moments of instrumental beauty within complex and dynamic soundscapes.
To maintain his impressive productivity, Atwood-Ferguson possesses an immense work ethic. He shares, via a video call from his well-equipped home studio, that he has spent 10 to 22 hours working every day for the past two decades. He clarifies, "I am not a workaholic, I am simply a deeply passionate individual."
Starting in 2020 and after the arrival of his son Sebastian, who was named after JS Bach, Atwood-Ferguson's work hours have decreased to a more manageable six hours per day. However, he still manages to make time for his creative pursuits. "While my son is at school, I utilize his room to record my own orchestral compositions by looping and layering various string parts," he shares with a grin. "I am constantly seeking new opportunities and challenges to further my learning and growth."
In the past, I have organized a 60-piece orchestra to revamp the music of well-loved hip-hop producer J Dilla on the 2009 live album Timeless: Suite for Ma Dukes. I have also arranged strings for Flying Lotus's soundtrack for the 2021 anime series Yasuke, and more recently, I conducted an orchestral performance of the late saxophonist Pharoah Sanders' compositions with electronic producer Floating Points.
However, his greatest obstacle, which has taken 14 years to overcome, is finally coming to fruition: Atwood-Ferguson is releasing his first solo album. Entitled Les Jardins Mystiques (meaning "mystical gardens," representing the diverse worlds of music), the album spans over three and a half hours, includes more than 50 tracks, and showcases collaborations with various artists, from young jazz talents Domi and JD Beck to 83-year-old Bennie Maupin, who has previously worked with Miles Davis. The album's sound ranges from beautifully intricate contemporary classical to complex jazz, atmospheric ambient music, hints of hip-hop beats, and even elements of progressive synthesizers. This is only the first installment of a planned three-volume series that will eventually feature over 10 hours of music.
"I am not focused on winning accolades or seeking popularity," states Atwood-Ferguson about his work. "My goal is to create something that I can truly take pride in. This album is not a means for financial gain, but rather a genuine expression that has been brewing within me for quite some time."
At first, the plan was to put out a two-disc album, a project that could have taken four years to complete. However, Atwood-Ferguson soon realized that in order to truly showcase his unique sound, he would require a longer timeframe and more resources. He explains, "I didn't want to feel pressured to perfect a set number of songs in the studio. Instead, I wanted to approach it as a laboratory where we could explore different ideas."
Atwood-Ferguson self-funded over $100,000 for studio sessions through his arranging and session work. He eventually accumulated 250 hours of music and spontaneous collaborations, which he then proceeded to chop up, warp, and edit. He was inspired by Quincy Jones, who once mentioned going through 800 songs during the Off the Wall sessions with Michael Jackson before settling on the final nine tracks. This approach made a lot of sense to Atwood-Ferguson. He was also influenced by Miles Davis and his producer Teo Macero's Bitches Brew sessions, where they recorded various ideas in the studio and later pieced them together to create a cohesive narrative.
Understanding a large amount of complex information may seem like a difficult task, but Atwood-Ferguson exudes a sense of calm and confidence in his pursuit of his interests, regardless of the sacrifices. This may be attributed to his 24 years as a Nichiren Buddhist, which he adopted after discovering that his jazz idols Herbie Hancock and Wayne Shorter were also followers. "I chant up to five times a day and find it incredibly captivating," he explains. "It always leaves me feeling courageous."
Perhaps his upbringing played a role as well, influenced by the culture he grew up in. The son of Steve Ferguson, a talented musician who played alongside renowned artists such as Etta James and Ry Cooder, Atwood-Ferguson began playing the violin at the young age of four. By the time he was ten, he had already composed his first orchestral score, which was performed by the Palisades Symphony. He recalls being captivated by classical music from Western Europe, but later developed a deep passion for jazz during high school. It wasn't until he discovered the politically charged messages in hip-hop from the 80s and 90s that he felt a sense of liberation. Despite his musical talent, he doesn't consider himself a prodigy as his parents didn't push him to excel in music alone. They encouraged him to have a well-rounded upbringing, with interests in sports, building with Legos, nature, and of course, music. He learned early on that true success stems from within and not from external validation.
Presently, success can manifest in many different ways. This includes the release of a new album, as well as the opportunity to support aspiring musicians. According to the artist, he has been fortunate to have had numerous exceptional mentors, such as LA producer Carlos Niño. These connections led him to meet other talented individuals like Flying Lotus and Madlib. As a result, he now offers free weekly lessons over Zoom, aiming to inspire and assist others in the music industry in maintaining a healthy lifestyle. This brings him immense satisfaction and fulfillment.
In Volume 2, he states that it is currently "50% complete" and Volume 3 is "25% complete". He has multiple ongoing projects, such as an album that will include pieces by the late Japanese composer Ryuichi Sakamoto, a film soundtrack, and collaborating with British woodwind player Shabaka Hutchings on an upcoming record. Atwood-Ferguson appears to be at the height of his creative abilities. Does he have concerns about his inspiration running out?
"I strongly believe that as I continue to develop and learn as a person, my passion for music will thrive and I will gladly continue dedicating myself to it," he says with a chuckle. Is he anxious about stepping into the limelight after spending so much time behind the music stand? "I may still feel quite young at 43 years old, but I recognize that it's time for me to do so."
He stops and says, "This is my declaration. It's the greatest one I have."
The first volume of Les Jardins Mystiques is now available on Brainfeeder Records.
Source: theguardian.com