T
There are few jazz musicians like Japanese pianist Hiromi Uehara. With her hair stylishly piled a foot high, the 44-year-old delivers intense performances that cover a range of styles, from fast-paced bebop to modern classical, powerful chords, and progressive synth excursions. Her maximal sound often elicits enthusiastic cheers from the audience, rather than the typical polite applause of a jazz club.
I have a diverse audience. During a recent show in Italy, there was a sophisticated older lady in pearls sitting in the front row next to a man wearing an Iron Maiden T-shirt. It was quite amusing. I also noticed a young child, around seven years old, who seemed to be studying piano.
Hiromi is currently in Stanford, California, staying in a grey hotel room. She is scheduled to perform later in the evening before beginning her worldwide tour. She will also be appearing at the London jazz festival later this month. In a video call, Hiromi speaks quietly (unlike her music) and shares that her strong stage presence was developed out of a difficult situation.
In 1999, I relocated to the United States to pursue my studies. It was then that I became aware of the misconception that all Asian people look alike, as recounted by a friend of mine. After performing at a concert, a man approached my Asian friend and praised her for the show. Despite us looking completely different, this scenario occurred frequently. It was at this point that I realized I needed a distinct appearance that would make me easily identifiable as Hiromi.
After two decades since her first album, Another Mind, which was created with the help of her mentor Ahmad Jamal, Hiromi has grown and evolved to stand out among her contemporaries. She received a Grammy in 2011 for her collaboration with bassist Stanley Clarke and has produced 12 albums that showcase a range of styles including complex trio pieces, chamber jazz, and even a film score for the 2023 animated film Blue Giant. She also gained recognition as a jingle writer at the age of 18, composing for a Nissan commercial featuring Mr Bean.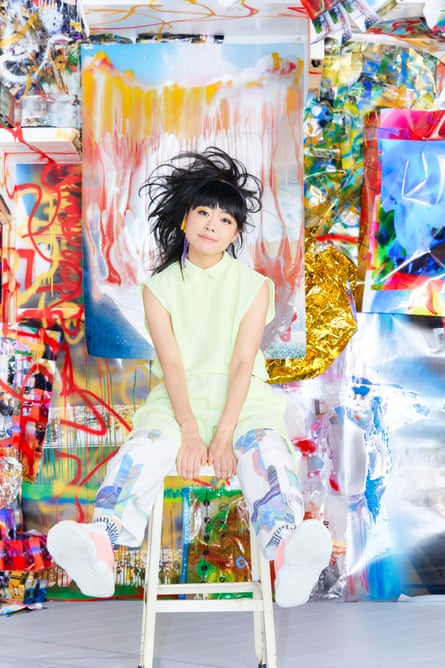 Hiromi, one of the few female bandleaders in a predominantly male-dominated genre, has learned to appreciate defying expectations. She recalls a performance at the Toronto jazz festival in 2003 when she was 24. Despite her height being shorter than the American standard and her youthful appearance, she could sense the confusion and doubt from the audience. However, once she began playing, their initial perceptions no longer mattered. She has always enjoyed the challenge of proving people wrong and winning them over with her music.
Her most recent album, Sonicwonderland, defies expectations once again. It is a sharp contrast to the previous album, Silver Lining Suite, which featured an acoustic piano and string quartet. This time, Hiromi showcases her skills on funky keys and high-pitched synths, accompanied by a new group of young improvisers. From the synths and bass in the title track to the energetic Latin jazz in Up, Sonicwonderland captures the same exuberance that Hiromi brings to her live performances.
After the pandemic restrictions were lifted, she wrote this, saying, "I felt a great sense of freedom." She explains, "I was experimenting with the keyboard and exploring all the possibilities that are limited on an acoustic piano. I wanted to fully express myself in every way possible. It seemed like others were also embracing this freedom – audiences were able to let loose at concerts and I wanted to continue inspiring that feeling."
Hiromi's love for the unpredictable energy of an audience started at a young age. She began taking piano lessons at the age of four and was introduced to jazz soon after. By the time she was 12, she was already traveling to Taiwan to perform her first show overseas. This experience sparked her desire to perform all around the world, as she realized that music knows no boundaries and can connect people regardless of language. She compares the piano to a plane, as it has the power to take her anywhere.
She continued to perform at the United Nations and with the Czech Philharmonic at the young age of 14. At 17, she had a serendipitous meeting with renowned pianist and Miles Davis collaborator Chick Corea, who invited her to join him on stage for his performance in Tokyo the next day. Ten years later, the two would release a live album together titled "Duet". Reflecting on that experience, she recalls it as a dream come true, smiling as she remembers running 200 meters in excitement after Corea mentioned making a record together.
Drawing inspiration from a diverse range of artists such as Corea, Frank Zappa, and funk fusion, Hiromi is determined to carve out her own unique path. She expresses, "I am constantly seeking new experiences and pushing myself to try different things." Taking note of Ahmad Jamal's wise words, "my next album or performance will always be my best one," Hiromi prepares to showcase her talent once again with her signature stage hair, ready to captivate yet another audience.
Source: theguardian.com