T
Twelve years in the past, Noreen Davies had a vision. In her dream, the 72-year-old artist and cafe owner was playing an uncommon instrument. She recalls, "There was upbeat music playing and I was happily playing along on a trombone, bending the notes." After waking up, she felt compelled to learn how to play the instrument.
She went to her coffee shop in Leominster, Herefordshire, and had a discussion with her financial advisor. "Towards the end, I inquired if he knew someone who had a trombone for me to test out and he mentioned he had five! It turned out that he and his wife were both members of a nearby brass band, so he brought one to me along with an old music book for the instrument. That's how it all began."
At the age of 84, Davies has performed in various locations in the West Midlands with different bands, delving into genres such as blues, vintage jazz, and big band funk. Despite the style of music, she has remained committed to her personal style of manipulating the notes on her large horn, creating unique sounds that resemble a tensioned string on an electric guitar. She shares, "During my first two lessons, my teacher instructed me to strictly follow the written music, but I prefer to play with my own creativity. I treat it more like a percussion instrument and improvise over the songs."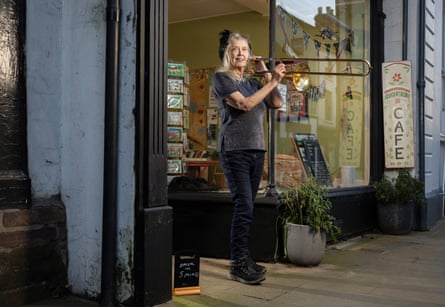 Learning to play the trombone can be challenging due to the need to gauge the distance between notes by manipulating the tubing instead of using set keys. However, for Davies, her previous musical experience made it easier to learn. At 14 years old, she picked up the guitar and taught herself how to play chords alongside her younger brother. She also learned how to play the piano by figuring out songs she enjoyed listening to. Despite not reading sheet music, she discovered that it was possible to learn by focusing on a few chords. However, as she entered college, she stopped playing as much. Recently, she has rediscovered her love for music and finds great joy in playing the trombone once again.
After meeting her husband, Gus, Davies started working as a teacher in a primary school. However, in 2005, she was presented with the chance to open her own cafe. She made the decision to close the cafe every Monday so she could spend the day painting, a hobby she hadn't pursued since her school days. Her paintings of high street shopfronts gained recognition and she now devotes three days a week to painting. She also displays her artwork on the walls of her cafe.
Davies' self-assurance to perform on stage increased as she regularly organized music events at the cafe, including a collaborative session with Ric Sanders from Fairport Convention. However, her progress was hindered when she underwent multiple lung surgeries, preventing her from playing for a few months.
In 2018, after recovering her strength, she attended a jam session in Bromyard and connected with two young musicians searching for a trombone player to complete their trio. Fortunately, she had her instrument in her car and was able to join in on a few songs. They quickly welcomed her into their group and they played together for a couple of years until the onset of Covid. It was a enjoyable experience.
Davies has expanded her musical repertoire through her involvement in open jam sessions and performances. She has revisited the piano and has also incorporated new instruments such as the accordion, washboard, and baritone ukulele. According to her, she joined a vintage jazz band when they needed someone to play the washboard, and she was the only one in her local area who could do so. In addition to playing Bob Dylan songs on the ukulele, she is also attempting to learn some Cole Porter pieces on the accordion. Recently, she acquired a bass ukulele, but she is unable to play multiple instruments simultaneously.
It sounds like a hectic schedule, but Davies wouldn't have it any other way. "Playing music and improvising with other people is essential to me now," she says. "Everyone should try it out – just get yourself to a jam session somewhere and see what happens. I'm glad I had my dream."
Source: theguardian.com