Hungary secured their spot in the Euro 2024 finals with one game remaining thanks to a last-minute own goal by Alex Petkov, resulting in a 2-2 draw against Bulgaria in Sofia.
During a game that was played without an audience due to a last-minute location change, Hungary scored the first goal with a header from Martin Adam, assisted by Dominik Szoboszlai from Liverpool, after 10 minutes from a free-kick.
Bulgaria, bottom of Group G and without a victory in qualifying, levelled when Spas Delev fired into the top right corner in the 24th minute. Valentin Antov and Ilia Gruev were sent off for the hosts before half-time, but VAR intervened to overturn Gruev's red card as the half ended level.
During the second half, a player from Hungary received a red card, eliminating the visitors' numerical advantage. In the 78th minute, Bulgaria took the lead with a penalty goal from Kiril Despodov after Attila Szalai committed a foul. This was a major setback for Marco Rossi's team.
Hungary was facing their first loss in a year when Petkov accidentally scored an own goal from a corner kick by Szoboszlai. This happened seven minutes into stoppage time and secured Hungary's spot at the men's European Championship finals for the third time in a row.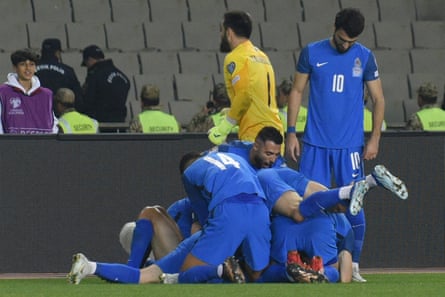 In Group F, Sweden suffered their first loss against Azerbaijan, falling 3-0 even with the hosts getting a red card in Baku. During Janne Anderson's last week as coach, the visitors who were already eliminated, were swiftly down two goals against a team they previously beat 5-0 in March.
Renat Dadashov capitalized on a mistake by Victor Lindelöf and connected with Emin Mahmudov for a powerful volley in just the third minute. Shortly after, Dadashov found the net again, this time from a pass by Aleksey Isayev.
Shortly after the game resumed, Behlul Mustafazade was ejected for fouling Victor Gyökeres, who was in a prime scoring position. The penalty awarded to Sweden was changed to a free-kick after VAR review, and Emil Forsberg's shot hit the crossbar. Adding insult to injury, Sweden suffered a humiliating defeat when Mahmudov scored from a distance in the 89th minute, lobbing the ball over Robin Olsen.
Sweden had no chance of advancing in Group F because Belgium and Austria had already secured their spots, and there was no possibility of a playoff for Sweden. Azerbaijan still has a slim chance of reaching the playoffs. In other news, Austria finished their run with a 2-0 win against Estonia, moving them ahead of Belgium for first place in the group.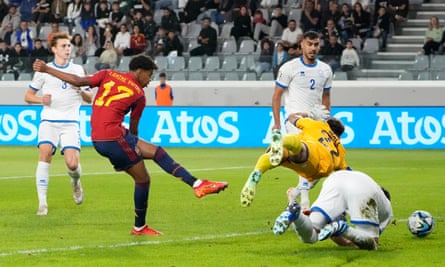 Spain closed in on securing top spot in Group A as they strolled to a 3-1 win in Cyprus. Luis de la Fuente, the Spain manager, rested several first-team regulars but had few problems against the group's bottom side.
In the fifth minute of the game, Lamine Yamal, a rising 16-year-old talent for Barcelona, scored by skillfully maneuvering past a defender and the goalkeeper. This was his second goal for the Spanish team. In the 22nd minute, Mikel Oyarzabal added to the score with a precise shot that went under the keeper's legs. The goal was confirmed by VAR after being initially called offside by the linesman.
Joselu, a forward for Real Madrid, scored the third goal six minutes after a corner with a first-touch finish. Kostas Pileas scored a consolation goal for the hosts in the second half. Spain is currently leading the group with 18 points, two points ahead of Scotland in second place. Scotland drew 2-2 with Georgia. Both teams have secured their spots in next summer's finals.
Slovakia overcame a one-goal deficit and defeated Iceland 4-2 in Group J, securing their spot at Euro 2024.
In the 17th minute, Orri Oskarsson of Iceland scored the first goal, but in the 30th minute, Juraj Kucka tied the game. Shortly after, Ondrej Duda sealed the win with a penalty kick after being fouled by Kristian Hlynsson.
Slovakia took control after the break, as Lukas Haraslin scored a goal two minutes into the second half and then completed his double eight minutes later with a curved shot from outside the penalty area.
In the 74th minute, Andri Gudjohnsen's goal gave Iceland a glimmer of hope. However, Slovakia held on to secure their spot in the European Championship for the third time in a row.
The leaders of Group J, Portugal, have already secured their spot for next summer's competition. They achieved a 2-0 victory over Liechtenstein, despite a slow start in the first half. In the second half, Diogo Jota's pass led to a goal by Cristiano Ronaldo, who expertly maneuvered past two defenders and scored with a powerful left-footed shot that hit the crossbar before going into the net.
Ronaldo's goal increased his record as the highest scorer in international football to 128 goals. He has also tied with Belgium's Romelu Lukaku as the leading scorer in Euro 2024 qualification with 10 goals.
In the 56th minute, João Cancelo scored another goal for Portugal after the goalkeeper Benjamin Büchel made a mistake, allowing Cancelo to easily shoot into the unguarded net.
Source: theguardian.com