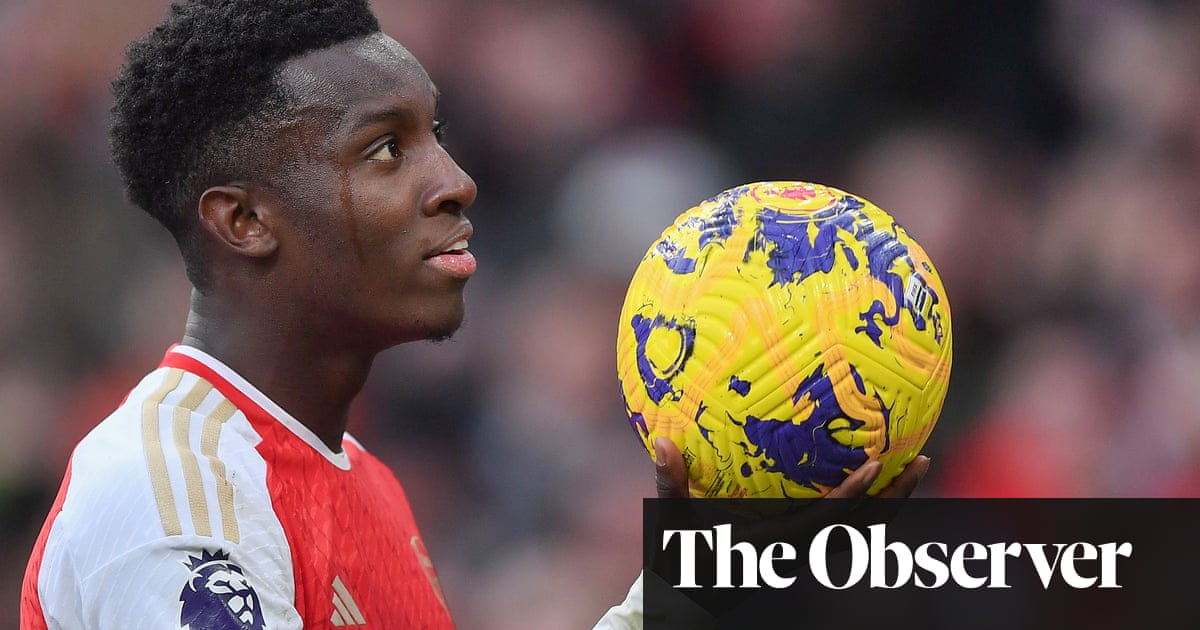 Mikel Arteta praised Eddie Nketiah as an exceptional striker after the Arsenal youth product netted an impressive first hat-trick in the 5-0 victory over Sheffield United in the Premier League. Despite facing challenges in his role as a striker, Nketiah has managed to score five goals in 10 league games this season, which is his best record in a single season in the top division.
Substituting the injured Gabriel Jesus, Nketiah scored the first three goals for Arsenal against a struggling Sheffield United team. Later in the game, substitutes Fábio Vieira and Takehiro Tomiyasu added two more goals. This was a great end to a successful few weeks for Nketiah, who also made his debut for the senior England team as a substitute in a friendly against Australia earlier this month.
Arteta expressed his happiness for a fellow academy player who had the opportunity to score a hat-trick in the Premier League. He encouraged the player to savor the moment and acknowledged his deserving talent. Arteta also praised the player's goal-scoring abilities and expressed confidence that with more playing time, opportunities, and support, he will continue to score goals in the future.
"He is an exceptional player for Arsenal. There is room for improvement, but what sets him apart is his immense talent and remarkable mindset. With the combination of his talent and mentality, he has the potential to reach new heights."
Nketiah, who dedicated his hat-trick to his late aunt, said he was tempted to take the penalty that could have provided a fourth individual goal, but was happy to allow Vieira a share of the spoils. "My first instinct was to grab the ball and go, but Fábio won it and it was a good moment," he said. "It's all about being a team player. It was his time to get a chance and he tucked it away."
Arteta confirmed that the team's captain, Martin Ødegaard, who was on the bench but did not play, was given a break due to a minor injury in his hip.
Sheffield United's recent loss in the Premier League, their ninth out of ten games, has resulted in them being at the bottom of the standings and likely facing demotion to the Championship.
Recent reports indicate that Paul Heckingbottom may be at risk of being fired, however the manager continues to stand his ground as his team prepares to face fellow relegation contenders Wolves, Bournemouth, and Burnley in three out of their next four games.
"I will persist in giving my best and advocating for this team," he stated. "The distractions and criticisms from others, regardless of their validity, are something I must tune out. My focus remains on fulfilling my duties."
"Our performance this season will not be determined by our visit to the Emirates. We are now entering a period where we will face many teams in our vicinity. These are crucial moments and we must approach these games with full determination."
Source: theguardian.com