T
In summary, My Heavenly City is a moving film that explores the lives of immigrants in New York City. Director Sen-I Yu, known for her short films, makes her feature debut with this project, which can be seen as a collection of three interconnected short stories. While some may find it overly sentimental, the film is aesthetically cohesive and presents strong themes of loneliness, stress, and family dynamics within the immigrant experience. The characters, mostly from Taiwan like the director, struggle with their feelings of isolation in a bustling city and their relationships with their families who may or may not be with them in New York.
Mavis Fang, a despondent student, is facing challenges in completing her dissertation on immigration after a recent breakup. In the initial chapter, she receives a phone call from the father of a young boy she was supposed to tutor in Mandarin. However, she finds out that the lessons cannot take place for an unknown period of time.
Mavis, in search of a source of income, secures a position as a translator for an agency. Her duties include taking statements from individuals affected by accidents or crimes, as well as assisting in social work scenarios. While working at a youth facility, she forms a strong connection with a teenage boy named Xiao Jian (Ming Wu) from China, who entered the country illegally and faces the possibility of being deported. This encounter leads Mavis to view things differently.
The following tale, titled Jack & Lulu, is a charming narrative about two individuals, portrayed by Keung To and Jessica Lee, who are brought together by their shared interest in New York's hip-hop dancers known for their pop and lock style. The connection between the main characters is evident, but at times, the story can feel a bit overly cute, reminding one less of the masterful romantic films of Eric Rohmer and others, and more of the simplistic storylines often seen in music videos.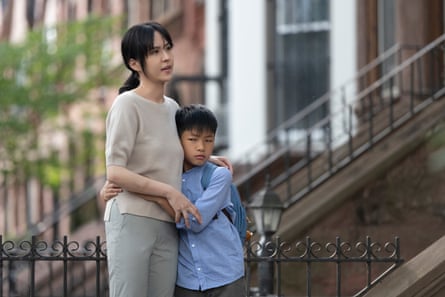 The most recent addition, Kite, stands out as the strongest, potentially due to its willingness to explore darker themes. The married couple, Jason (Chun-Yao Yao) and Claire (Mandy Wei), appear to be a successful first-generation pair from Taiwan, living in a spacious Brooklyn brownstone decorated with tasteful neutral tones. They have a seven-year-old son, Jasper (Logan Cheng), but despite their seemingly perfect life, Jasper's diagnosis of Asperger's syndrome and "manic disorder" causes him to exhibit violent and uncontrollable behavior. When he physically attacks Claire for not giving him a computer game, the police are called and he is taken into custody. Through scenes at therapy sessions, we gain insight into the underlying struggles within the marriage and in raising Jasper. This is further complicated by the traditionalist views of Jason's nearby parents, who believe that Jasper is spoiled.
Similar to the initial portion, there is a strong sense of understanding for the strenuous efforts made by social services. They are often unfairly depicted as villains, despite their genuine intentions to serve their clients. While these tales may have a slightly contrived ending, it is forgivable in light of the overall portrayal of the diverse and reflective perspective on city life at its core.
Source: theguardian.com